Redis integration for Grafana Cloud
Redis is an in-memory data structure store frequently used as a key-value data store, cache, and message broker. This integration enables the agent to send metrics to Grafana Cloud and provides a useful dashboard for visualization..
Install Redis integration for Grafana Cloud
In your Grafana instance, click Integrations and Connections (lightning bolt icon), then click on the Redis tile to install the integration.
Once the integration is installed, follow the steps on the Configuration Details page to set up Grafana Agent to automatically scrape and send Redis metrics to your Cloud Instance.
Post-install configuration for the Redis integration
It's recommended to configure a separate user for the agent to give it only the strictly mandatory security privileges necessary for monitoring your node.
For more information, see the Redis official documentation.
In the agent configuration file, ensure that you change the redis_addr field to the address of the Redis server you want to monitor:
integrations:
  redis_exporter:
    enabled: true
    redis_addr: "redis:6379"

For a full description of configuration options, including guidance on monitoring more than one Redis server, see redis_exporter_config in the Grafana Agent documentation.
Dashboards
After you have successfully configured the Redis integration, a prebuilt dashboard is installed in your Grafana instance to help you monitor your Redis instances.
Redis overview dashboard
This dashboard gives a general overview of your Redis instances based on the metrics exposed by the agent. The dashboard contains three sections, performance, memory, and basic activity.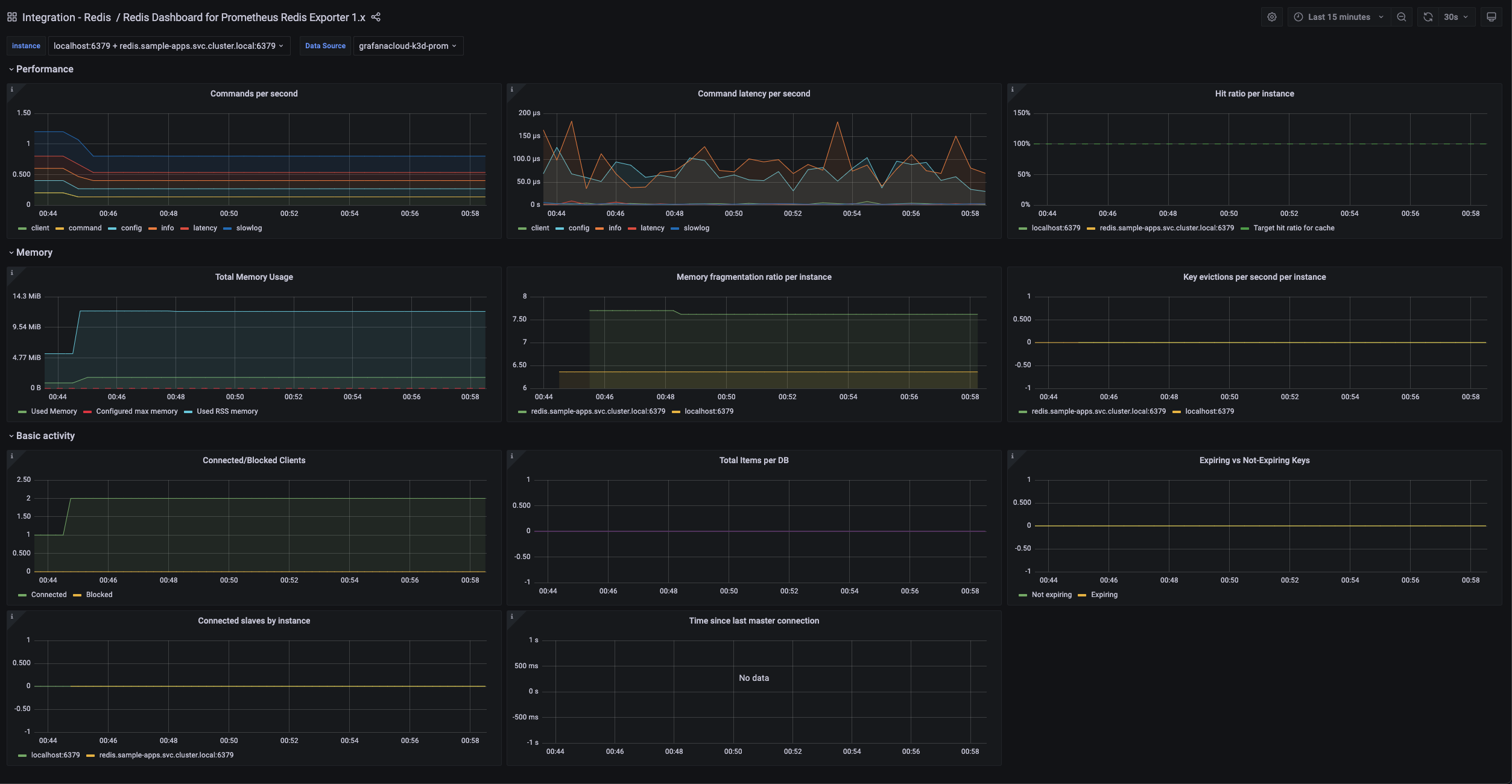 Alerts
The Redis integration for Grafana Cloud includes the following alerts and rules to help monitor your Redis instance:
| Alert | Metric | Trigger condition |
| --- | --- | --- |
| RedisDown | redis_up | Redis is down for 5 minutes |
| RedisOutOfMemory | redis_memory_used_bytes | Memory used percentage > 90% |
| RedisTooManyConnections | redis_connected_clients | Active connections > 100 |
The alert thresholds are configured by default when the integration is installed. To customize your Redis alert thresholds, navigate to Alerts tab in Grafana cloud.
Metrics captured by Redis exporter for Grafana Cloud
For a full list of metrics that are automatically written to your Grafana Cloud instance when you connect your Redis instance through this integration, refer the Redis exporter metrics file
Cost
By connecting your Redis integration to Grafana Cloud you might incur charges. For more information, see the following topics:
Related Grafana Cloud resources
Intro to Prometheus and Grafana Cloud
Prometheus is taking over the monitoring world! In this webinar, we will start with a quick introduction to the open source project that's the de facto standard for monitoring modern, cloud native systems.
---
---