Docker Desktop integration for Grafana Cloud
Docker Desktop is an easy-to-install application for your Mac, Windows or Linux environment that enables you to build and share containerized applications and microservices. This integration allows you to monitor your local Docker Desktop instance using the Grafana Cloud extension in Docker Desktop.The integration includes dashboard to monitor Docker metrics and logs as well as the Linux host metrics and logs.
This integration includes 8 pre-built dashboards to help monitor and visualize Docker Desktop metrics and logs.
Before you begin
Go to Docker Desktop extensions marketplace, search for Grafana cloud and install the Grafana cloud extension. Once it is installed, open the extension from the side bar and connect your Grafana cloud account.
Install the integration to get the values of connection variables required to connect your account.
Install Docker Desktop integration for Grafana Cloud
In your Grafana Cloud stack, click Connections in the left-hand menu.
Find Docker Desktop and click its tile to open the integration.
Review the prerequisites in the Configuration Details tab and set up Grafana Agent to send Docker Desktop metrics and logs to your Grafana Cloud instance.
Click Install to add this integration's pre-built dashboards to your Grafana Cloud instance, and you can start monitoring your Docker Desktop setup.
Post-install configuration for the Docker Desktop integration
After installing the integration, an api key is required to generate the connection variables. Either create a new api key or use an existing api key and get the value for connection variables.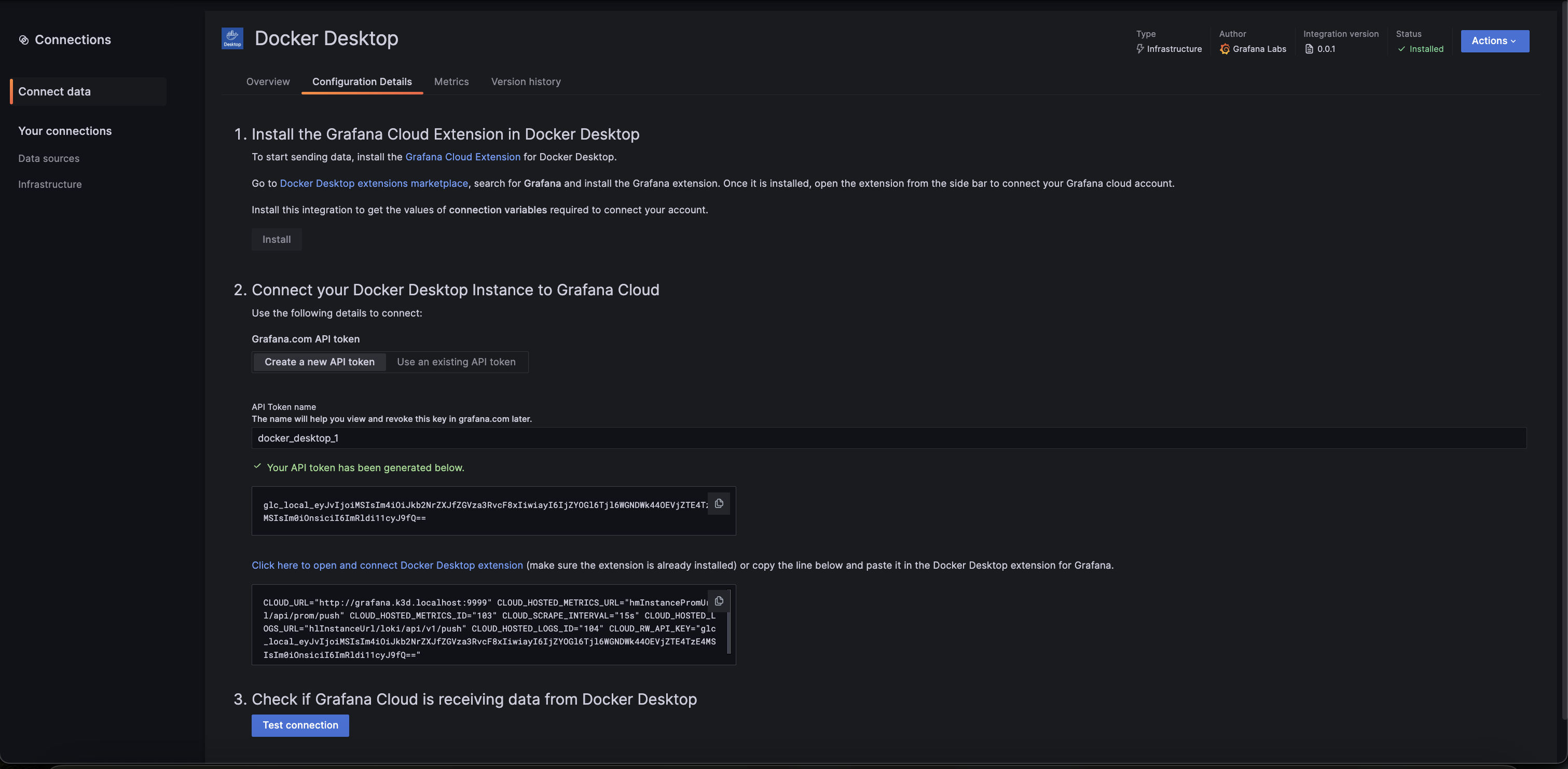 Copy the value of connection variables into the connect account page of the Grafana cloud extension.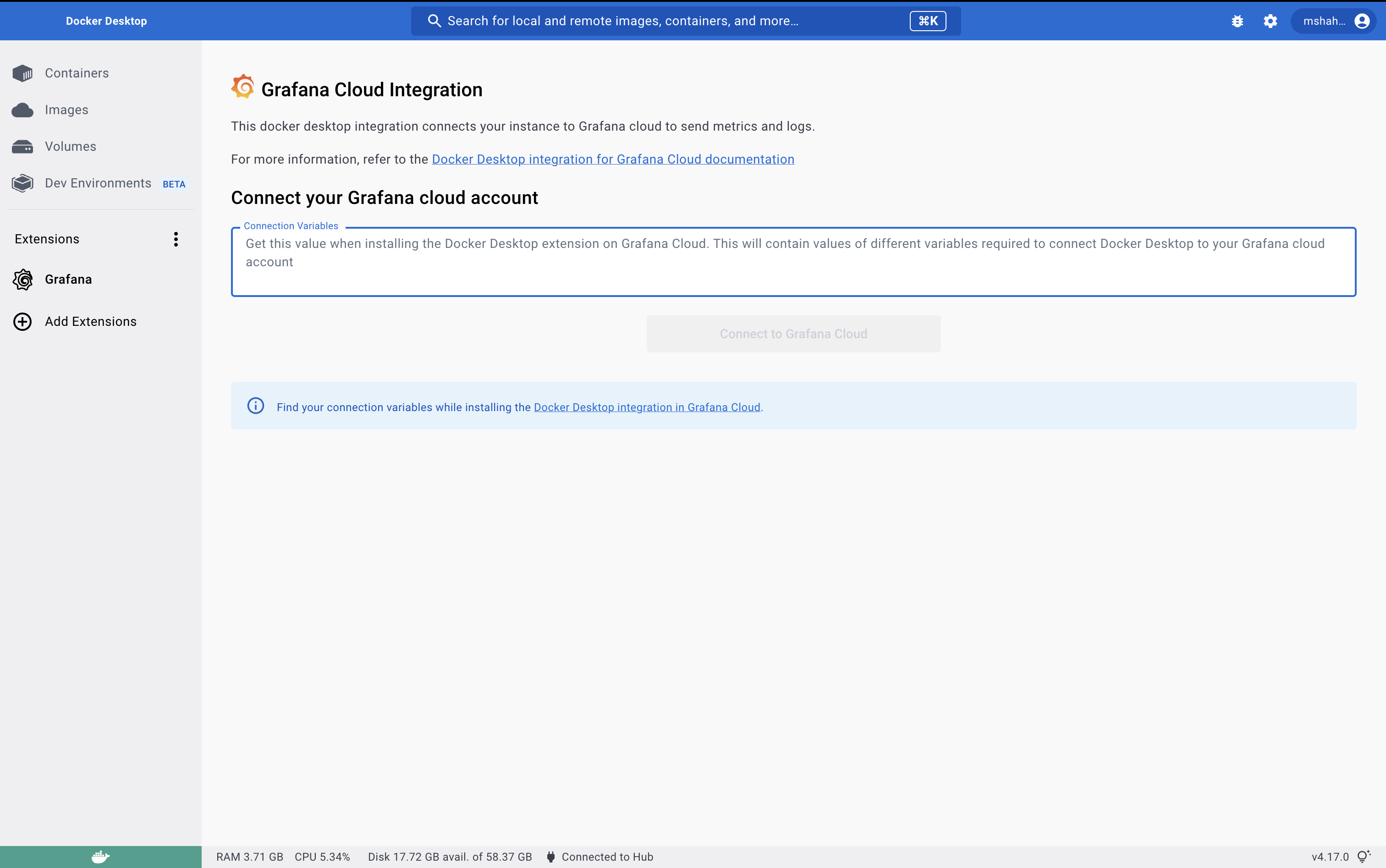 Click on Connect to Grafana Cloud to connect your docker desktop instance to your Grafana cloud stack and start sending logs and metrics. After connecting successfully, you would see the Agent control panel screen.
Agent control panel
The agent control panel shows the status of the Grafana agent running inside the docker desktop extension. It also allows you to view the logs of the agent container and edit the agent configuration file if required.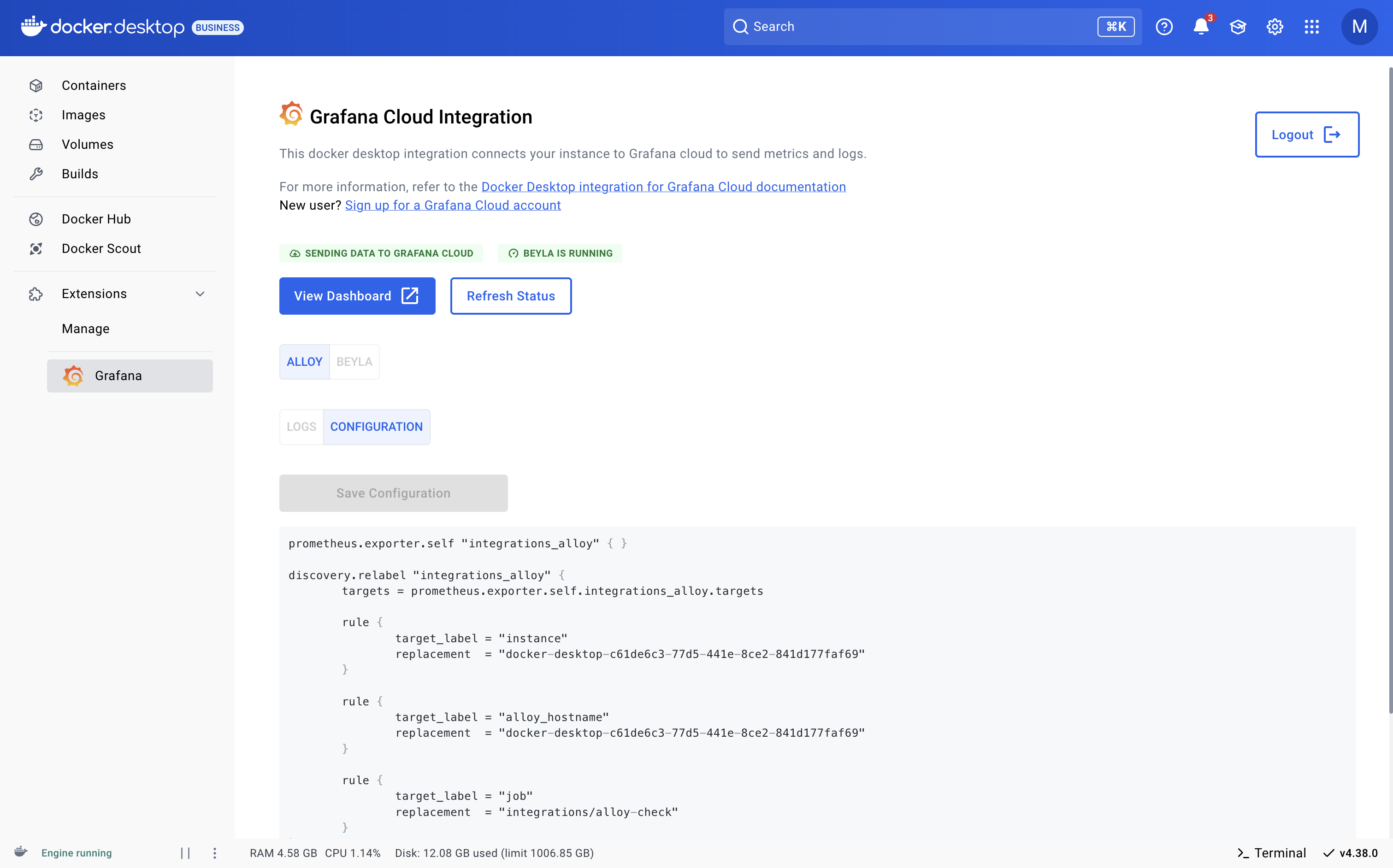 Enabling other integrations
The agent configuration file can be edited from the Agent control panel UI to enable other integrations from the agent or add further metrics or logs targets. In order for the grafana agent container inside the extension to access the docker host, connect it to the default network using: docker network connect bridge grafana-docker-desktop-extension-agent
Then the agent can access the docker desktop host using host.docker.internal hostname.
Full example configuration for Grafana Agent
Refer to the following Grafana Agent configuration for a complete example that contains all the snippets used for the Docker Desktop integration. This example also includes metrics that are sent to monitor your Grafana Agent instance.
integrations:
  prometheus_remote_write:
  - basic_auth:
      password: <your_prom_pass>
      username: <your_prom_user>
    url: <your_prom_url>
  agent:
    enabled: true
    relabel_configs:
    - action: replace
      source_labels:
      - agent_hostname
      target_label: instance
    - action: replace
      target_label: job
      replacement: "integrations/agent-check"
    metric_relabel_configs:
    - action: keep
      regex: (prometheus_target_.*|prometheus_sd_discovered_targets|agent_build.*|agent_wal_samples_appended_total|process_start_time_seconds)
      source_labels:
      - __name__
  # Add here any snippet that belongs to the `integrations` section.
  # For a correct indentation, paste snippets copied from Grafana Cloud at the beginning of the line.
logs:
  configs:
  - clients:
    - basic_auth:
        password: <your_loki_pass>
        username: <your_loki_user>
      url: <your_loki_url>
    name: integrations
    positions:
      filename: /tmp/positions.yaml
    scrape_configs:
      # Add here any snippet that belongs to the `logs.configs.scrape_configs` section.
      # For a correct indentation, paste snippets copied from Grafana Cloud at the beginning of the line.
metrics:
  configs:
  - name: integrations
    remote_write:
    - basic_auth:
        password: <your_prom_pass>
        username: <your_prom_user>
      url: <your_prom_url>
    scrape_configs:
      # Add here any snippet that belongs to the `metrics.configs.scrape_configs` section.
      # For a correct indentation, paste snippets copied from Grafana Cloud at the beginning of the line.
  global:
    scrape_interval: 60s
  wal_directory: /tmp/grafana-agent-wal
Dashboards
The Docker Desktop integration installs the following dashboards in your Grafana Cloud instance to help monitor your system.
Docker Desktop - Docker Logs
Docker Desktop - Docker Overview
Docker Desktop - Node Exporter / Node CPU and System
Docker Desktop - Node Exporter / Node Filesystem and Disk
Docker Desktop - Node Exporter / Node Fleet Overview
Docker Desktop - Node Exporter / Node Memory
Docker Desktop - Node Exporter / Node Network
Docker Desktop - Node Exporter / Node Overview
Docker Overview & Compute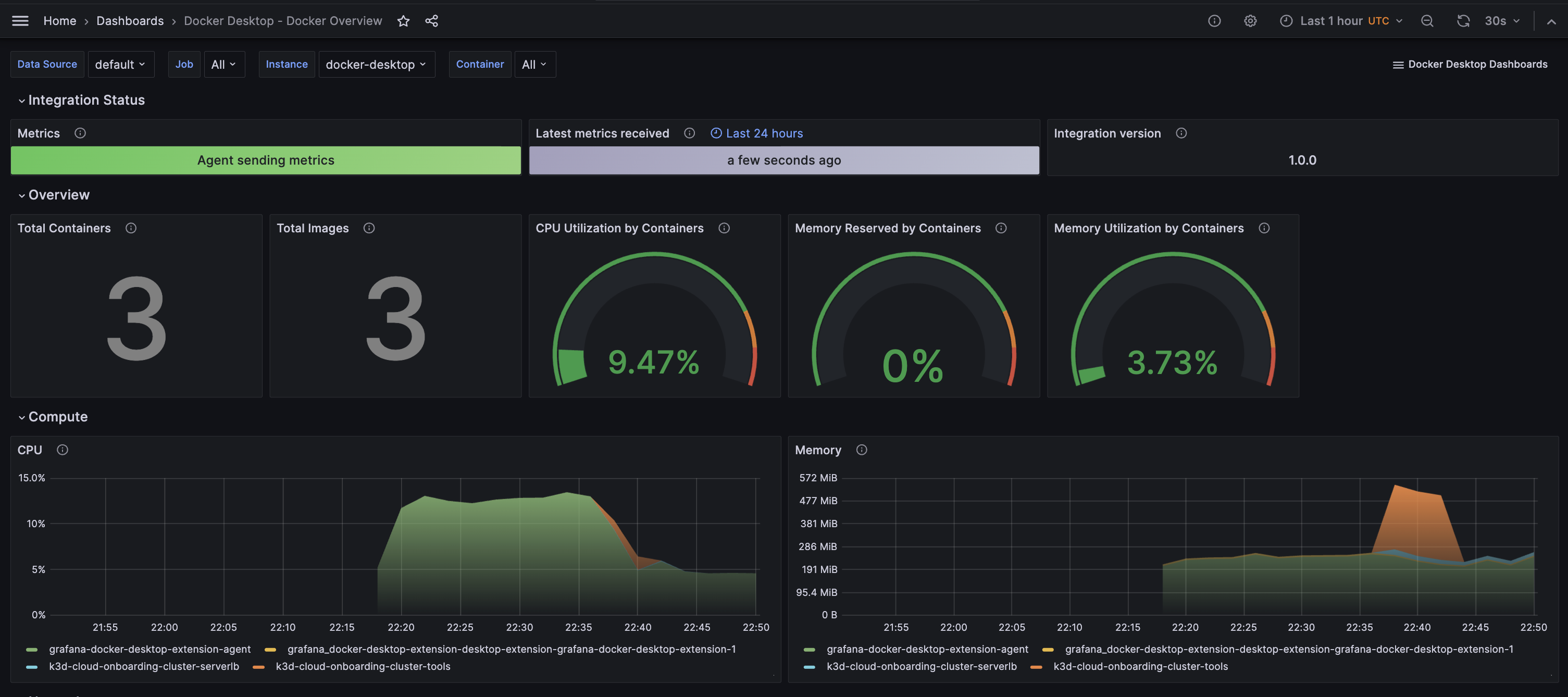 Docker Logs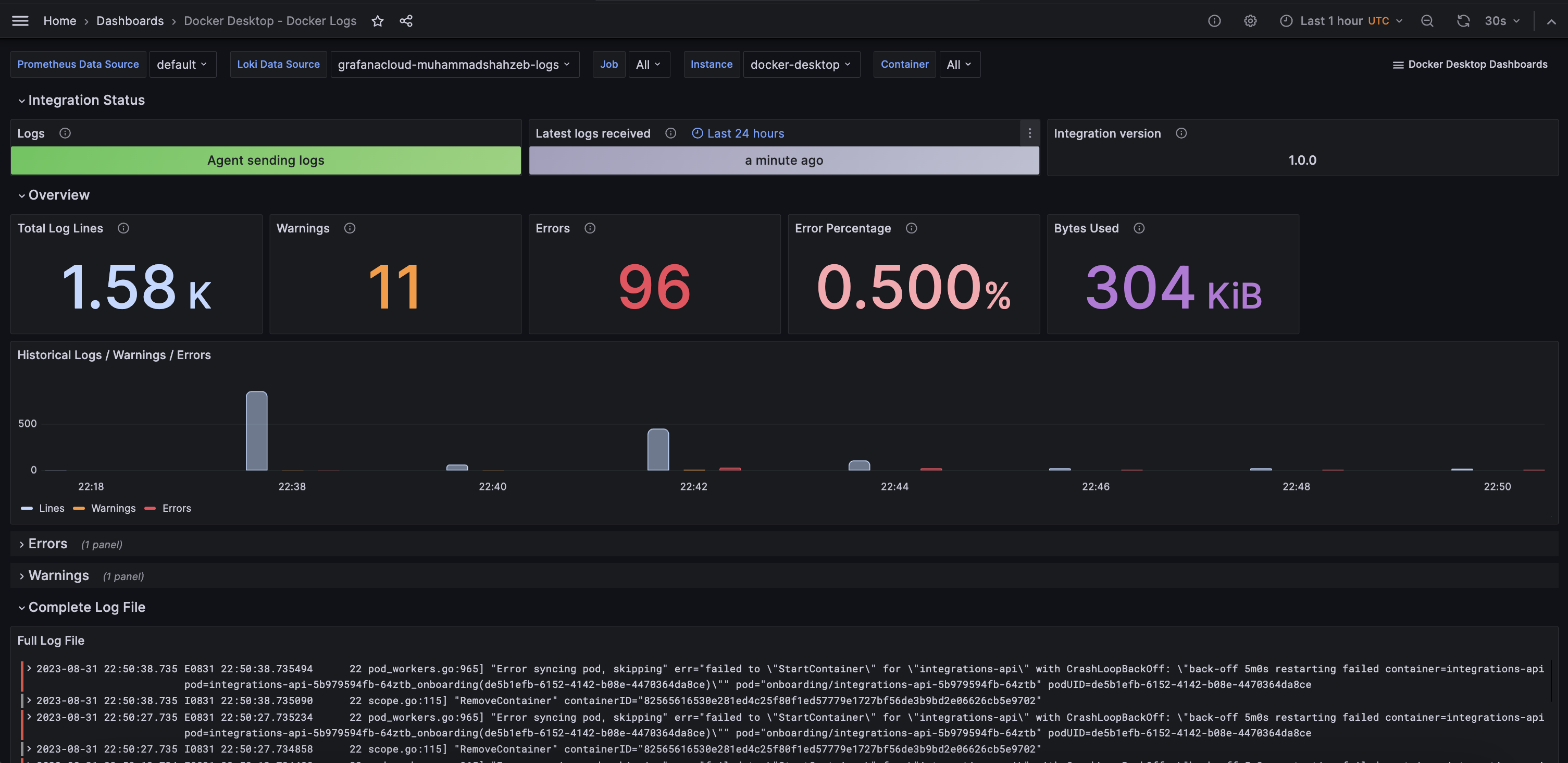 Docker Linux Virtual Machine Overview and Logs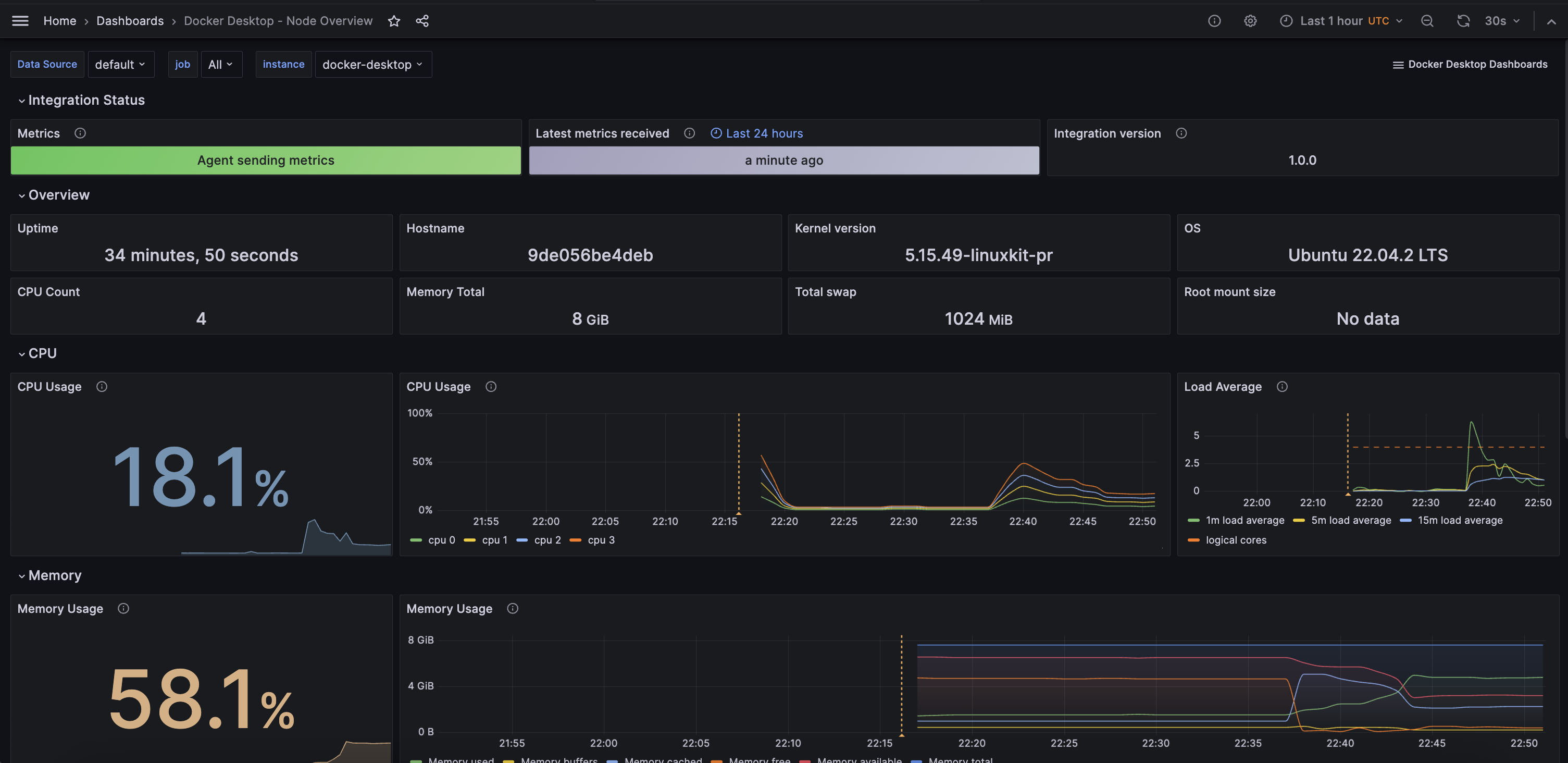 Metrics
The most important metrics provided by the Docker Desktop integration, which are used on the pre-built dashboards, are as follows:
container_cpu_usage_seconds_total
container_fs_inodes_free
container_fs_inodes_total
container_fs_limit_bytes
container_fs_usage_bytes
container_last_seen
container_memory_usage_bytes
container_network_receive_bytes_total
container_network_tcp_usage_total
container_network_transmit_bytes_total
container_spec_memory_reservation_limit_bytes
machine_memory_bytes
machine_scrape_error
node_arp_entries
node_boot_time_seconds
node_context_switches_total
node_cpu_seconds_total
node_disk_io_time_seconds_total
node_disk_io_time_weighted_seconds_total
node_disk_read_bytes_total
node_disk_read_time_seconds_total
node_disk_reads_completed_total
node_disk_write_time_seconds_total
node_disk_writes_completed_total
node_disk_written_bytes_total
node_filesystem_avail_bytes
node_filesystem_device_error
node_filesystem_files
node_filesystem_files_free
node_filesystem_readonly
node_filesystem_size_bytes
node_intr_total
node_load1
node_load15
node_load5
node_memory_Active_anon_bytes
node_memory_Active_bytes
node_memory_Active_file_bytes
node_memory_AnonHugePages_bytes
node_memory_AnonPages_bytes
node_memory_Bounce_bytes
node_memory_Buffers_bytes
node_memory_Cached_bytes
node_memory_CommitLimit_bytes
node_memory_Committed_AS_bytes
node_memory_DirectMap1G_bytes
node_memory_DirectMap2M_bytes
node_memory_DirectMap4k_bytes
node_memory_Dirty_bytes
node_memory_HugePages_Free
node_memory_HugePages_Rsvd
node_memory_HugePages_Surp
node_memory_HugePages_Total
node_memory_Hugepagesize_bytes
node_memory_Inactive_anon_bytes
node_memory_Inactive_bytes
node_memory_Inactive_file_bytes
node_memory_Mapped_bytes
node_memory_MemAvailable_bytes
node_memory_MemFree_bytes
node_memory_MemTotal_bytes
node_memory_SReclaimable_bytes
node_memory_SUnreclaim_bytes
node_memory_ShmemHugePages_bytes
node_memory_ShmemPmdMapped_bytes
node_memory_Shmem_bytes
node_memory_SwapTotal_bytes
node_memory_VmallocChunk_bytes
node_memory_VmallocTotal_bytes
node_memory_VmallocUsed_bytes
node_memory_WritebackTmp_bytes
node_memory_Writeback_bytes
node_netstat_Icmp6_InErrors
node_netstat_Icmp6_InMsgs
node_netstat_Icmp6_OutMsgs
node_netstat_Icmp_InErrors
node_netstat_Icmp_InMsgs
node_netstat_Icmp_OutMsgs
node_netstat_IpExt_InOctets
node_netstat_IpExt_OutOctets
node_netstat_TcpExt_ListenDrops
node_netstat_TcpExt_ListenOverflows
node_netstat_TcpExt_TCPSynRetrans
node_netstat_Tcp_InErrs
node_netstat_Tcp_InSegs
node_netstat_Tcp_OutRsts
node_netstat_Tcp_OutSegs
node_netstat_Tcp_RetransSegs
node_netstat_Udp6_InDatagrams
node_netstat_Udp6_InErrors
node_netstat_Udp6_NoPorts
node_netstat_Udp6_OutDatagrams
node_netstat_Udp6_RcvbufErrors
node_netstat_Udp6_SndbufErrors
node_netstat_UdpLite_InErrors
node_netstat_Udp_InDatagrams
node_netstat_Udp_InErrors
node_netstat_Udp_NoPorts
node_netstat_Udp_OutDatagrams
node_netstat_Udp_RcvbufErrors
node_netstat_Udp_SndbufErrors
node_network_carrier
node_network_info
node_network_mtu_bytes
node_network_receive_bytes_total
node_network_receive_compressed_total
node_network_receive_drop_total
node_network_receive_errs_total
node_network_receive_fifo_total
node_network_receive_multicast_total
node_network_receive_packets_total
node_network_speed_bytes
node_network_transmit_bytes_total
node_network_transmit_compressed_total
node_network_transmit_drop_total
node_network_transmit_errs_total
node_network_transmit_fifo_total
node_network_transmit_multicast_total
node_network_transmit_packets_total
node_network_transmit_queue_length
node_network_up
node_nf_conntrack_entries
node_nf_conntrack_entries_limit
node_os_info
node_sockstat_FRAG6_inuse
node_sockstat_FRAG_inuse
node_sockstat_RAW6_inuse
node_sockstat_RAW_inuse
node_sockstat_TCP6_inuse
node_sockstat_TCP_alloc
node_sockstat_TCP_inuse
node_sockstat_TCP_mem
node_sockstat_TCP_mem_bytes
node_sockstat_TCP_orphan
node_sockstat_TCP_tw
node_sockstat_UDP6_inuse
node_sockstat_UDPLITE6_inuse
node_sockstat_UDPLITE_inuse
node_sockstat_UDP_inuse
node_sockstat_UDP_mem
node_sockstat_UDP_mem_bytes
node_sockstat_sockets_used
node_softnet_dropped_total
node_softnet_processed_total
node_softnet_times_squeezed_total
node_time_zone_offset_seconds
node_timex_estimated_error_seconds
node_timex_maxerror_seconds
node_timex_offset_seconds
node_uname_info
node_vmstat_oom_kill
node_vmstat_pgfault
node_vmstat_pgmajfault
node_vmstat_pgpgin
node_vmstat_pgpgout
node_vmstat_pswpin
node_vmstat_pswpout
process_max_fds
process_open_fds
Changelog
# 1.0.0 - September 2023

* Add updated status panels
* Update linux mixin
    * This update introduces 3-tier view of linux nodes:
    * TOP: Fleet view: see group of your linux instances at once
    * Overview of the specific node: see specific node at a glance
    * Drill down: Set of dashboards for deep analysis using advanced metrics (Memory, CPU and System, Filesystem and Disk, Networking)
    * Links and data links are provided for better navigation between views

# 0.0.2 - August 2023

* Add regex filter for logs datasource

# 0.0.1 - April 2023

* Initial release
Cost
By connecting your Docker Desktop instance to Grafana Cloud, you might incur charges. To view information on the number of active series that your Grafana Cloud account uses for metrics included in each Cloud tier, see Active series and dpm usage and Cloud tier pricing.