Menu
Docker Desktop integration for Grafana Cloud
Docker Desktop is an easy-to-install application for your Mac, Windows or Linux environment that enables you to build and share containerized applications and microservices. This integration allows you to monitor your local Docker Desktop instance using the Grafana Cloud extension in Docker Desktop.The integration includes dashboard to monitor Docker metrics and logs as well as the Linux host metrics and logs.
This integration includes 3 pre-built dashboards to help monitor and visualize Docker Desktop metrics and logs.
Before you begin
Go to Docker Desktop extensions marketplace, search for Grafana cloud and install the Grafana cloud extension. Once it is installed, open the extension from the side bar and connect your Grafana cloud account.
Install the integration to get the values of connection variables required to connect your account.
Install Docker Desktop integration for Grafana Cloud
In your Grafana Cloud stack, click Connections in the left-hand menu.
Find Docker Desktop and click its tile to open the integration.
Review the prequisites in the Configuration Details tab and set up Grafana Agent by following the steps provided to start sending Docker Desktop metrics and logs to your Grafana Cloud instance.
Click Install to add this integration's pre-built dashboards to your Grafana Cloud instance and start monitoring your Docker Desktop setup.
Post-install configuration for the Docker Desktop integration
After installing the integration, an api key is required to generate the connection variables. Either create a new api key or use an existing api key and get the value for connection variables.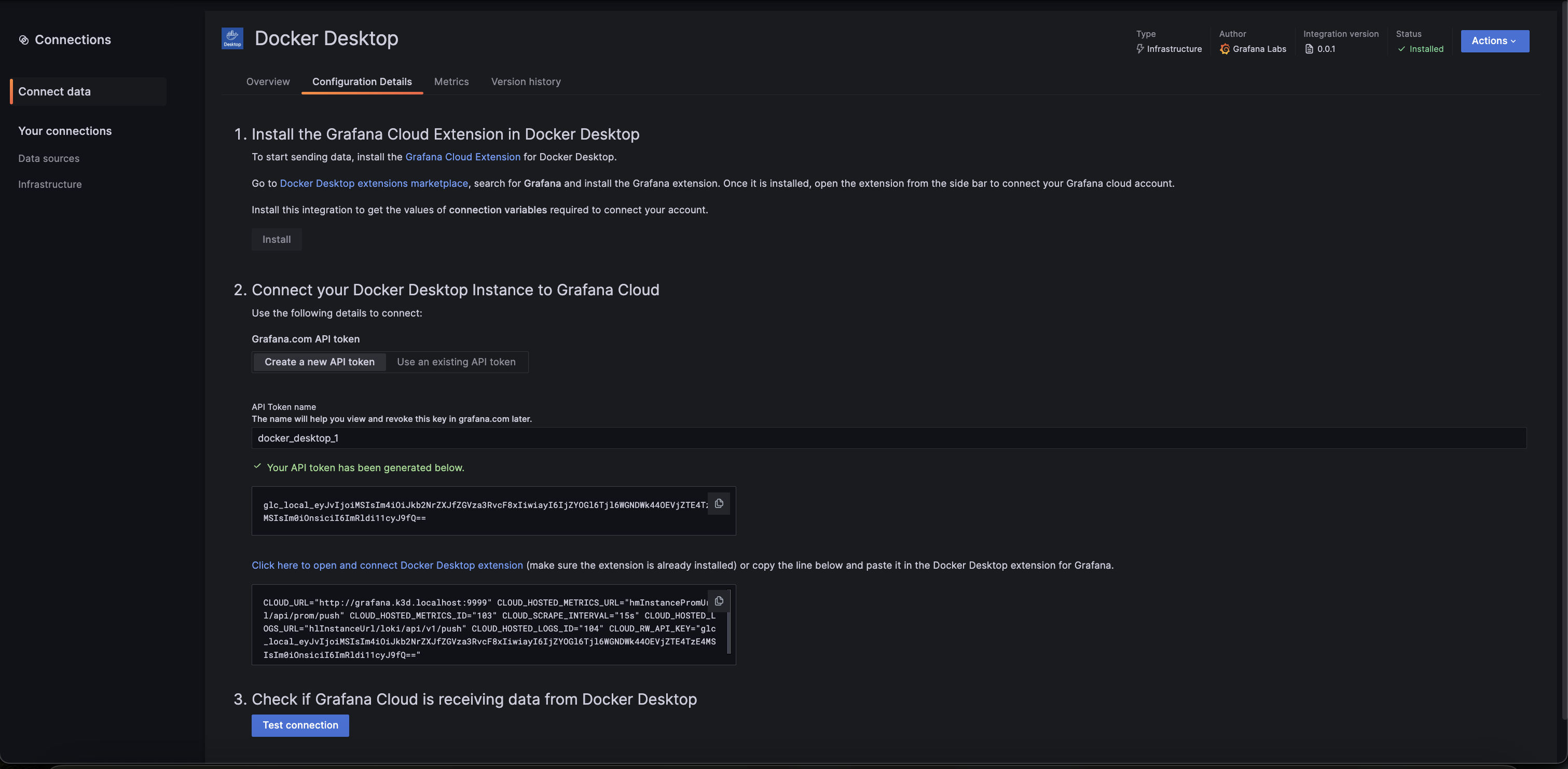 Copy the value of connection variables into the connect account page of the Grafana cloud extension.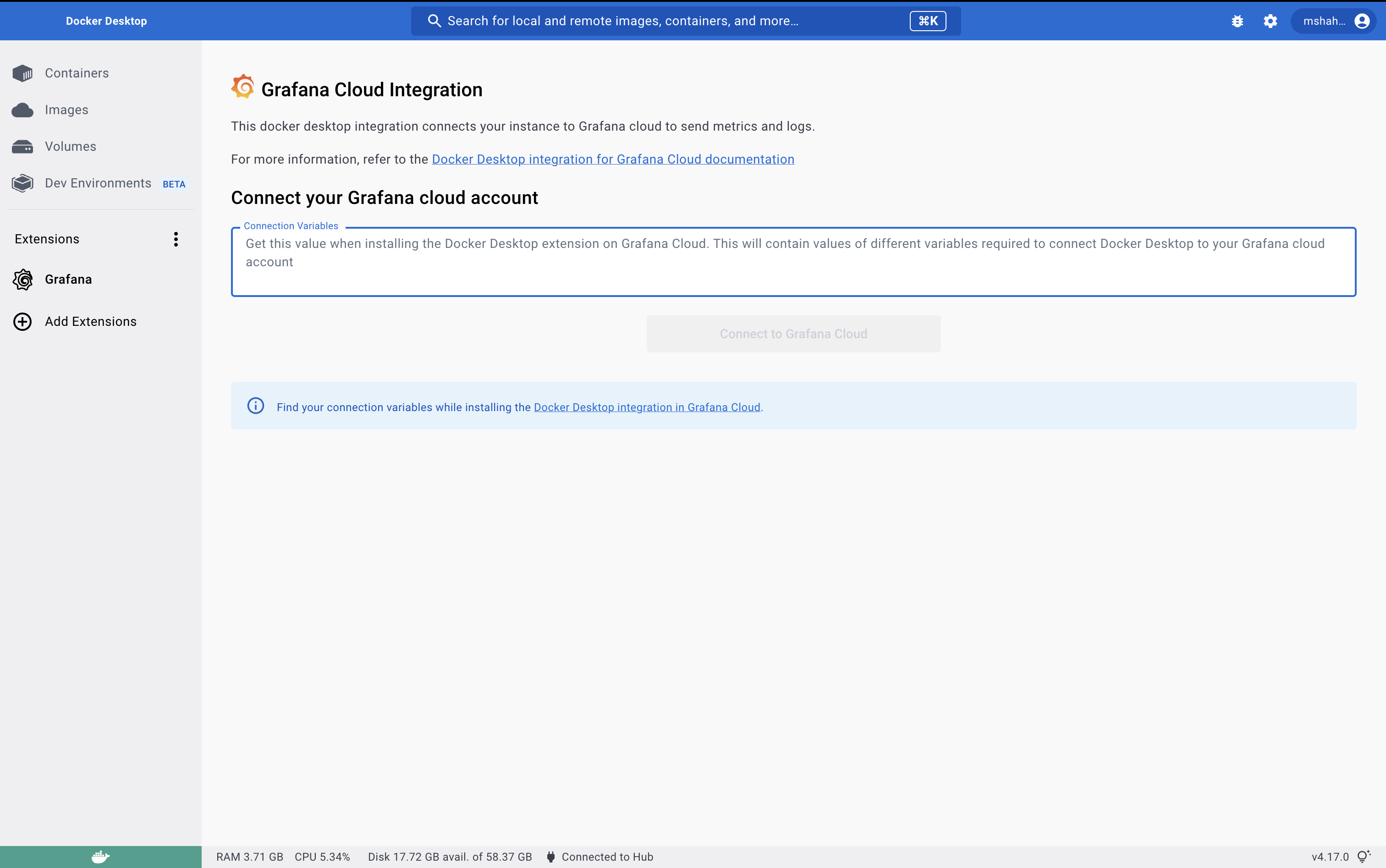 Click on Connect to Grafana Cloud to connect your docker desktop instance to your Grafana cloud stack and start sending logs and metrics. After connecting successfully, you would see the Agent control panel screen.
Agent control panel
The agent control panel shows the status of the Grafana agent running inside the docker desktop extension. It also allows you to view the logs of the agent container and edit the agent configuration file if required.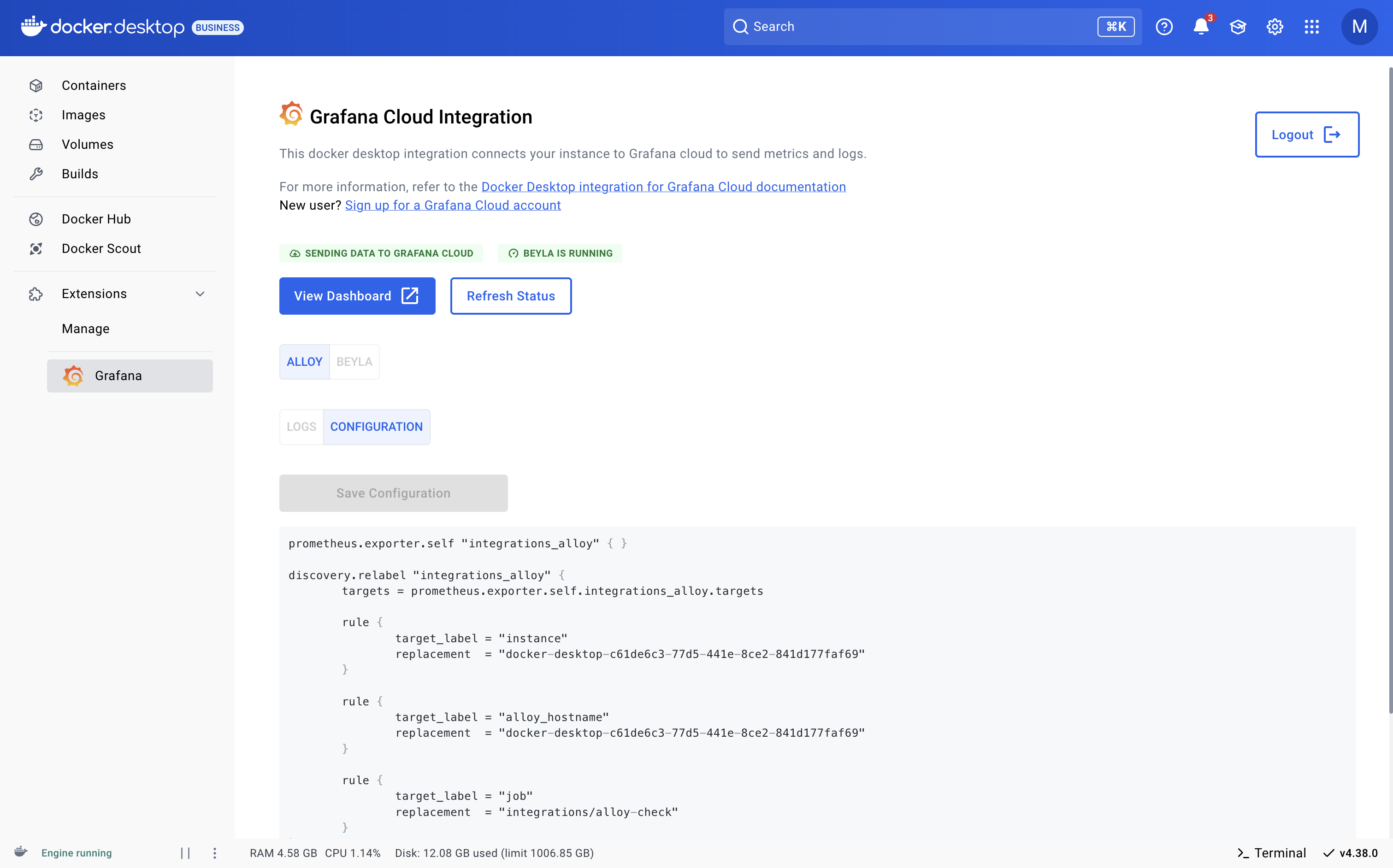 Dashboards
The Docker Desktop integration installs the following dashboards in your Grafana Cloud instance to help monitor your system.
Docker Desktop - Docker Logs
Docker Desktop - Docker Overview
Docker Desktop - Node Exporter / Nodes
Docker Overview & Compute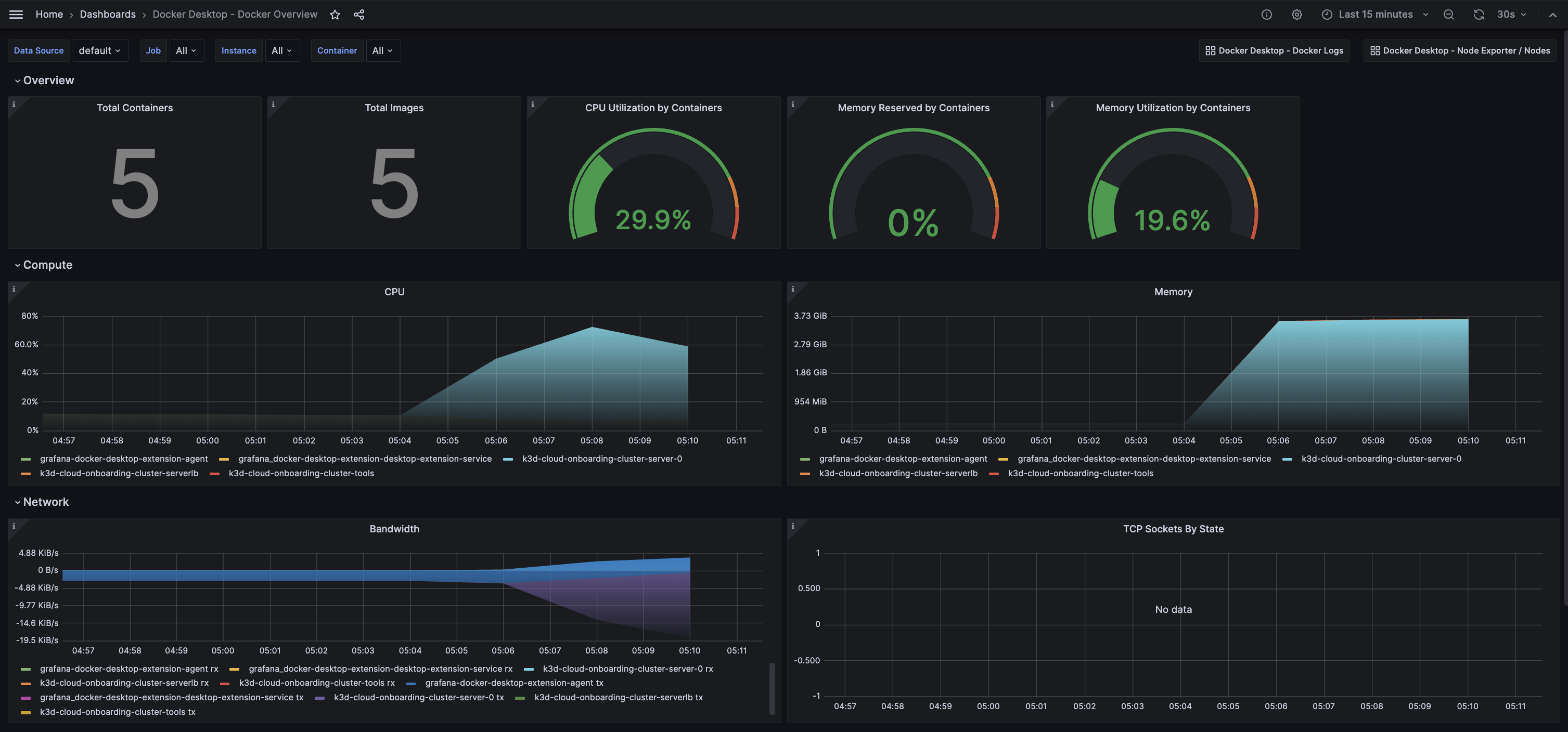 Docker Logs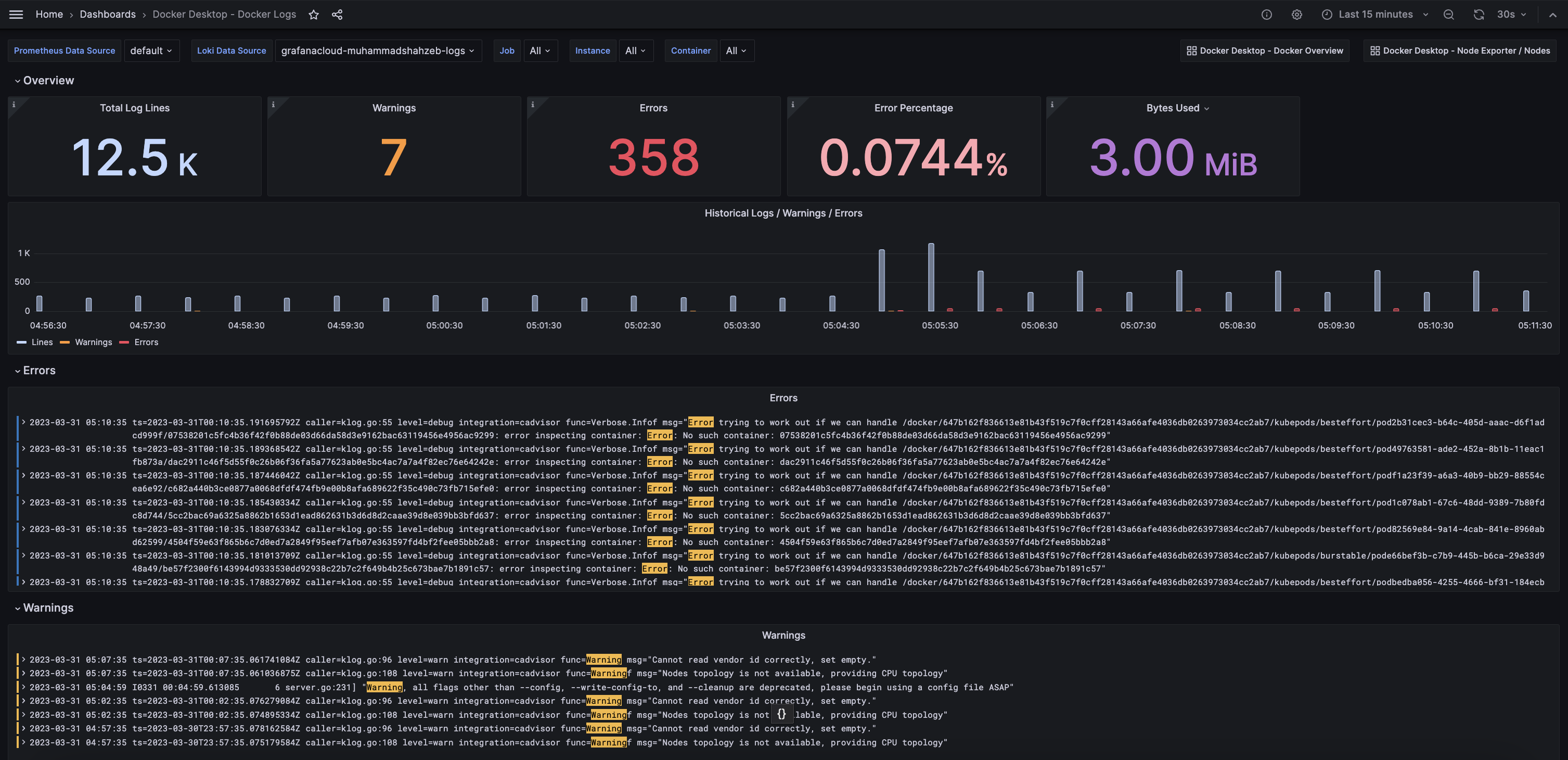 Docker Linux Virtual Machine Overview and Logs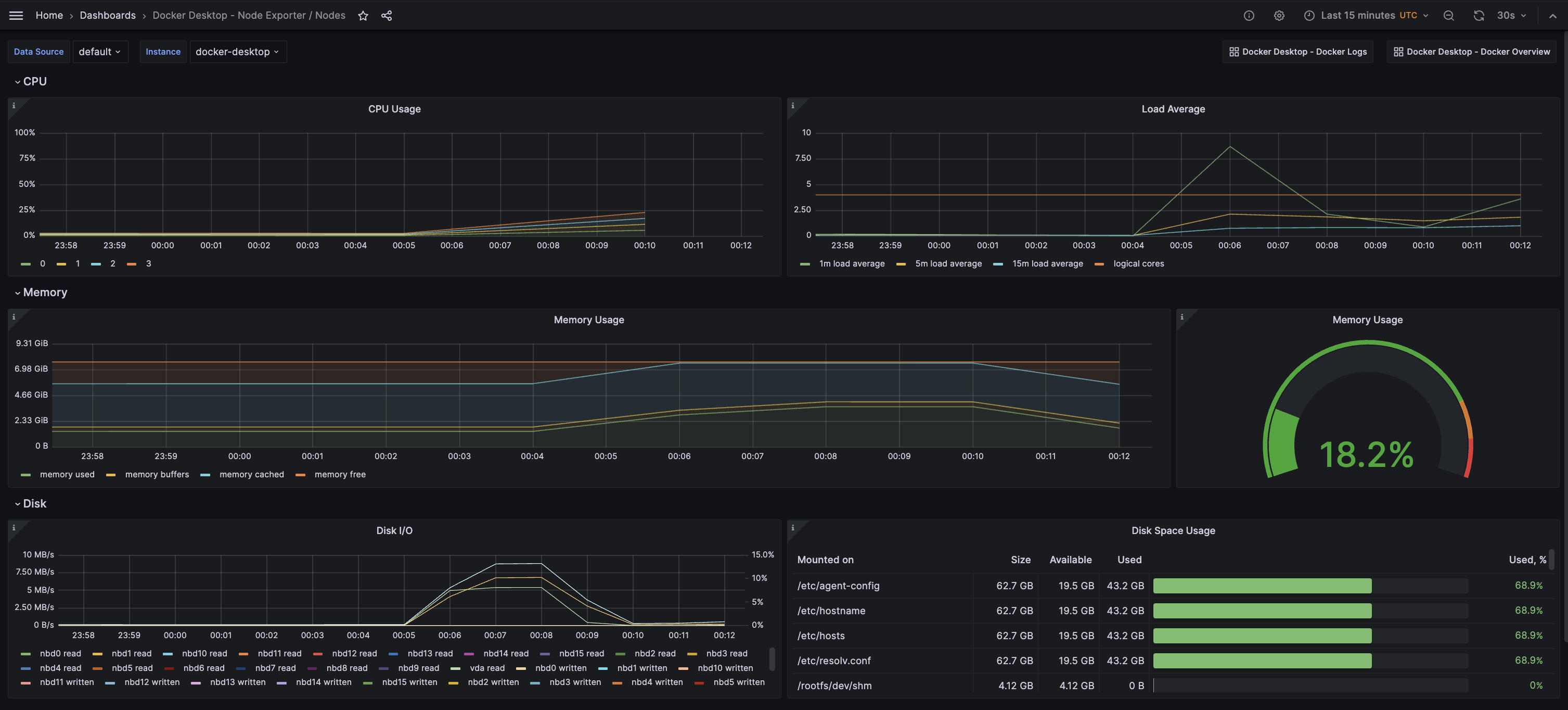 Metrics
The most important metrics provided by the Docker Desktop integration, which are used on the dashboards (and Prometheus Alerts and rules) are as follows:
| Name | Type | Description |
| --- | --- | --- |
| container_cpu_usage_seconds_total | counter | Cumulative cpu time consumed in seconds. |
| container_fs_inodes_free | gauge | Number of available Inodes |
| container_fs_inodes_total | gauge | Number of Inodes |
| container_fs_limit_bytes | gauge | Number of bytes that can be consumed by the container on this filesystem. |
| container_fs_usage_bytes | gauge | Number of bytes that are consumed by the container on this filesystem. |
| container_last_seen | gauge | Last time a container was seen by the exporter |
| container_memory_usage_bytes | gauge | Current memory usage in bytes, including all memory regardless of when it was accessed |
| container_network_receive_bytes_total | counter | Cumulative count of bytes received |
| container_network_tcp_usage_total | | |
| container_network_transmit_bytes_total | counter | Cumulative count of bytes transmitted |
| container_spec_memory_reservation_limit_bytes | gauge | Memory reservation limit for the container. |
| machine_memory_bytes | gauge | Amount of memory installed on the machine. |
| machine_scrape_error | gauge | 1 if there was an error while getting machine metrics, 0 otherwise. |
| node_cpu_seconds_total | | |
| node_disk_io_time_seconds_total | | |
| node_disk_read_bytes_total | | |
| node_disk_written_bytes_total | | |
| node_filesystem_avail_bytes | | |
| node_filesystem_size_bytes | | |
| node_load1 | | |
| node_load15 | | |
| node_load5 | | |
| node_memory_Buffers_bytes | | |
| node_memory_Cached_bytes | | |
| node_memory_MemFree_bytes | | |
| node_memory_MemTotal_bytes | | |
| node_network_receive_bytes_total | | |
| node_network_transmit_bytes_total | | |
| node_uname_info | | |
Changelog
# 0.0.1 - April 2023

* Initial release


Cost
Connecting Docker Desktop instance to Grafana Cloud generates metric and log usage. The Grafana Cloud Free tier includes limits that should be plenty for most small workloads.
To view information on the number of active series that your Grafana Cloud account uses for metrics included in each Cloud tier, see Active series and dpm usage and Cloud tier pricing.
Related resources from Grafana Labs
Additional helpful documentation, links, and articles: