Does anyone really enjoy being on-call? That looming dread over what could go wrong? The alarms in the middle of the night when everything does in fact go wrong?
Of course not! But that doesn't mean on-call shifts need to be a giant bundle of anxiety and exhaustion. This is something near and dear to our hearts at Grafana Labs, since the majority of our engineers participate in on-call shifts.
For teams looking to reduce that on-call dread, some of it comes down to culture and process, and some of it also comes down to empowering your team with the right tools — and that's where Grafana OnCall comes in.
Over the past year, we've made dozens of major changes to Grafana OnCall — both OSS and in Grafana Cloud — to improve the experience and functionality. In this blog, which is the first in a series of posts highlighting these upgrades, we'll focus on three of the most requested features we've added this year: a native mobile app, web-based schedule editing, and email notifications.
Web-based scheduling UI
The ability to easily create and edit your on-call schedule is critical for any on-call app, which is why we added a web UI to help manage your schedule. Our web UI includes some nice touches, including the ability to visualize team member time zones so it's easier to create a schedule that makes sense no matter where your teammates are located.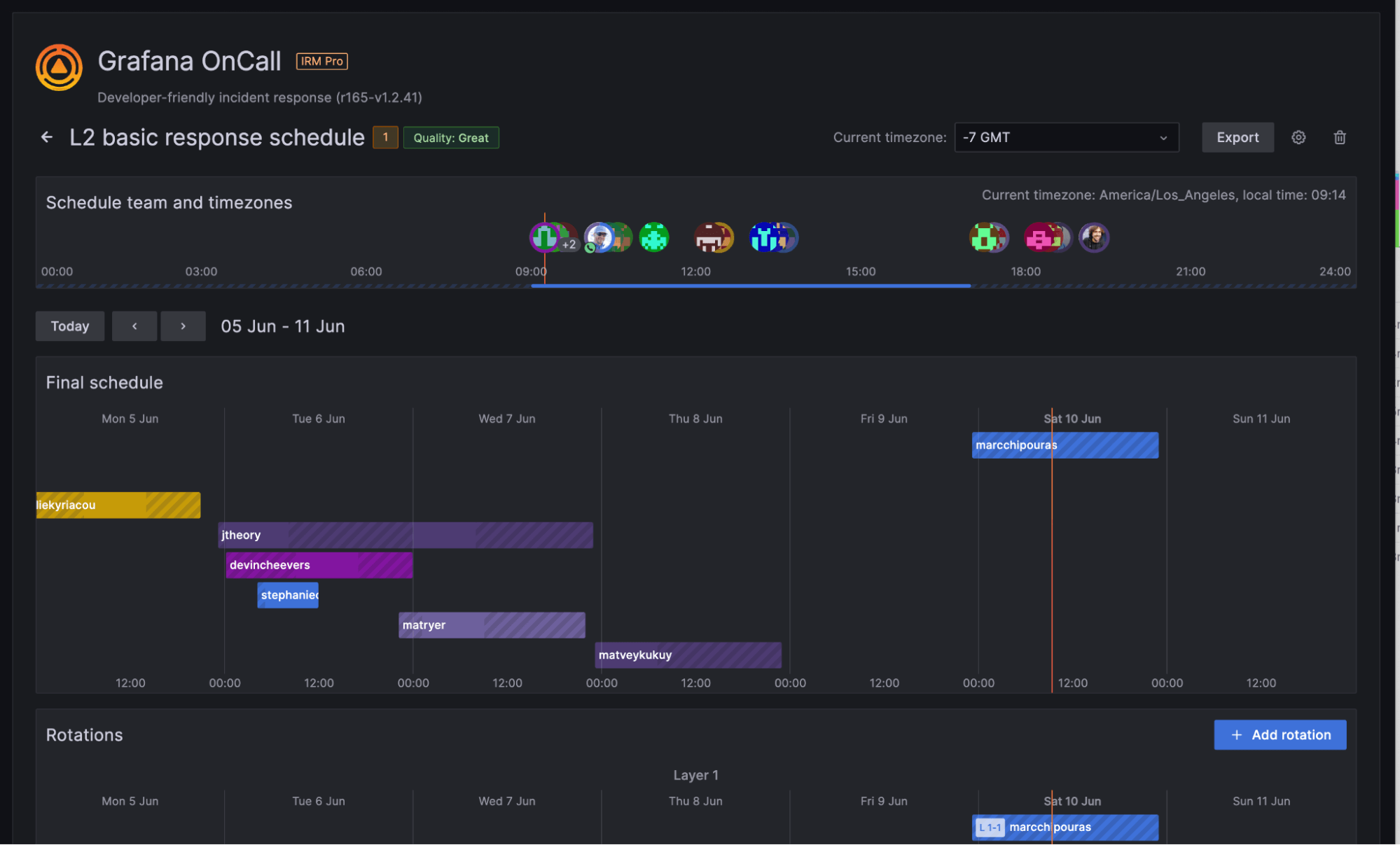 There's also schedule quality scoring, which will help to avoid typical on-call scheduling problems like over-loading on-callers. Plus, we now offer web-, iCalendar-, and Terraform-based schedule editing.
These are just some of the 100+ UI and performance improvements we've made to the scheduling UI based on your feedback. (Thank you for it!) Now, the schedule editor is much more accurate, eliminating inconsistencies and user errors and providing a predictable and understandable duty schedule even for distributed teams. Check out the video below to see it in action.
Native mobile app
We recently released a native iOS and Android app that has the power to override your device's do-not-disturb mode, along with a wide selection of notification settings that makes on-call management on your phone easier and more intuitive. You can now easily acknowledge, resolve, and manage your pages directly on your device.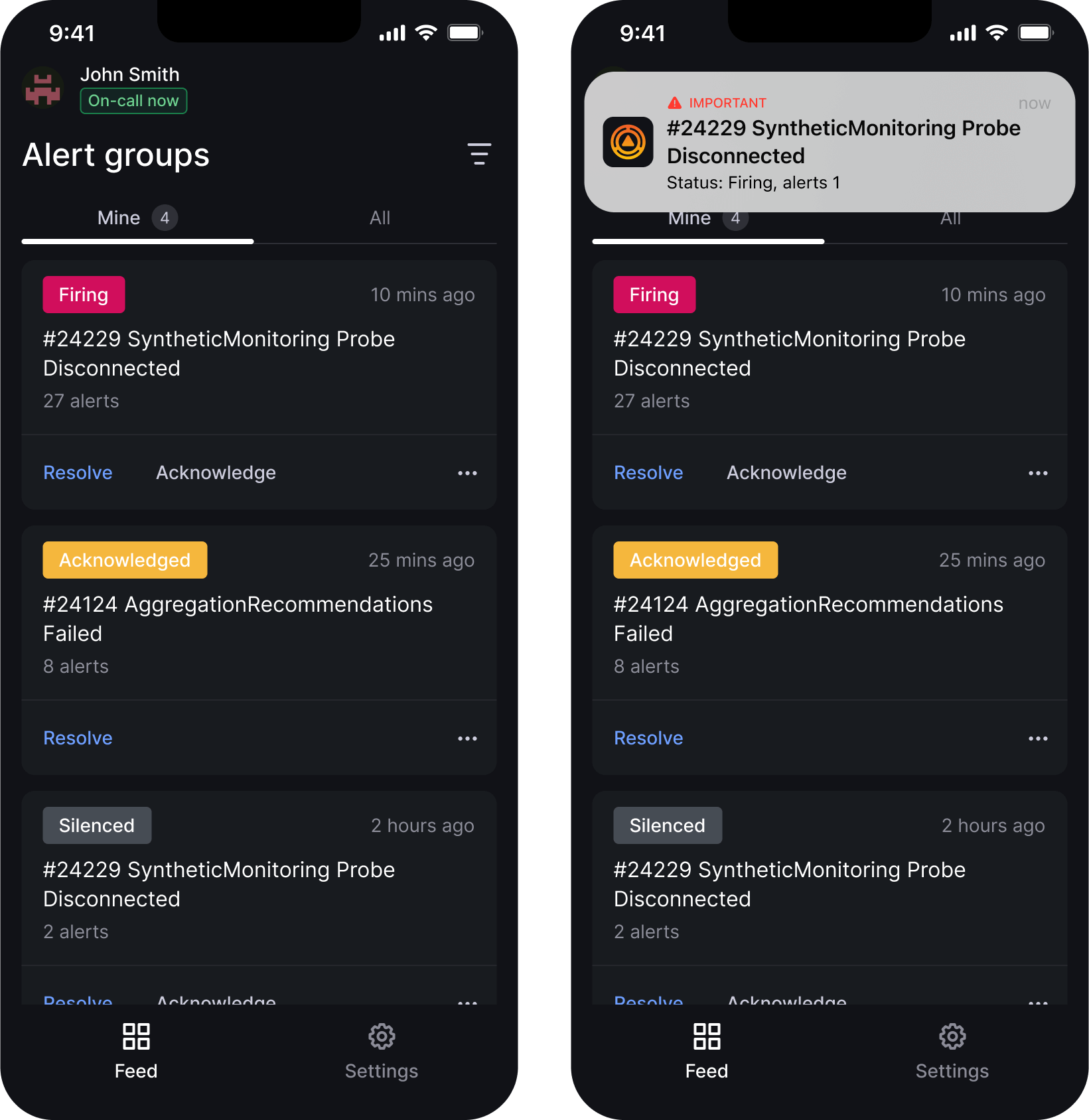 The mobile app fully integrates with Grafana OnCall, whether you're using the OSS version or the version hosted in Grafana Cloud. You can also customize notification policies to define when and how you receive incident alerts. Find out more in our deep-dive blog post about the app. 
Email support
You can now use Grafana OnCall to deliver notifications and consume alerts via email!  You could already do this in Grafana OnCall through SMS, Slack, Teams, and more, so this adds even more flexibility as we seek to address the different ways teams communicate. Of course, this will be particularly helpful for organizations that are heavily reliant on email, as users can incorporate it in their normal workflow and not have to worry about hopping between apps just to send and receive notifications.
Simply navigate to the Integrations tab, click + New integration to receive alerts, and select Inbound Email from the list of available integrations to consume alerts from email.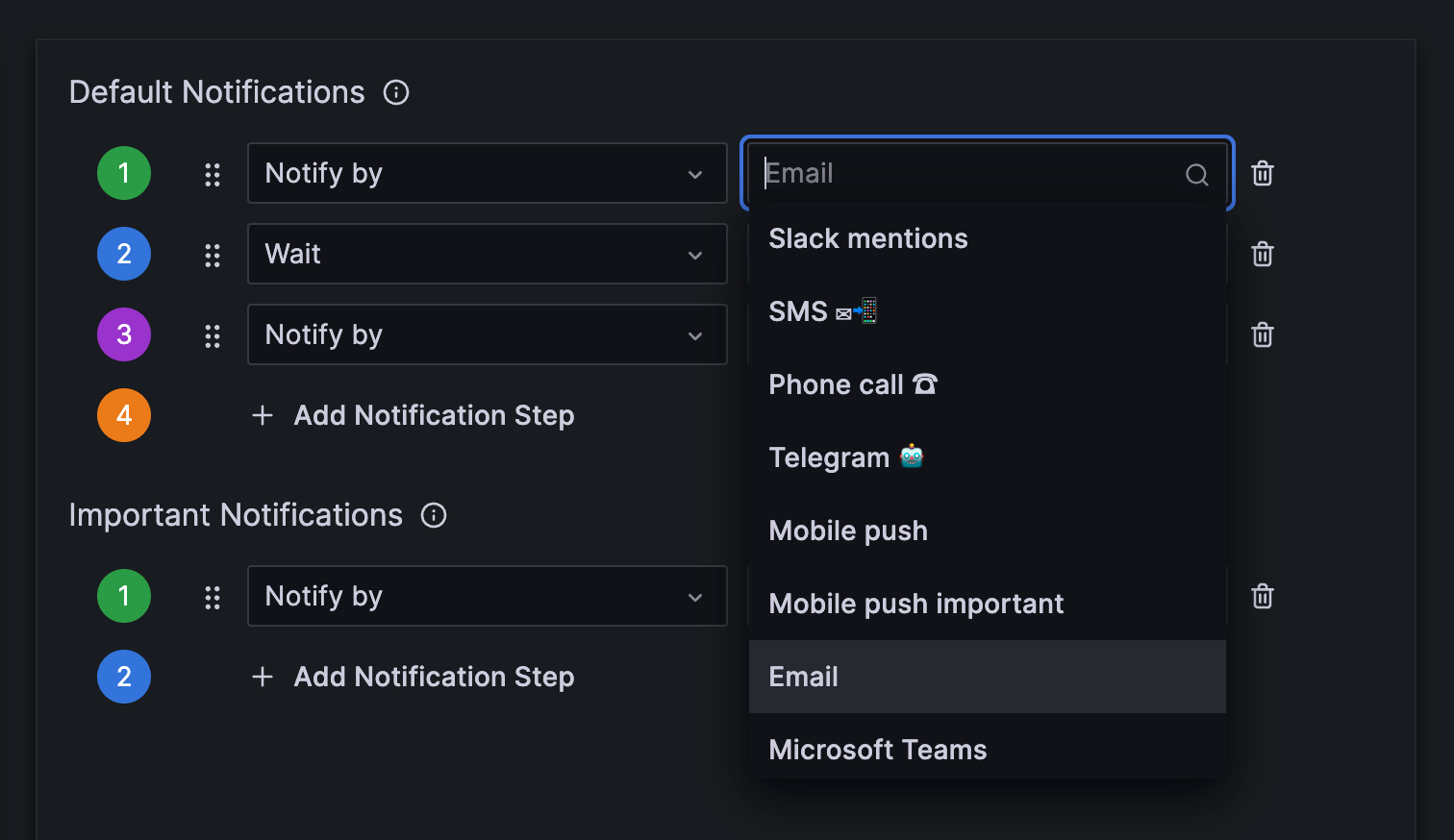 And if you want to deliver notifications via email, you can easily configure the title and body of the email via our powerful templating tool.This is extremely useful if your monitoring system has limited integration abilities, or if you would like to leverage OnCall for other use cases, such as service desk.
Learn more about Grafana OnCall
Again, on-call shifts can be stressful enough. When you need them the most, your tooling should help you put out fires, not make them worse. And when things are quiet, the same tooling should be as unobtrusive as possible. These Grafana OnCall updates can help you identify and respond to incidents faster, while giving you the flexibility to keep tabs on your system in a way that works best for you and your team's work-life balance.
Grafana OnCall is also part of our broader Grafana IRM offering in Grafana Cloud, which includes Grafana Incident. Check out our docs for more info, and watch this webinar to learn more about OnCall and the rest of the Grafana IRM offering in Grafana Cloud.
Grafana Cloud is the easiest way to get started with metrics, logs, traces, and dashboards. We recently added new features to our generous forever-free tier, including access to all Enterprise plugins for three users. Plus there are plans for every use case. Sign up for free now!