GrafanaCONline 2021 is off to a great start! Tune in live (for free!) or sign up to get notified about on-demand access to all the session recordings, which will be available after GrafanaCONline ends. 
If you didn't get a chance to watch yesterday's presentations, here's what you missed on Day 2 of the conference: 
Grafana Labs team members gave a demo of our latest major release, Grafana 8.0. Director of Professional Services Alex Martin highlighted the new features that make it easier to read and navigate through the app, as well as the new and improved metrics picker for Prometheus. She also discussed several new panels: Time series, State timeline, Pie chart (the blog post she references about using pie charts correctly is here), and the highly anticipated Bar chart, the first panel to be able to show non-time series data. Software Engineer Tania Batieva and Engineering Manager Vardan Torosyan showcased what's new in Grafana Enterprise, including changes to reporting and the new fine-grained access control, which is now available in beta.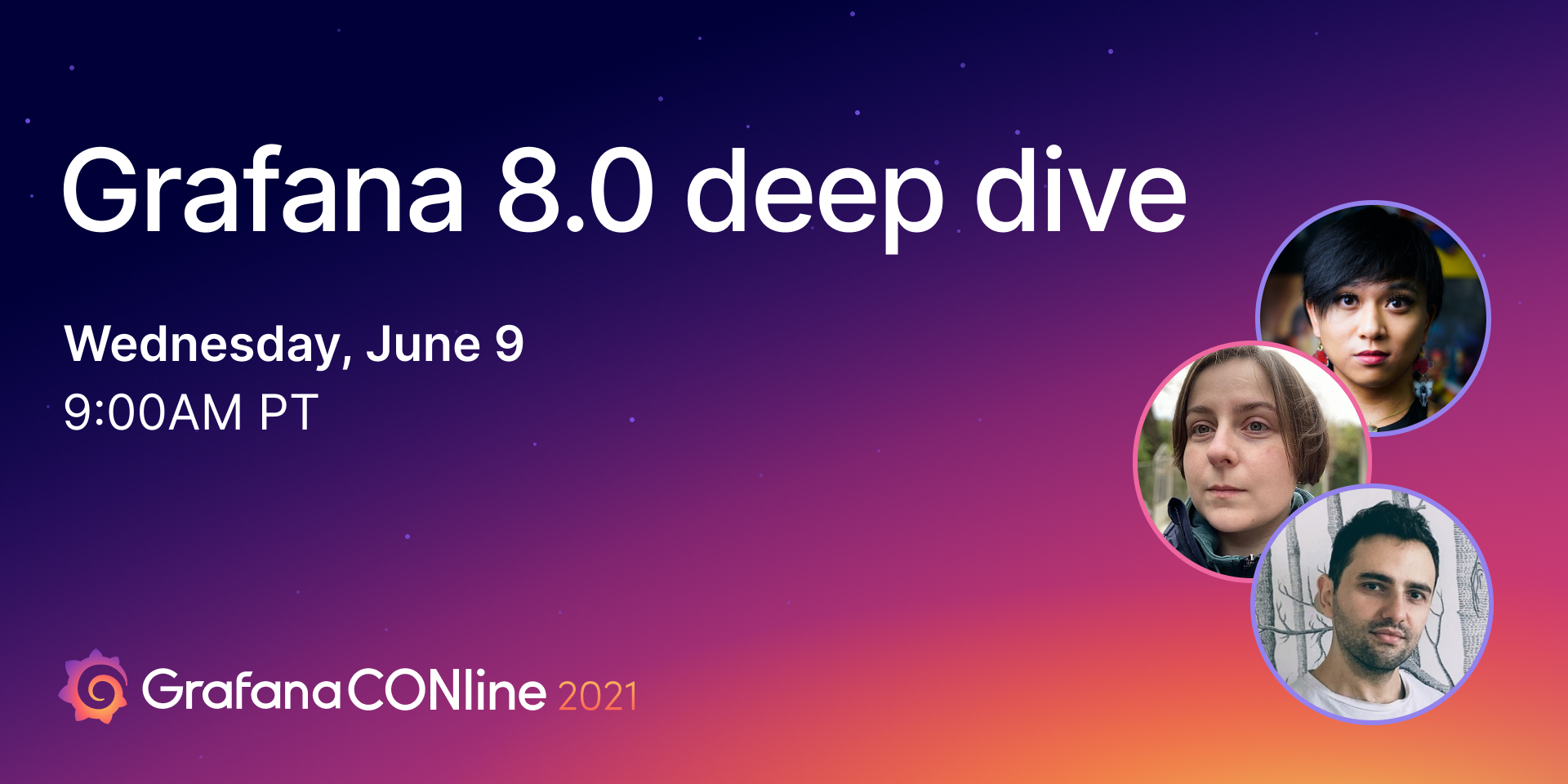 The session will be available on demand here.
Members of the Grafana Labs plugins team joined forces with and Volkov Labs founder Mikhail Volkov to discuss and demo the key features of some popular and new-and-improved plugins. Senior Solutions Engineer Christine Wang focused on the Jira plugin, one of the newer Enterprise plugins — and one that demonstrates how Grafana isn't just for time series data. Software Engineer Kevin Minehart discussed data source query caching, a feature for Grafana Enterprise. Among its benefits: avoiding both duplicate queries and rate limits, and reducing costs. Software Engineer Stephanie Closson went over guidelines and best practices for data source plugin query editors. (Her first piece of advice: Use Grafana's built-in UI.) And Volkov discussed how the new Redis plugins connect Grafana to Redis in new ways.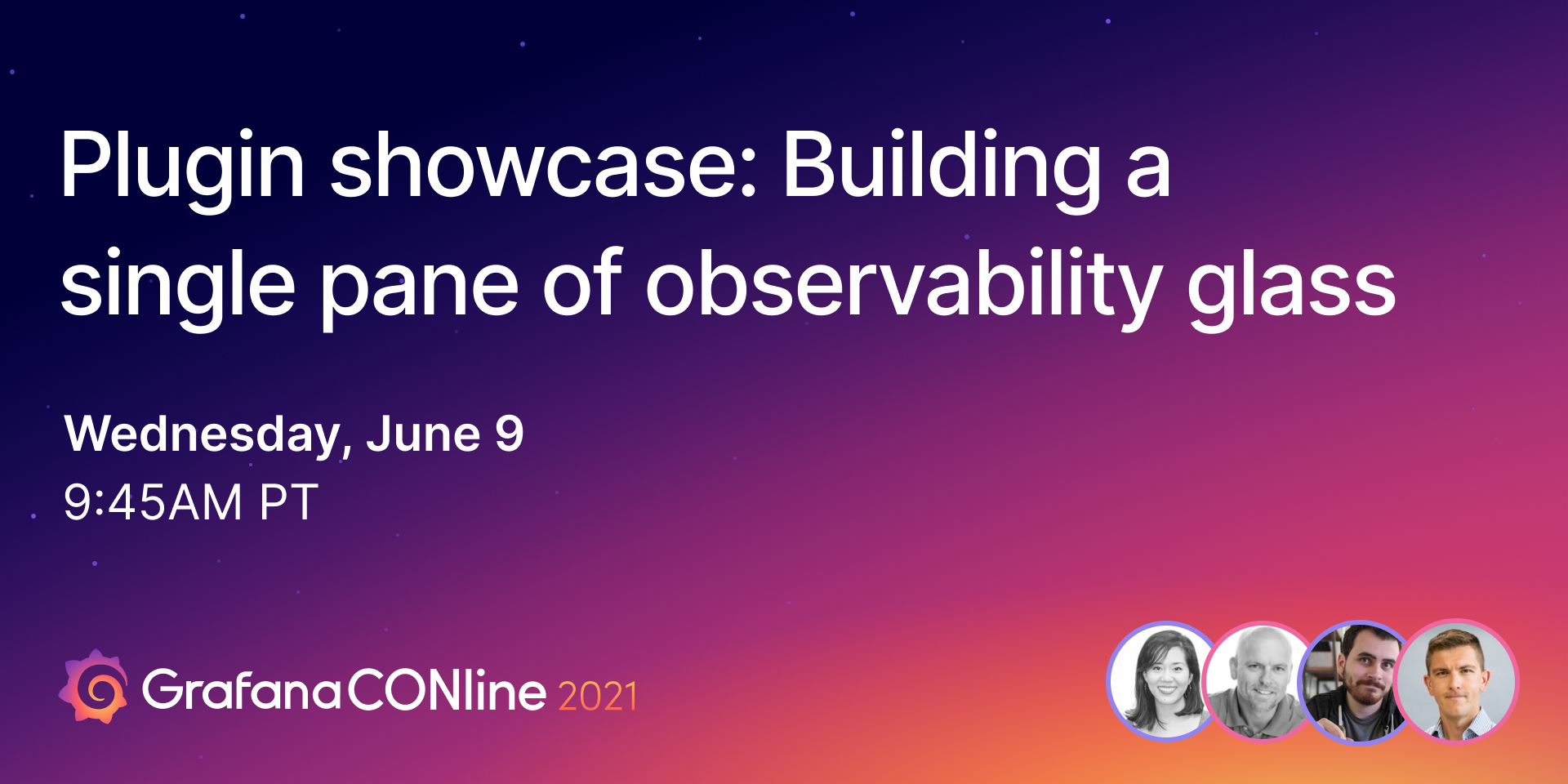 The session will be available on demand here.
In this session, Grafana Labs team members covered recent developments in Prometheus and Cortex. Senior Software Engineer Goutham Veeramacheneni, a maintainer for both projects,  kicked it off with a look at the increase in Prometheus activity over the years, the new UI and features (hello, dark mode), histograms, and exemplars. (For more on exemplars, check out the Open source distributed tracing with Grafana Tempo session.) He also explained how people can get involved in the Prometheus community. Software Engineer Christian Simon from the Grafana Enterprise Metrics team focused on Cortex and specifically the feature of cross-tenant query federation, which allows users to query metrics of different teams. Software Engineer Suraj Nath discussed synthetic monitoring, which utilizes Prometheus, Cotex, and Loki, and lets you easily monitor the uptime of your web services. He also gave a sneak peek at Traceroute, featuring synthetic monitoring. Senior Software Engineer Russ DuBrock followed up with a demo. And finally, Senior Cloud Integration Engineer Jacob Plicque III spoke about how Grafana Cloud integrations help users get started quickly and what's in store for them.
The session will be available on demand here.
Earlier this year, the stock-trading app Robinhood was inundated with GameStop trades, making observability mission-critical. Engineering Manager Austin McKinley and Software Engineer Stanley Kwong from Robinhood shed light on their company's history with Prometheus and, as Kwong put it, Robinhood's "most viral GitHub issue." After Robinhood was no longer able to scale Prometheus, the two-person observability team handled the challenge by migrating to Cortex and then Grafana Enterprise Metrics to scale from 100M time series on Prometheus to 700M — make that now 1 billion time series! — on Cortex. 
The session will be available on demand here.
Roblox Principal Traffic Engineer Adam Mills talked about using Prometheus and Grafana to create useful dashboards for yourself and for customers. As a load balancing engineer within the data center fabric at Roblox, he's often asked a lot of questions from internal groups, but finding the answers used to take time. He walked through how he made the information immediately available by creating custom metrics that can be exposed via node-exporter and Prometheus, then displayed in a dashboard. In one map, for example, Roblox can see the page load performance for players across the globe, giving the company's executives a holistic view of the entire working infrastructure.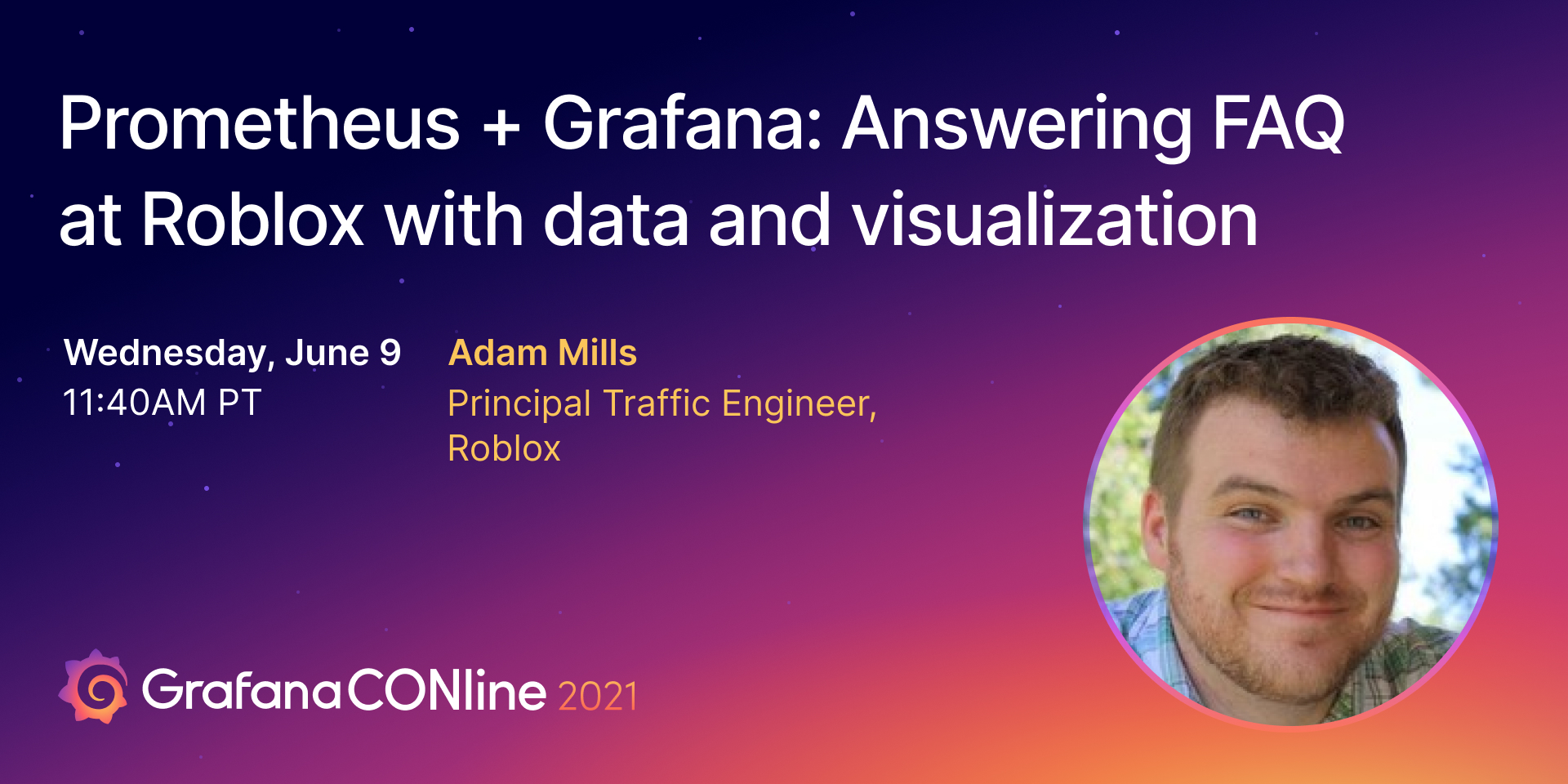 The session will be available on demand here.
Today's sessions
Open source distributed tracing with Grafana Tempo at 9:00am PT / 12:00pm ET / 16:00 UTC with Joe Elliot, Callum Styan, Marty Disibio, and Mario Rodriguez from Grafana Labs
Monitoring global e-commerce Magento sites with Grafana and Loki at 9:45am PT/ 12:45pm ET / 16:45 UTC with Laurent Bel, Hakim Rouatbi, and Tony Khosravi from Pernod Ricard
Predicting air quality (and pollution) with Grafana at 10:30am PT/ 1:30pm ET / 17:30 UTC with Jodie Barnsley from Aire Logic Limited 
Lightning talks: 5 quick ways to uplevel your use of Grafana at 10:55am PT / 1:55pm ET / 17:55 UTC with Oana Mangiuria, Alex Martin, Anthony Woods, John O'Brien, and Dave Schmid from Grafana Labs 
Lean, mean, monitoring machine at 11:40am PT / 2:40pm ET / 18:40 UTC with Andrew Burien from Dapper Labs
Check out the full GrafanaCONline 2021 schedule here.
And don't forget you can connect with the Grafana community and get the latest updates from the Grafana Labs team during the event on Slack. Sign up here and join the #grafanaconline channel.