Success / Utilita
How Grafana Enterprise helped light up sales and improve the customer experiences at U.K. top-10 energy supplier Utilita
Energy efficiency is a term often used to describe appliances or light bulbs. But when it comes to business, making sure your sales team — and customers — are being efficient with their personal energy is a big key to success.
That was a major lesson learned by Utilita, the U.K.'s first and only specialist Smart Pay As You Go Energy supplier. By using Grafana Enterprise — and its array of enterprise features and plugins — to monitor sales, payment, and customer support, they have not only been able to save time and money, but they've also been able to pass savings (and useful information) along to their customers.
Utilita began as a kitchen table startup in 2003-04, CEO and Founder Bill Bullen taking inspiration from the then Labour government's Energy White Paper that highlighted fuel poverty, climate change, energy security, and an aging energy infrastructure as the four big issues facing the sector.
"We built a company with these issues in mind," says Bullen. "We realized that helping customers save energy when it was cost-effective to do so was going to be a good thing, so we set up an energy business that actually helped households use less energy. In a competitive environment you're really trying to reduce a consumer's energy bill — whether this is through price or lower consumption.
"Later, we redesigned the business around delivering smart prepay — essentially building an energy tech business, installing advanced technology to try and address climate change and fuel poverty."
In 2005, Utilita was the first company in Britain installing smart meters in customers' homes, and the business began a period of sustained growth about ten years ago. "We've always been an early adopter of tech, and we've never been afraid to go against the grain," adds Bullen. "From 2013, business really took off when we started installing a new generation of smart meters – SMETS1."
Today, Utilita is one of the top-10 suppliers in the U.K. with an award-winning app, "excellent" Trustpilot rating and a host of honors – including Best Energy Efficiency and Best Smart Meter Installation at the 2021 Uswitch Energy Awards.
Over the last five years, our customer base has grown from about 150,000 to in excess of 800,000 accounts, with our use of Grafana Enterprise being a trusted driver of that growth. And this year, we expect to hit £850 million turnover.

Bill Bullen, CEO & Founder, Utilita
The sign-up struggle
Before Utilita began using Grafana Enterprise, their sales process went something like this:
A potential new customer would sign up for service on the company's website. Once the information was processed, Utilita might discover the customer's meter was incompatible, or already supplied by Utilita. Either way, it led to lost money and wasted resources.
"Time, effort, and money were spent on processing the overhead admin for sales that never became anything. We only want to sign up people that we know we can sign up," explains Adrian Goater, Utilita's Web Development Manager.
Utilita already had the information they needed that would have prevented the problems, but it was often buried in a plethora of disparate spreadsheets, and they didn't have visibility tools to make it useful.
Grafana has, in some ways, made the invisible visible.

Bill Bullen, CEO & Founder, Utilita
Amping up monitoring
The idea to look into Grafana Enterprise came from Utilita's CTO, Ian Burgess, who joined the company in 2019.
Around that time, Utilita broke away from working with third parties and became directly responsible for their own app development, balance calculator, and payment processing. "Before, our focus was on hardware, like the meters," Goater explains. "We needed to become more like a development tech company."
Utilita adopted Grafana Enterprise as a monitoring and visibility solution. Implementing it company-wide was simple. "We're a heavily Oracle-based company, so when we saw the Oracle plugin, we realized: 'Oh, this is going to be so easy,'" Goater recalls. "And it is. Our Oracle team, who work on the backend, also code the screen. It's all part of the development life cycle. We develop it, build it, monitor it, check that it works using Grafana, and then can put it live."
The development team was introduced to Grafana first, but once members of the sales team, finance department, and call center saw Grafana dashboards in action, they were all asking how they could use it themselves.
Goater says Utilita uses Grafana "quite heavily" now. One of the things they've come to rely on is alerting. It's become an especially important tool as they grow their business and acquire more customers, because now they can see immediately when a potential customer isn't actually eligible for service. In their Grafana dashboards, they can pinpoint the reason and quickly figure out if it's something that can be resolved or if the customer's enquiry simply ends at that point.
That solved their big original problem, but the team discovered a lot of other uses for Grafana alerting in the process. For instance, thanks to alerting, they can now see when a customer starts the process to top up their card but stops prior to completion, or if there's a power outage. Beyond these customer-facing uses, Utilita also uses Grafana to monitor internal CPU load and memory usage.
When you become a big business with all this data, you need to pull it together. And I think Grafana is the gel that pulls everything together from across the business to give us a real-time snapshot of how Utilita's doing at any given moment. It's incredibly valuable.

Adrian Goater, Web Development Manager, Utilita
Sales system reboot
Thanks to Grafana, a new sales system was put into place. In the dashboard below, Utilita can see the sign-up process in real time and track hard fails (i.e., where a home already has Utilita from a previous resident) and soft fails (i.e., a home has a meter type incompatible with Utilita's offering). When a potential customer is ineligible, the sales journey, as they call it, typically ends.
Utilita real-time sales dashboard
The dashboard may seem like a helpful tool, but it initially caused some friction with the sales team. With some customer leads now dead on arrival, the sales process was often cut short. That meant the pool of potential customers — and potential commissions — shrunk.
"Initially there were fewer sales," Goater admits, "but in the long run, it's obviously better."
The change, in fact, has eliminated many extra costs. For starters, Utilita is no longer sending out welcome books and marketing collateral to ineligible customers. Moreover, by reducing the number of times each customer calls their call center, they've seen a decrease in overall costs and an increase in revenue. "The less people who call us to say, 'I signed up, and I got a letter from you that says now I can't,' the better," Goater says.
Plugging into payments
Among the other key metrics Utilita looks at in their dashboards is payment response times. "This is probably the most-used dashboard that we have, and it's our real-time payments going through," Goater says. "Without it, we'd be completely blind to revenue-affecting issues in our payment process."
Dashboard showing Utilita's per-minute transaction costs and prepayments.
The dashboard, which has grown over time, shows things like per-minute transaction costs and prepayments. They can also tell when customers receive alerts that they need to top up their payment or that their service will be cut off (the light blue peaks in the top graph). But, Goater says, "It's the abandoned stuff that really helped us."
In other words, if they see a jump in the number of customers who are unable to complete payment transactions, Utilita will know that something is wrong with the system. They can then immediately set to work fixing that customer-facing issue as opposed to just assuming some customers had abandoned the payment process voluntarily.
Major maps
Another incredibly useful dashboard Utilita has created with Grafana shows meter modes. They can track something as big as the power supply in an area or as small as meter tampering at a home.
Utilita's dashboard highlighting real-time power outages for their customers
If there's a power cut, Utilita will get an alert on their map. "We might get people calling, but we can already see it on the map," Goater says. By having the ability to be proactive, Utilita can now concentrate on identifying and fixing the root problem and in turn provide quicker and more direct customer service.
Appliance applications
Over the years, Utilita has expanded their use of Grafana from just a monitoring tool to something that enhances a customer's overall experience as well.
A new feature they're developing is predictive appliance usage. Currently still in beta, it starts with a customer filling out a survey to share how many people are living in the home and what appliances they have. "All of that data then gets fed into the backend, which is then displayed in Grafana," Goater says.
This dashboard shows a customer's individual appliances and how much energy they're consuming. "Once we know more about their appliances and energy consumption, we are able to offer them more accurate energy efficiency advice," he explains.
Internal dashboard showing a Utilita customer's individual appliances and how much energy they're consuming
The company now even has a "Smart Score" system based on a customer's energy usage at different times of the day. It factors in what appliances may be in use when they're not at home. "You can click into it, and it tells you what you need to do better," Goater explains. "We can start to give feedback directly to them, so that they can make informed choices on how to most acutely save energy."
Looking ahead
With Grafana in their tech toolbox, Utilita is continuing to explore different ways they can use metrics to create new features.
Thanks to Grafana, we're in a position now where we can add additional tech — digital products — quickly and efficiently, with very low additional cost to the business.

Adrian Goater, Web Development Manager, Utilita
One in-the-works project is focusing on the period after a customer signs up, but before their energy supply is activated. "We can start to visualize what activation dates are available, what patches are getting busy, and where to send our engineers," Goater says.
Additional new features, he imagines, "will be led now by the app and payments, and this kind of customer journey."
As Utilita has grown over the past few years, "There's been a greater need to have better visibility of data in order to spot the trends and become more efficient," Goater says. "And since we've been with Grafana, it's been a great help."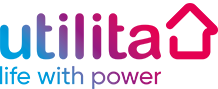 Industry
Energy & Utilities
Company Size
500-1000 employees
Headquarters
Hampshire, UK
Products/projects used

433%
increase in customer accounts
---
£850 million
in annual turnover
---
5x
expansion of Grafana use cases across the company