Pricing
Options for every user, organization, and use case
Grafana Cloud
Fully managed in the cloud with 99.5% SLA
Free
Up to 3 active users.
10k metrics + 50GB logs + 50GB traces per month.
14 days retention
Grafana OnCall
Grafana Incident
Synthetic monitoring
Alerting
Pro
Starting at $8/month
1 active user included. Additional users $8/ea.
10k metrics (1 DPM) + 50GB logs + 50GB traces per month. Scale to infinity with additional usage.
Includes all features in Free, plus:
Retention: 13 months for metrics; 30 days for logs & traces
Grafana Machine Learning
SSO/SAML/LDAP
Data source permissions
Cloud SLA and support
Query caching
Recorded queries
Reporting and export
Optional add-on Enterprise
plugin
Advanced
Custom number of active users.
Custom data usage.
Includes all features in Pro, plus:
Customized retention
Access to all Enterprise plugins
Audit logging
Enhanced LDAP
Team sync
Custom branding
Customer success manager
Enterprise Stack
Self-managed
Enterprise
Grafana Enterprise, Enterprise Metrics, Enterprise Logs, Enterprise Traces
Customized data usage, retention, and users
Access to all Enterprise plugins
Audit logging
Enhanced LDAP
Team sync
Custom branding
Customer success manager
Role-based access control
Estimate Grafana Cloud monthly cost
Cloud Advanced plan
Custom pricing
---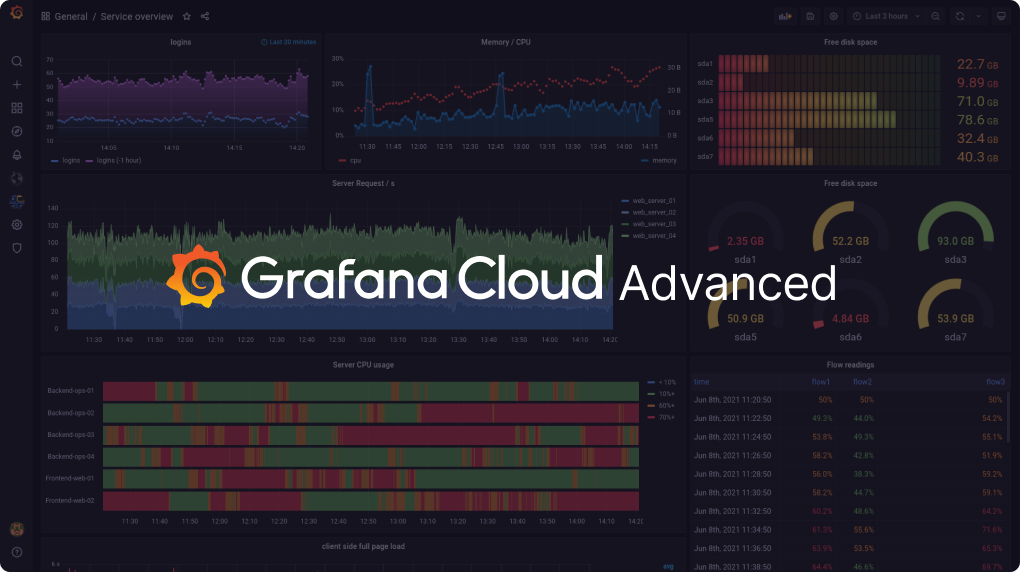 Custom volume
Additional support and account services
Enterprise-grade security features
Unlimited dashboards
Unlimited stacks
Compare features
Cloud Free

Everything users need to understand their applications and infrastructure

Cloud Pro

For teams and workloads that require scale, security, and collaboration

Cloud Advanced

For enterprises with large scale, security, and governance needs to centrally manage

Managed features

Dashboards

•

10

•

Unlimited

•

Unlimited

Stacks

•

1

•

3

•

Unlimited

Synthetic monitoring

•

•

•

Grafana Machine Learning

•

•

•

Grafana Incident

•

•

•

Grafana OnCall

•

•

•

Grafana OnCall: Slack notifications

•

•

•

Grafana OnCall: SMS / voice notifications

•

•

•

Alerts

•

•

•

Alertmanager

•

•

•

Grafana Agent

•

•

•

Panels

•

•

•

Panel editor

•

•

•

Share dashboards and panels

•

•

•

Library panel

•

•

•

Linking

•

•

•

Transformations

•

•

•

Templates

•

•

•

Variables

•

•

•

Explore

•

•

•

Exemplars

•

•

•

LogQL

•

•

•

Loki query editor

•

•

•

Log browser

•

•

•

Log queries

•

•

•

Log context

•

•

•

Live tailing

•

•

•

PromQL

•

•

•

Prometheus alerting UI

•

•

•

Recorded queries

•

•

•

Query tracing

•

•

•

Upload JSON trace file

•

•

•

Linking trace ID from logs

•

•

•

Visualize and monitor

Integrations: out-of-the-box dashboards

•

•

•

Prometheus Exporter quickstarts

•

•

•

Community-created plugins

•

•

•

Grafana Labs-created plugins

•

•

•

Enterprise plugins

•

•

•

Data source plugins

•

•

•

App plugins

•

•

•

Panel plugins

•

•

•

Plugins platform

•

•

•

Plugin catalog

•

•

•

Sign & install personal plugins

•

•

•

Collaboration and usage

A global view of metrics

•

•

•

Usage insights

•

•

•

Reporting

•

•

•

Custom branding (White labeling)

•

•

•

Team sync

•

•

•

Security and governance

Administration UI

•

•

•

Compliance

•

•

•

Manage users and permissions

•

•

•

Dashboard and folder permissions

•

•

•

Data source permissions

•

•

•

LDAP

•

•

•

Query caching

•

•

•

SAML

•

•

•

Audit logs

•

•

•

Centralized authentication (OAuth2)

•

•

•

Enhanced LDAP sync

•

•

•

Vault integration

•

•

•

Role-based access control

•

•

•

Availability and scalability

Customizable long-term retention

•

•

•

High availability

•

•

•

Flexible region choice

•

•

•

SLA

•

•

•

Zero-downtime upgrades

•

•

•

Fully managed deployment

•

•

•

Support

Onboarding and technical troubleshooting

•

•

•

Community support

•

•

•

Customer success manager

•

•

•

Support

•

•

8x5

•

24x7

Grafana Labs training / professional services

•

•

•
FAQ

---

What is an Active User?

Any user that logs into Grafana during the billing month
Any user that is identified as being in the rotation and/or in the escalation chain in Grafana OnCall during the billing month

---

Will I be billed during my 14-day trial of Grafana Cloud Pro?

Nope! If you decide to continue after the 14-day trial (we hope you do), you can decide between the Pro or Free plan available with Grafana Cloud.

---

How can I cancel my subscription or close my account?

For monthly Pro customers, simply log into your account and go to "manage subscription" to downgrade your plan. Please note: Deleting your stack does not cancel your subscription.

For annually billed customers, the notice period will be in your service order or can be provided by your Account Executive.

If you have any questions, simply email support@grafana.com from an email address registered as an admin on your account.

---