Intro to Prometheus and Grafana Cloud
Intro to Prometheus and Grafana Cloud
This event has concluded
A recording will be available soon. Sign up to be alerted.
Intro to Prometheus and Grafana Cloud
Intro to Prometheus and Grafana Cloud
You are registered for this webinar.
You'll receive an email confirmation, and a reminder on the day of the event.
This event has concluded
A recording will be available soon. Sign up to be alerted.
Prometheus is taking over the monitoring world! In this webinar, we will start with a quick introduction to the open source project that's the de facto standard for monitoring modern, cloud native systems.  
We will then demonstrate why Grafana Cloud, our composable observability platform, pairs so well with Prometheus, and why you should consider Grafana Cloud even if you have an existing and stable Prometheus installation.
Finally, if you're a complete beginner to Prometheus, we'll show you all the work we've done to make Prometheus extremely simple to adopt and use. You can get the metrics and alerts working in just a few minutes!
Get started easily with our robust free tier of Grafana Cloud, which includes 10K series for Prometheus/Graphite metrics + 50GB Loki logs.
During this webinar you'll learn about:
Why you want to have Prometheus for monitoring.
Why you should use Grafana Cloud even if you already have a Prometheus installation.
How Grafana Cloud is the easiest way to get started with Prometheus. s.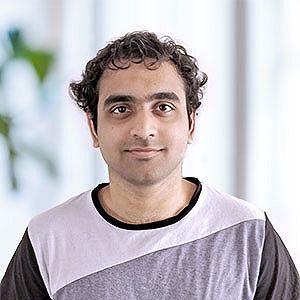 Product Manager at Grafana Labs
Goutham is a maintainer of the Prometheus and Cortex open source projects and a senior software engineer at Grafana Labs.
He spent most of his coding career working with and contributing to open source software. After an internship and a gap semester contributing to Prometheus, he now works full-time on Prometheus, Cortex, and observability for Grafana Labs. When not in front of a screen, he is either busy baking bread and pizza or on his bike adding miles.