Success / Royal IHC
Monitoring next-generation maritime vessels at Royal IHC with Grafana Cloud Advanced
With a rich history in the Dutch maritime world, Royal IHC is known for delivering reliable, integrated solutions that improve operational efficiency for their customers. The company serves industry leaders who are running fleet operations around the world.
Dredging is an important process for creating new ports, maintaining navigable waters, cleaning up pollution, and slowing shoreline erosion. Depending on the type of work that needs to be done, dredging companies might use mechanical dredging equipment and vessels or hydraulic dredgers, including suction and reclamation vessels. Each one of these vessels is a sophisticated piece of equipment that uses pumps, pipelines, jets, and cutting tools to excavate sediment in bodies of water.
Recent developments have resulted in more sophisticated vessels that are optimized for performance and safety. These vessels come equipped with anywhere from 200-500 sensors generating data on performance, speed, environmental readings, and more. A typical dredging fleet might include several ships with more than a thousand sensors generating data every moment they are put to sea.
Dredging up a modern maritime monitoring solution
Generating all that data is just one part of tracking and maintaining a seafaring fleet. Monitoring performance and the real-time status of their equipment is an essential second part of the equation for dredging companies. Because they're often working near shorelines and on specific time constraints, keeping track of the location, condition, and performance of their vessels helps the companies make sure that projects can continue safely, all while meeting time and budget constraints.
As a Royal IHC project leader for dredging consultancy, Guus Derksen helps his clients monitor and visualize how their vessels are performing. And when he took on a leadership position for the team back in 2019, one of his top priorities was finding a way to offer his clients a more efficient, helpful solution for monitoring the dredging process as their vessels work to maintain safe navigation channels and docks.
At a previous company, Derksen had used an Excel environment to collate and share the information generated by these vessel sensors with clients. While he was able to collate the necessary data in this environment, it was time consuming to ingest large datasets and then build out individual visualizations for each key metric that clients needed to see. This setup was also not efficient for ensuring that clients had up-to-the-minute intelligence drawing from the most recent data generated by their equipment. There was no way to stream data directly into Excel, much less have the Excel-generated visualization dynamically refresh with that new data anyway. There was also no technical help or expertise to draw on for assistance when things weren't working properly or the team needed guidance on trying something new. Derksen was looking for a more efficient solution, and when he started leading the Royal IHC team, he learned that they were too. "We were already looking into possibilities to make it efficient and to have it presented in a visual and user-friendly manner," said Derksen.
The team experimented with a number of options ranging from Python to Excel, but none of them provided the freedom the team wanted. They took a step back and started looking specifically for solutions that provided greater flexibility for integrating data sources, building custom visualizations, and providing secure access for a variety of clients at a more cost-effective price point.
That's when they tried Grafana.
We just put [Grafana] in our environment and we started working on things and exploring the way it worked – the methods, the connectivity, the data sources. In each case, it checked off the boxes that we needed in order to confidently build out that more efficient tool for our customers. After half a year or so, we started presenting it to one of our client.

Guus Derksen, Project Leader for Dredging Consultancy, Royal IHC
Getting started with Grafana OSS
Royal IHC's goal was simple: to provide a more user-friendly way for their customers to monitor their dredging equipment. By creating dashboards that quickly showcased important metrics like performance, fuel, and even environment statistics – like temperature, wave height, and wind speed, the team was able to meet their goal.
Grafana delivered a streamlined solution for collating and sharing all the time-series data generated by each customer's vessels in one convenient, easy-to-use solution. "It provided us a solution that was user friendly on one side and quite flexible on the other side," said Derksen. And because they could get started with the free version of Grafana, there was plenty of room for experimentation and tweaking. 
Now, almost two years later, Derksen's team has perfected their Grafana dashboard for clients. A typical dashboard provides an easy-to-read overview of the equipment's performance, location, nearby weather conditions, and alarm and warning status. It also highlights key metrics like production, fuel consumption, operational hours, and service hours.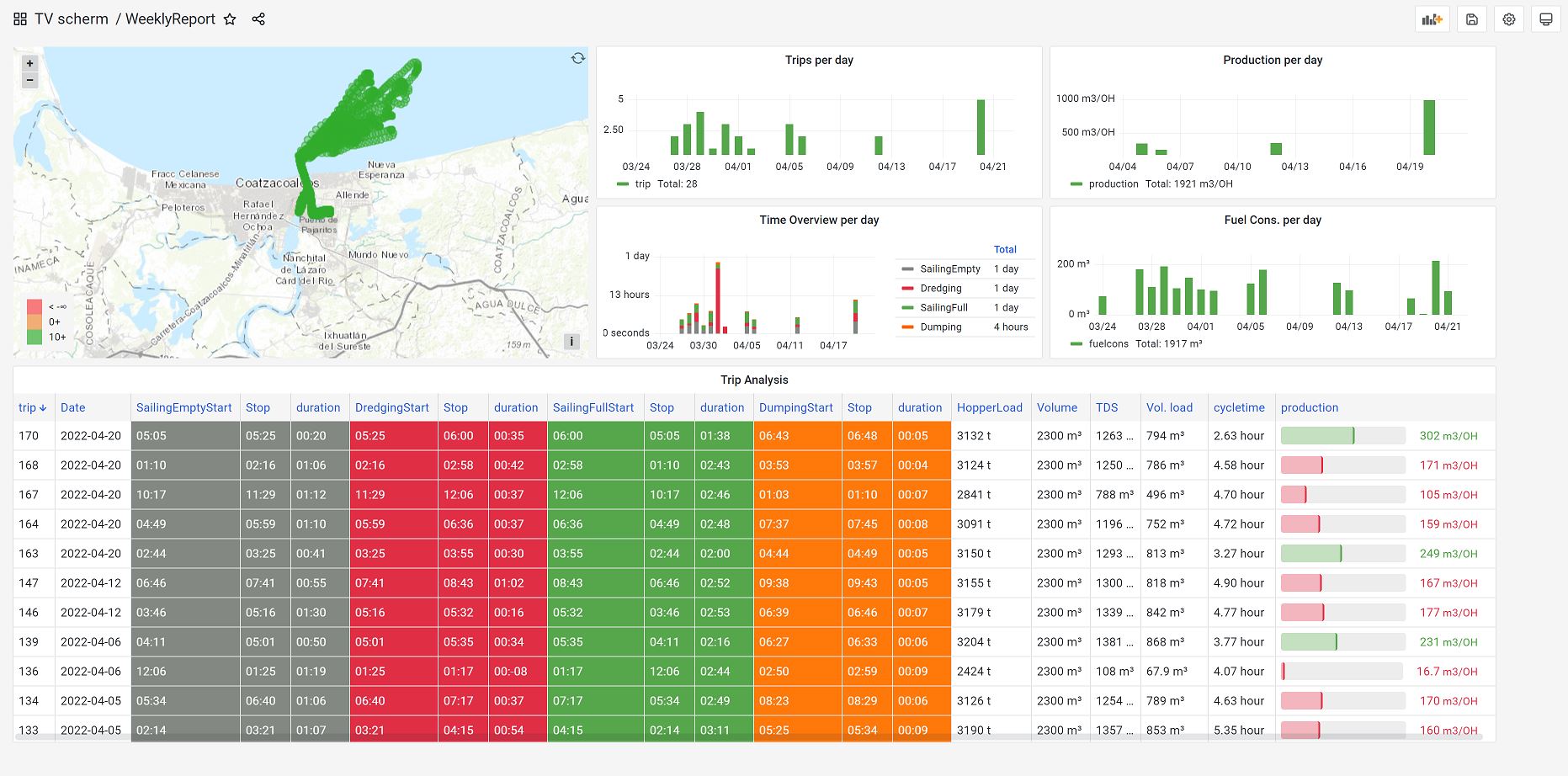 A Royal IHC dashboard showcasing key metrics like production, fuel consumption, service hours, atmospheric conditions, and alarm status
Each dashboard provides a high-level view of a fleet with the option to drill down into more specific data. It's essentially a comprehensive monitoring page for each fleet of vessels, complete with an overview of parameter sets to compare them and options to monitor different types of equipment.
This in-depth look at the status of each fleet provides Royal IHC's clients with up-to-the-minute information so they can make informed decisions faster and stay ahead of the game. For example, if weather conditions are trending negatively, a client can plan their next move for that vessel rather quickly. And if dredging output or performance is not tracking as expected, that becomes apparent right away and can be quickly addressed so that schedules and expectations can be adjusted before it's too late. In the past, it had taken days to get updated data and the subsequent Excel-based visualizations ready for clients, so more time would be wasted and overall output would be affected for a longer amount of time. With that legacy setup, both real and opportunity costs could spike because decisions couldn't be made in real time.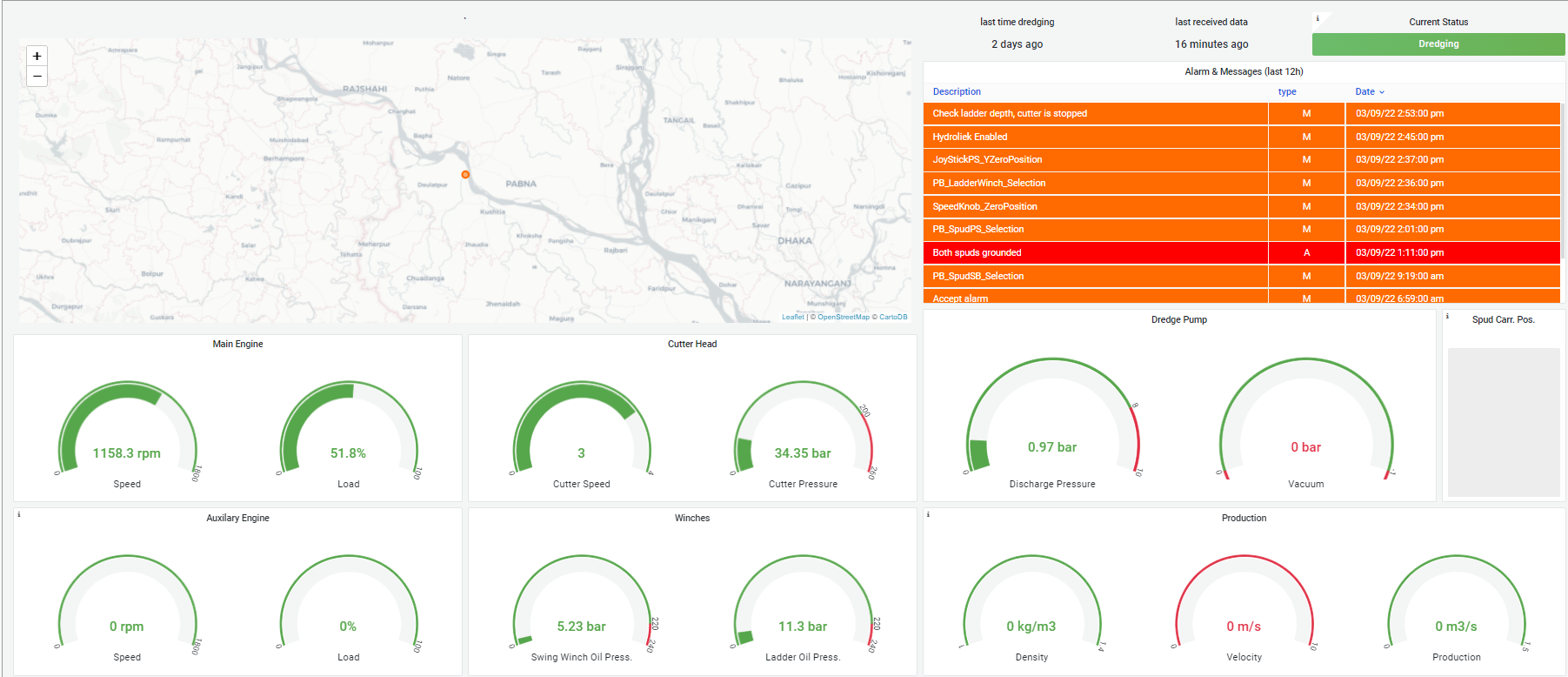 A real-time Royal IHC dashboard showcasing a customer's vessel speed, load, oil pressure, and more

With this updated solution and real-time Grafana dashboards, Royal IHC's clients can get insight into not just performance and atmospheric conditions but also fuel needs and alarm statuses, making it so much easier for them to plan ahead for refueling, repairs, and more.
We provide our clients with access to the environment of their equipment so they can know how their equipment is performing. That's our main goal. What we strive to do is to use Grafana as the main information presentation system, visualization system.

Guus Derksen, Project Leader for Dredging Consultancy, Royal IHC
These Grafana dashboards make use of thresholds so clients can see quickly if capacities are in the clear (green), nearing capacity (orange) or at capacity (red). With an overview of alarms and warnings, a map that shows the equipment's location, and key metrics like production, fuel consumption, operational hours, and service hours, Grafana helps Derksen's team give their customers a single pane of glass for checking in on their vessels. There's also a weekly dredge overview that shows operational efficiency and the number of alarms that were triggered that week. And in the daily overview dashboard, users can quickly see production quantity and rate, working hours, and how close the piece of equipment is to reaching limits. "With Grafana, we're able to present vessel performance and status information much more effectively for our clients," said Dersksen. "It's a huge improvement over legacy solutions and an advantage for Royal IHC to be able to offer such a cutting-edge approach to vessel monitoring."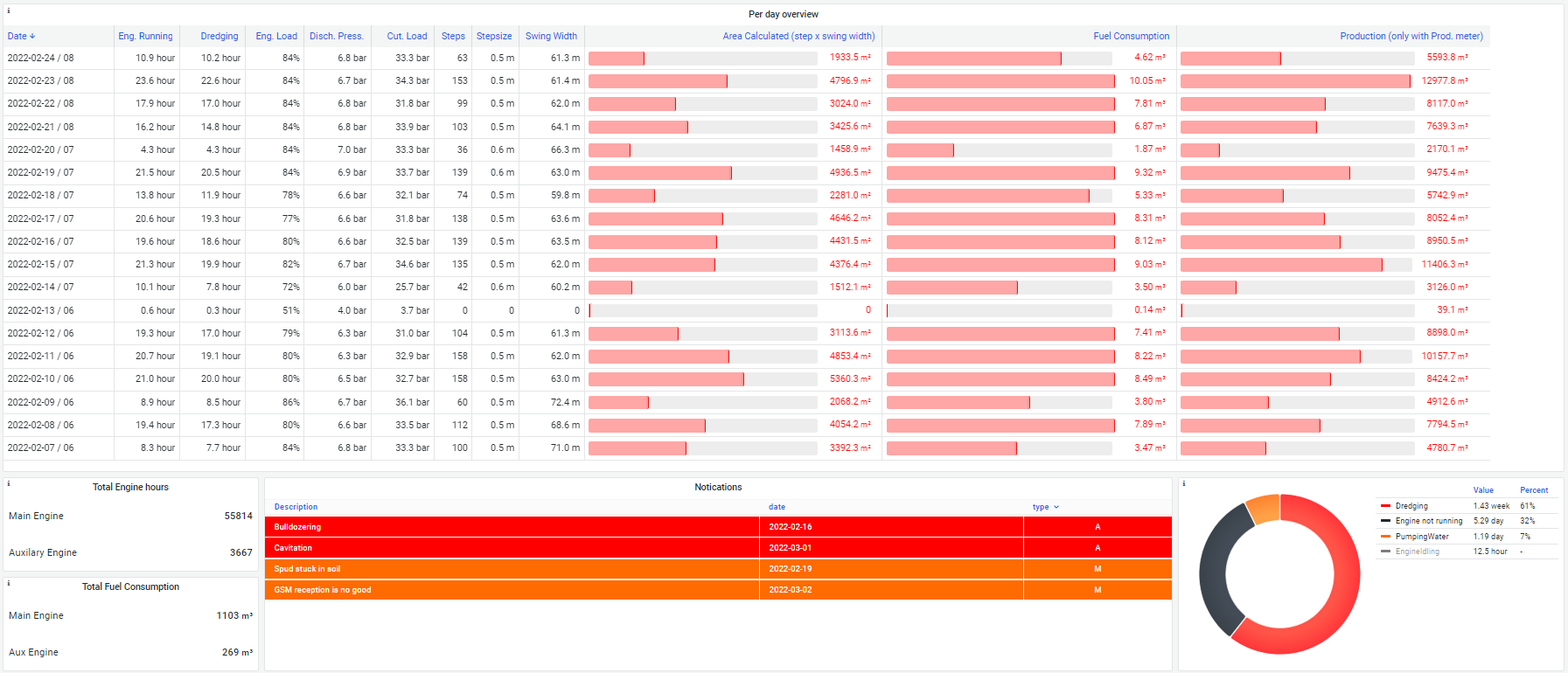 Transitioning from OSS to Grafana Cloud Advanced
Derksen's team was so happy with the dashboards they were able to create for individual clients that they decided to move to Grafana Cloud Advanced to take advantage of its built in access and security features so they could easily provide secure access and dashboards for multiple clients at once. 
Now, they're serving a handful of clients and their fleets. Each client has several users with secure access, and they're able to access their individual dashboards daily, weekly, or monthly to check in as needed.
With Grafana Cloud Advanced, there are a lot more opportunities for growth and evolution of the Royal IHC use case. "We are developing it right now – moving it forward. We have several ideas for the future," said Derksen. "We are now looking to expand to fleets of three to five vessels," says Derksen. "Our biggest priority at the moment is expanding to different types and models of equipment."
It's all possible because they don't have to maintain everything for individual clients. The maintenance is simpler, and secure access is guaranteed. "We moved to Grafana Cloud Advanced to have it presented and to have our client given access and it was quite user friendly," said Derksen. 
"That's the reason why I personally want to support the Grafana environment. For me it definitely gave us the right direction to move on with the development we are going through in general."
Starting with Grafana OSS and pivoting to Grafana Cloud Advanced was a game changer for Derksen and his team, allowing them to provide a competitive advantage to their clients and to Royal IHC. It's a benefit that Derksen has seen personally and isn't afraid to share publicly. As he said, "I'm Dutch, and I'm honest. If I wasn't happy to share how beneficial Grafana has been for us, I wouldn't be here talking to you about it today."

Industry
Travel & Transportation
Company Size
3500+ employees
Headquarters
Kinderdijk, The Netherlands
Products/projects used

500
data-generating sensors per vessel