The best developer experience for performance testing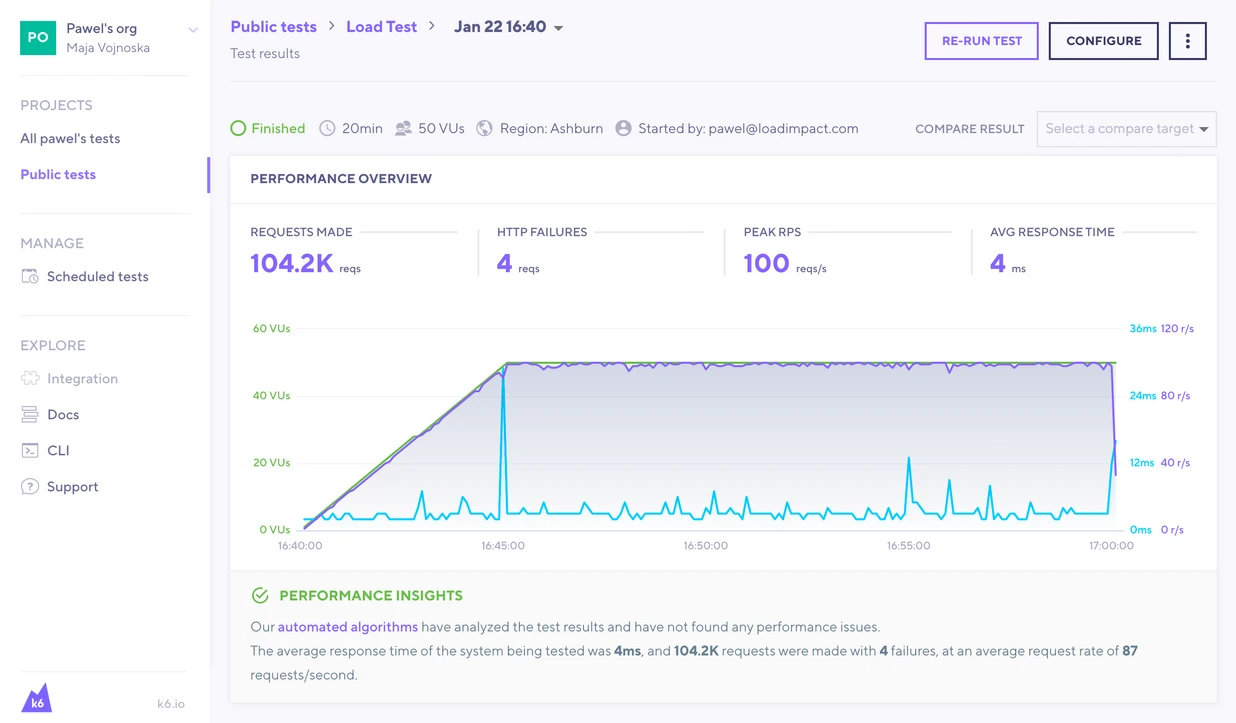 Grafana k6 Cloud is the modern performance testing platform that brings cross-functional teams together to prevent system failures and consistently deliver fast and reliable applications. This product is based on the Grafana k6 OSS project.
Shift left and collaborate on testing
k6 Cloud provides a developer-centric experience and bridges the gaps between the traditional Dev, Testing, and Ops silos, allowing them to collaborate on testing.
Boost release confidence and velocity
k6 Cloud integrates well in the CI/CD process, allowing teams to continuously test existing SLOs and deploy new features without breaking them.
Reduce MTTR with full stack visibility
The k6 Cloud app plugin for Grafana allows you to gain full context for troubleshooting performance issues — without switching between platforms.
Create tests faster
Get started with the easy-to-use, well-documented APIs and CLI and a familiar scripting language, JavaScript.
Onboard users quickly in the test-creation phase with the GUI test builder and browser recorder.
Schedule and automate testing from the web app, CLI, and CI pipelines and use SLOs as the pass/fail criteria.
Run cloud tests
Launch tests from 21 geographic locations to ensure a great experience no matter where your users are.
Run tests in the cloud for up to 1 million concurrent virtual users or 5 million requests/second.
Analyze test results
See reliability issues instantly when your systems are stressed.
Detect performance changes when comparing results between tests and trends over time.
Analyze multiple metrics together and troubleshoot issues quickly with the rich UI.
k6 Cloud app for Grafana
Performance testing and observability in one platform
The k6 Cloud app for Grafana allows you to view, run, and visualize metrics for your k6 Cloud tests in Grafana.
Manage and visualize your k6 Cloud tests in Grafana.
Add k6 visualizations to your existing Grafana dashboards.
Correlate performance test results with server-side data to find root causes quickly.