Important: This documentation is about an older version. It's relevant only to the release noted, many of the features and functions have been updated or replaced. Please view the current version.
Grafana documentation
Visualizations
Table
Filter table columns
Filter table columns
If you turn on the Column filter, then you can filter table options.
Turn on column filtering
In Grafana, navigate to the dashboard with the table with the columns that you want to filter.
On the table panel you want to filter, open the panel editor.
Click the Field tab.
In Table options, turn on the Column filter option.
A filter icon appears next to each column title.
Filter column values
To filter column values, click the filter (funnel) icon next to a column title. Grafana displays the filter options for that column.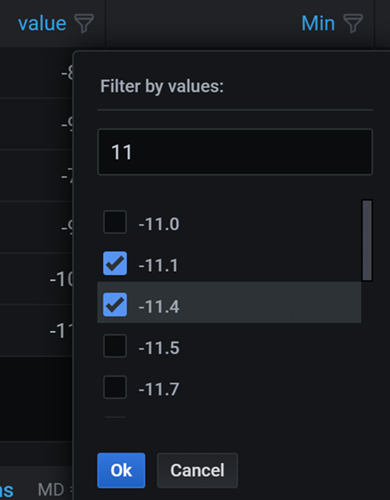 Click the check box next to the values that you want to display. Enter text in the search field at the top to show those values in the display so that you can select them rather than scroll to find them.
Clear column filters
Columns with filters applied have a blue funnel displayed next to the title.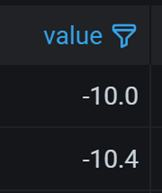 To remove the filter, click the blue funnel icon and then click Clear filter.