Grafana Cloud
Performance testing
Analyze test results
Export results
Generate a PDF Report
Your Grafana Cloud k6 test results provide a comprehensive overview of your application performance trends, which can help you detect patterns and uncover performance issues.
You can customize and export a PDF of your test results to track and share your data with other team members. The PDF report serves as an executive summary of the test results' most relevant metrics and performance data.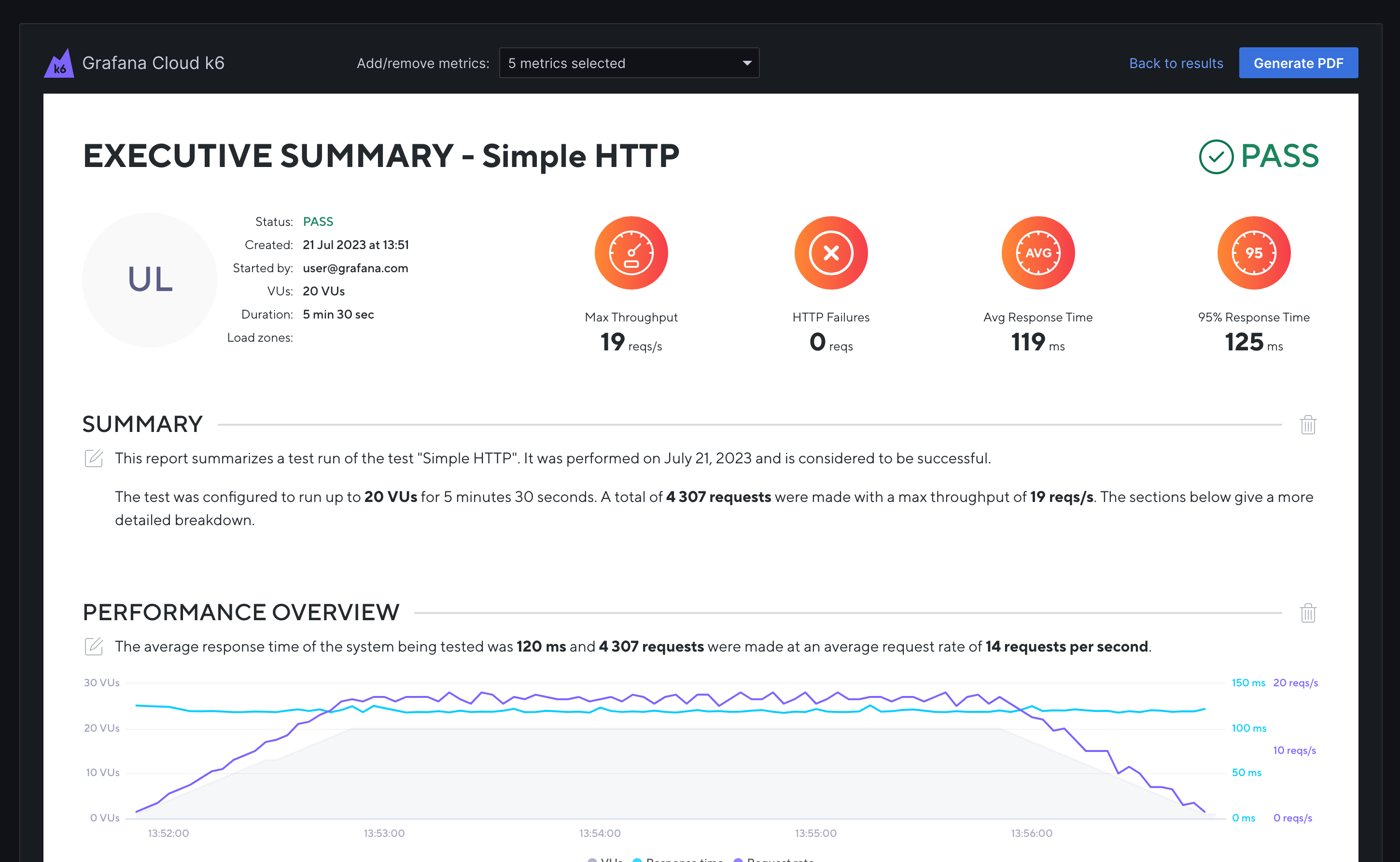 Open the editor
To generate a PDF summary, follow these steps:
Navigate to a specific test result.
Click the three-dots icon in the top right corner to open the test results menu.
Select Generate PDF summary.
This action opens the editor, where you can customize and download the summary.
Add or remove metrics
The editor comes equipped with a variety of predefined metrics that can be included or removed from your report.
To customize the data included in the report:
Click the Add/Remove Metrics dropdown at the top of the editor.
Select and deselect the available predefined metrics as needed.
Summarize the results
Once you've defined which metrics to include in your report, you can edit and format the content included in your PDF summary report to fit your needs.
Edit text

Each section of the PDF summary contains text from a predefined template.
To modify this text, follow these steps:
Click on the edit icon or click the text directly.
Input your desired changes.
Click outside the text field to apply the modifications.
If you want to cancel and revert your changes, select the cancel icon next to the editor, or use the ESC key on your keyboard.
Format text

To apply formatting to your text, select the relevant text and then choose the appropriate formatting options from the popup menu.
Additionally, you can use the following keyboard shortcuts for quick formatting:
| Shortcut | Format |
| --- | --- |
| Ctrl / ⌘ + B | Bold |
| Ctrl / ⌘ + I | Italic |
| Ctrl / ⌘ + U | Underline |
Generate the PDF
Once you have finished editing the summary, click Generate PDF at the top right of the editor. This opens a progress dialog. After a few moments, your browser will prompt you to download the PDF summary report.
Note: Do not refresh or navigate away from the page while the PDF is being generated. The time it takes to generate depends on the amount of data that needs to be included. If your test contains a substantial amount of data, such as multiple load zones, the generation process may take longer.