Menu
Grafana Cloud
Data configuration
Grafana integrations
Integrations reference
Ubiquiti EdgeRouter integration
Ubiquiti EdgeRouter integration for Grafana Cloud
Ubiquiti EdgeRouter dashboard lets you see vital metrics on throughput, errors, and traffic distribution.
Install Ubiquiti EdgeRouter integration for Grafana Cloud
In your Grafana instance, Click Integrations and Connections (lightning bolt icon), then click on install integration on Ubiquiti EdgeRouter tile.
Wait for the integration to be installed and then follow the steps shown to setup Grafana Agent to automatically scrape and send Ubiquiti EdgeRouter metrics to your Cloud Instance.
Pre-install configuration for the Ubiquiti EdgeRouter integration
You must enable the SNMP service on your router before the Grafana Agent can scrape metrics from it.
You can find details on how to enable SNMP on your router in the official Ubiquiti support docs.
Post-install configuration for the Ubiquiti EdgeRouter integration
The SNMP integration uses the embedded SNMP exporter inside the Grafana agent.
It also requires a specific module, which defines only the SNMP OIDs used by this dashboard.
If you are familiar with the SNMP exporter, and are generating your own configuration for it, you can find the definition for the required ubnt_router module here.
Otherwise, you can use the pre-generated config which includes only this module here.
In either case, you will need to add the path to your fully rendered snmp.yml with the ubnt_router module, or the pre-generated config, to the SNMP configuration of the Grafana Agent. An example is shown below, note the config_file: parameter. Also, be sure to replace <router_1_address> with the hostname or IP of your router.
snmp:
  enabled: true
  config_file: </path/to/snmp.yml>
  snmp_targets:
  - name: router_1
    address: <router_1_address>
    module: ubnt_router
    walk_params: ubnt_router
  walk_params:
    ubnt_router:
      version: 2
      auth:
        community: public

For more details of the configuration, see the snmp exporter configuration.
Dashboards
This integration includes the following dashboards.
Ubiquiti EdgeRouter Overview
System Identification, Uptime & System, CPU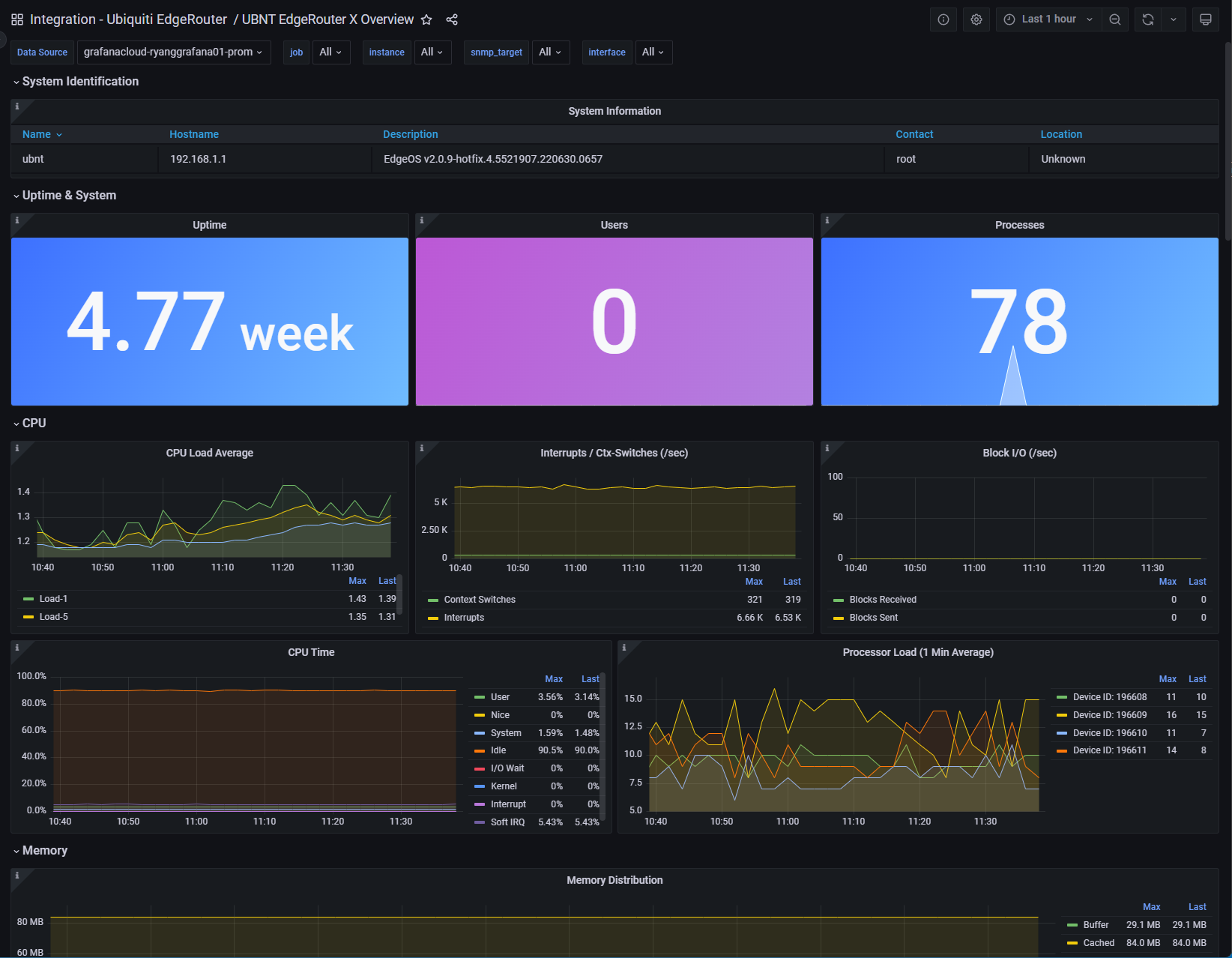 Memory, Interface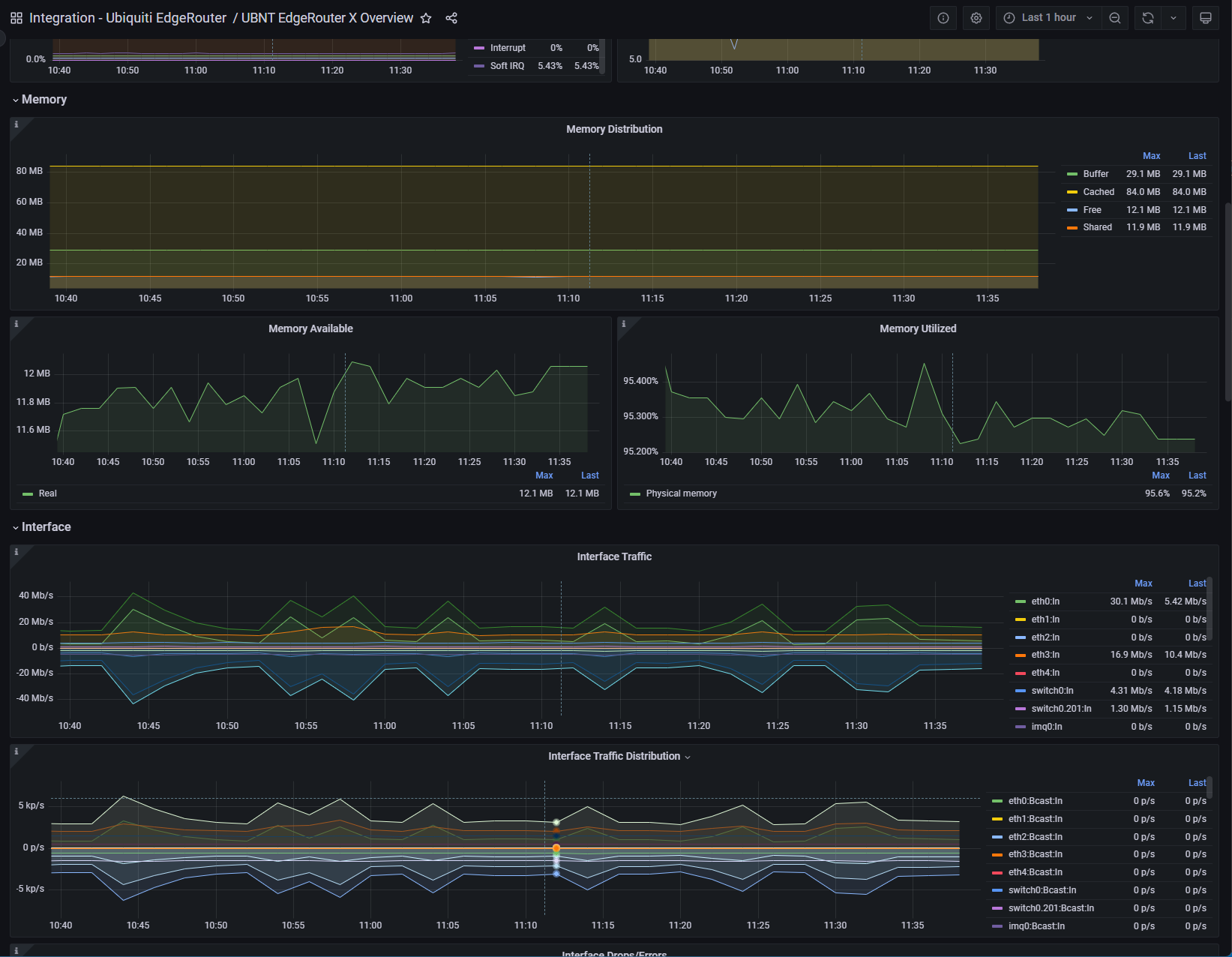 IP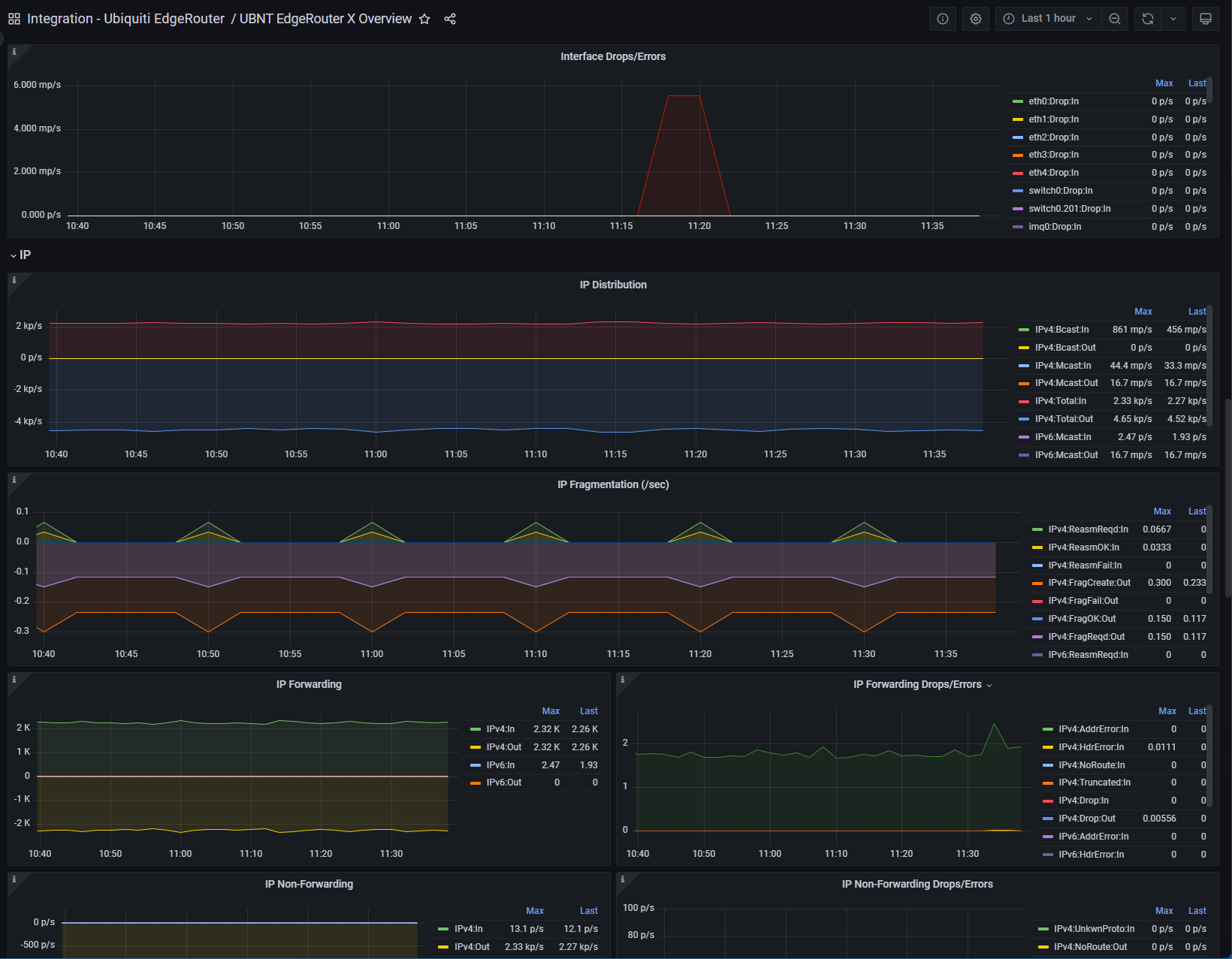 TCP, UDP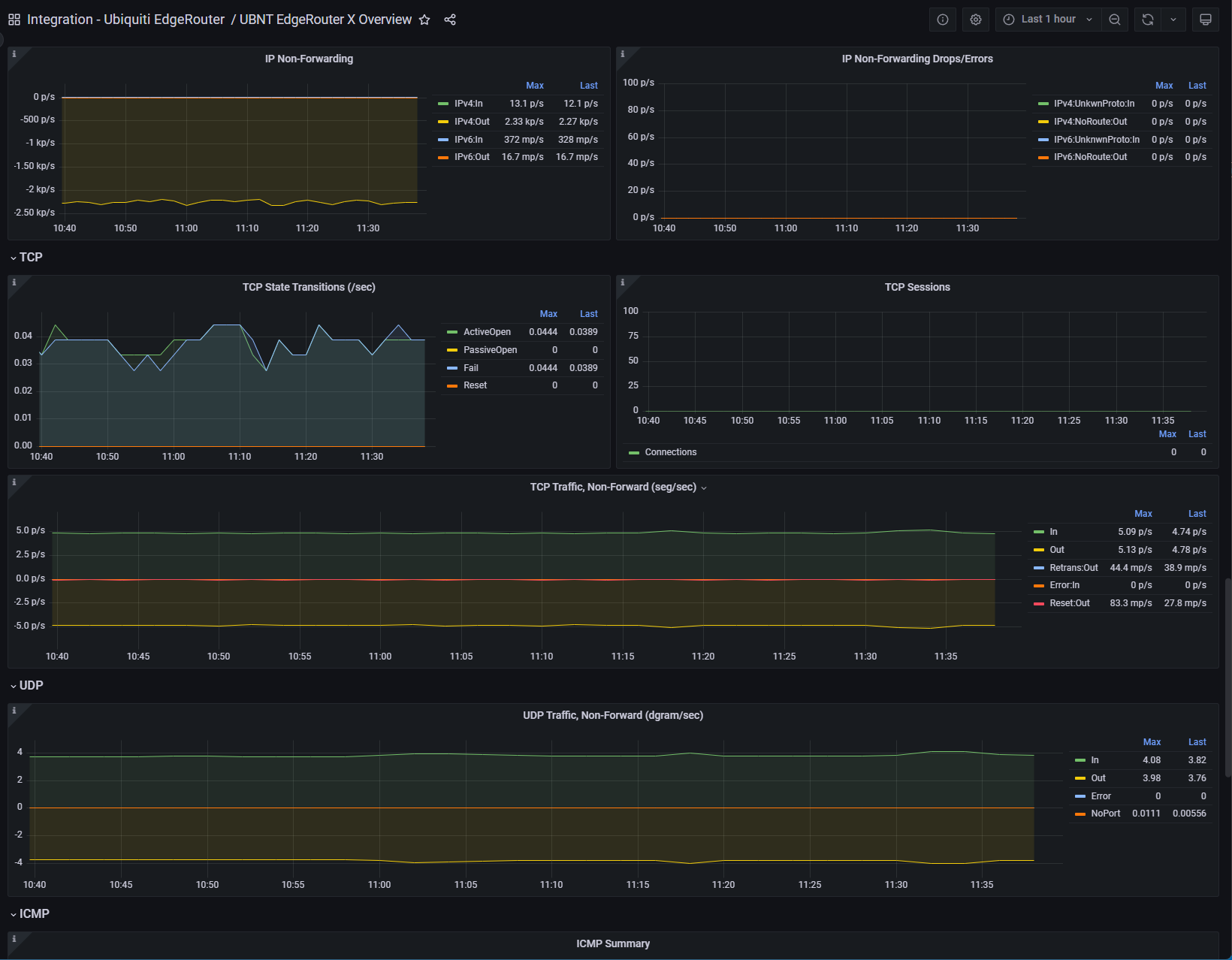 ICMP, Routing/Forwarding, SNMP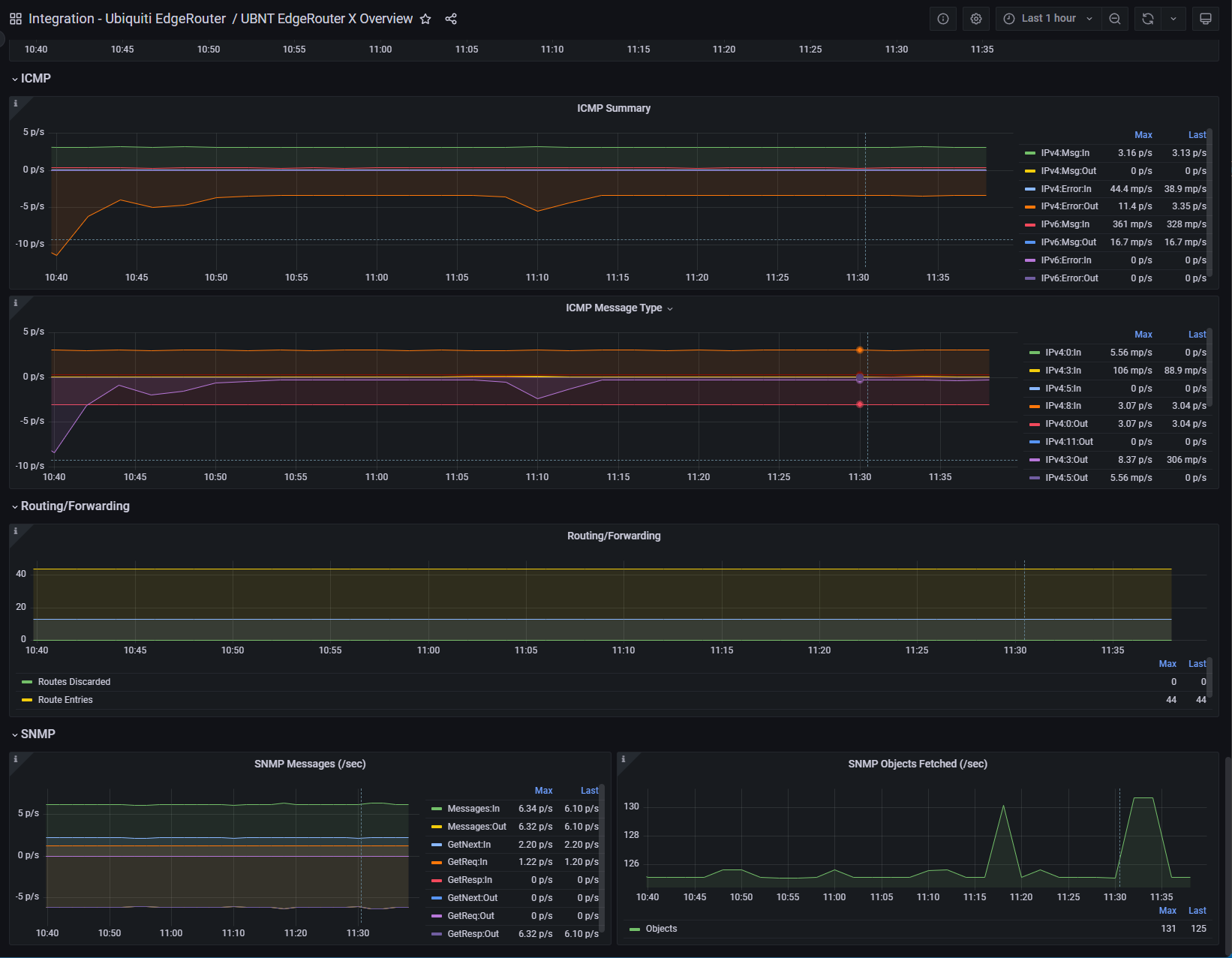 Metrics
Below is a list of the metrics used on the dashboards and in alerts of the integration and are automatically written to your Grafana Cloud instance.
hrProcessorLoad
hrStorageSize
hrStorageUsed
hrSystemNumUsers
hrSystemProcesses
hrSystemUptime
icmpMsgStatsInPkts
icmpMsgStatsOutPkts
icmpStatsInErrors
icmpStatsInMsgs
icmpStatsOutErrors
icmpStatsOutMsgs
ifHCInBroadcastPkts
ifHCInMulticastPkts
ifHCInOctets
ifHCInUcastPkts
ifHCOutBroadcastPkts
ifHCOutMulticastPkts
ifHCOutOctets
ifHCOutUcastPkts
ifInDiscards
ifInErrors
ifInUnknownProtos
ifNiceName
ifOutDiscards
ifOutErrors
inetCidrRouteNumber
ipForwardNumber
ipRoutingDiscards
ipSystemStatsHCInBcastPkts
ipSystemStatsHCInDelivers
ipSystemStatsHCInForwDatagrams
ipSystemStatsHCInMcastPkts
ipSystemStatsHCInReceives
ipSystemStatsHCOutBcastPkts
ipSystemStatsHCOutForwDatagrams
ipSystemStatsHCOutMcastPkts
ipSystemStatsHCOutRequests
ipSystemStatsHCOutTransmits
ipSystemStatsInAddrErrors
ipSystemStatsInDiscards
ipSystemStatsInHdrErrors
ipSystemStatsInNoRoutes
ipSystemStatsInTruncatedPkts
ipSystemStatsInUnknownProtos
ipSystemStatsOutDiscards
ipSystemStatsOutFragCreates
ipSystemStatsOutFragFails
ipSystemStatsOutFragOKs
ipSystemStatsOutFragReqds
ipSystemStatsOutNoRoutes
ipSystemStatsReasmFails
ipSystemStatsReasmOKs
ipSystemStatsReasmReqds
laLoadInt
memAvailReal
memBuffer
memCached
memShared
memTotalFree
snmpInGetNexts
snmpInGetRequests
snmpInGetResponses
snmpInPkts
snmpInTotalReqVars
snmpOutGetNexts
snmpOutGetRequests
snmpOutGetResponses
snmpOutPkts
ssCpuRawIdle
ssCpuRawInterrupt
ssCpuRawKernel
ssCpuRawNice
ssCpuRawSoftIRQ
ssCpuRawSystem
ssCpuRawUser
ssCpuRawWait
ssIORawReceived
ssIORawSent
ssRawContexts
ssRawInterrupts
sysContact
sysDescr
sysLocation
sysName
tcpActiveOpens
tcpAttemptFails
tcpCurrEstab
tcpEstabResets
tcpInErrs
tcpInSegs
tcpOutRsts
tcpOutSegs
tcpPassiveOpens
tcpRetransSegs
udpInDatagrams
udpInErrors
udpNoPorts
udpOutDatagrams
Changelog
# 0.0.1 - October 2022

* Initial Release

Cost
By connecting your Ubiquiti EdgeRouter instance to Grafana Cloud you might incur charges. To view information on the number of active series that your Grafana Cloud account uses for metrics included in each Cloud tier, see Active series and dpm usage and Cloud tier pricing.
Related resources from Grafana Labs
Additional helpful documentation, links, and articles: