We've all been there: Sleeping peacefully in bed over the weekend, finally getting rest after a long week at your computer making AI-generated memes writing code. Then at 3 a.m., your phone makes an ungodly sound, and you wake up startled, frazzled, and confused. When you finally type in your passcode to unlock your phone (because facial recognition doesn't register your bleary-eyed, squinty face), you see an alert, and all dreams of sleep are over.
Many engineers can't escape that On-Call Life, and Grafana Labs engineers are no different. That's why we've been consistently working to improve the quality of life for on-call engineers with Grafana OnCall, our on-call management tool. Our latest offering? The Grafana OnCall mobile app, now available on Google Play and the Apple App Store. Built on the open source Flutter framework, the new OnCall mobile app provides a personalized on-the-go experience for on-call management, while seamlessly integrating with Grafana OnCall OSS or Grafana OnCall in Grafana Cloud.
So while we sadly can't prevent incidents from happening at random hours, we can improve your on-call experience with the ability to receive and manage alerts, configure your notification policies, resolve alert groups, and check your on-call schedule — all from the convenience of your mobile device.
Let's take a look at some of the headline features of the new OnCall mobile app.
Manage on-call alerts in one place
The Grafana OnCall mobile app fully integrates with Grafana OnCall, both the OSS version and the version hosted in Grafana Cloud. You simply log into the mobile app using your Grafana account and your existing on-call schedules, alert groups, and user settings will be right at your fingertips.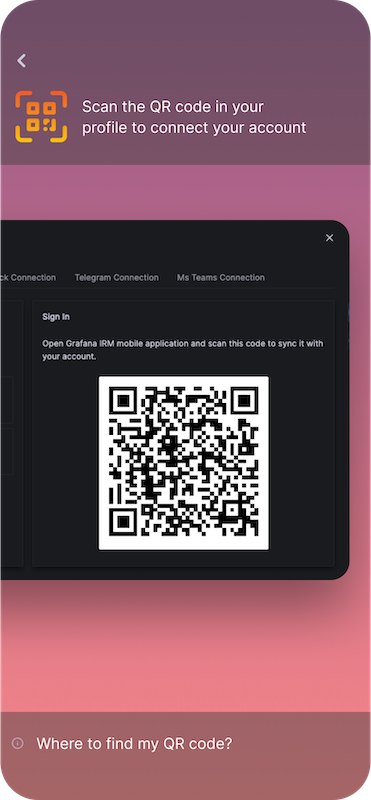 When the time comes to manage an alert, you can take immediate action and open the alert group from the notification.
And as you triage and resolve it, the mobile app syncs with Grafana OnCall to ensure the status of the alert group is reflected across all platforms.
Get critical alerts in do not disturb mode
Fun fact: The OnCall mobile app started as a Grafana Labs hackathon project because an engineer was a heavy sleeper. As a result, when he was on call, he slept with his phone unmuted so he wouldn't miss an escalation alert, much to the dismay of his wife, who stayed up all night listening to the various notification tones. Another prime motivator for creating this app? Users noticed that phone calls related to escalations were blocked when a phone was in do not disturb (DND) mode. 
The OnCall mobile app is designed to work with — not against — your device in DND mode. For critical alerts, you can configure the OnCall mobile app to break through DND without interfering with the settings for your other notifications (i.e., you won't start getting messages from other apps). Similarly, you can override the volume specifically for important and default alert groups. This takes away any worry about missing a critical notification, while maintaining your personal preferences on your device.
Personalize on-call notifications
We understand that smartphones are a personal space for users. So we designed the Grafana OnCall mobile app to create a more personalized experience for handling on-call incidents, no matter when you are notified. In the Grafana OnCall mobile app, you can customize your notification policies, defining when and how you'll be alerted to an incident. For instance, let's say you want to receive an initial push notification and then, if it's not acknowledged in 15 minutes, you want a phone call. Or, maybe you want an SMS and then, after five minutes, you'd like a push notification. This is all possible with the OnCall mobile app, as you can customize how you receive information.
Speaking of notifications, you can opt-in to helpful and timely reminders before the beginning of your shift. You'll also be able to access your team's on-call calendar and see your current and upcoming shifts on the mobile app, ensuring you're always aware of your on-call responsibilities.
The sound and the fury no more
At Grafana Labs, many of our engineers can relate to the feeling of getting woken up by an alert and having to dive into work. The last thing the Grafana OnCall team wanted was for the mobile app experience to add to an already intense situation. That's why we researched and chose specific sounds to gently and gradually guide users into the incident response workflow. These tones aim to minimize the stress associated with being on call, with a slower build up in volume and intensity. By prioritizing the users' well-being, the Grafana OnCall mobile app not only optimizes the incident management process, but also strives to create a more positive work environment for on-call engineers.
Download the Grafana OnCall mobile app today
The Grafana OnCall mobile app has been designed to provide a seamless experience for on-call engineers. In the future, we plan to add functionality for on-call reporting (you got how many alerts during your recent on-call shift?), overriding or swapping shifts on the go, and deeper integrations with our Grafana IRM tools on Grafana Cloud. 
You can download the Grafana OnCall mobile app today. And for those who want to help us shape the future of this mobile app and experience the latest features as we release them, we encourage you to register for our open beta release. Your valuable feedback will be instrumental in refining and perfecting the app to better serve the needs of on-call professionals.
For Android on Google Play, you can download the stable release or register for the beta directly in the store.
For iOS on Apple App Store, download the stable or register for beta (Register and follow the instructions)
To learn more and to get started, check out our comprehensive Grafana OnCall mobile app documentation and please leave your feedback or questions in the Grafana OnCall GitHub repository.
Grafana Cloud is the easiest way to get started with metrics, logs, traces, and dashboards. We have a generous free-forever tier and plans for every use case. Sign up for free now!