It was a Wednesday in November, and we had just wrapped Grafana Labs' third virtual Grafana Cloud offsite of 2021. Outside my window, it was a dark and cold (8 degrees Celsius) night in Cologne (Köln), Germany. In Austin, Texas, it was early afternoon and headed for 80 degrees Fahrenheit. In Cape Town, South Africa, it was a windy and cool spring evening. And in Melbourne, Australia, our final speaker — who was up very early at 5 a.m. — was heading into a cool spring day.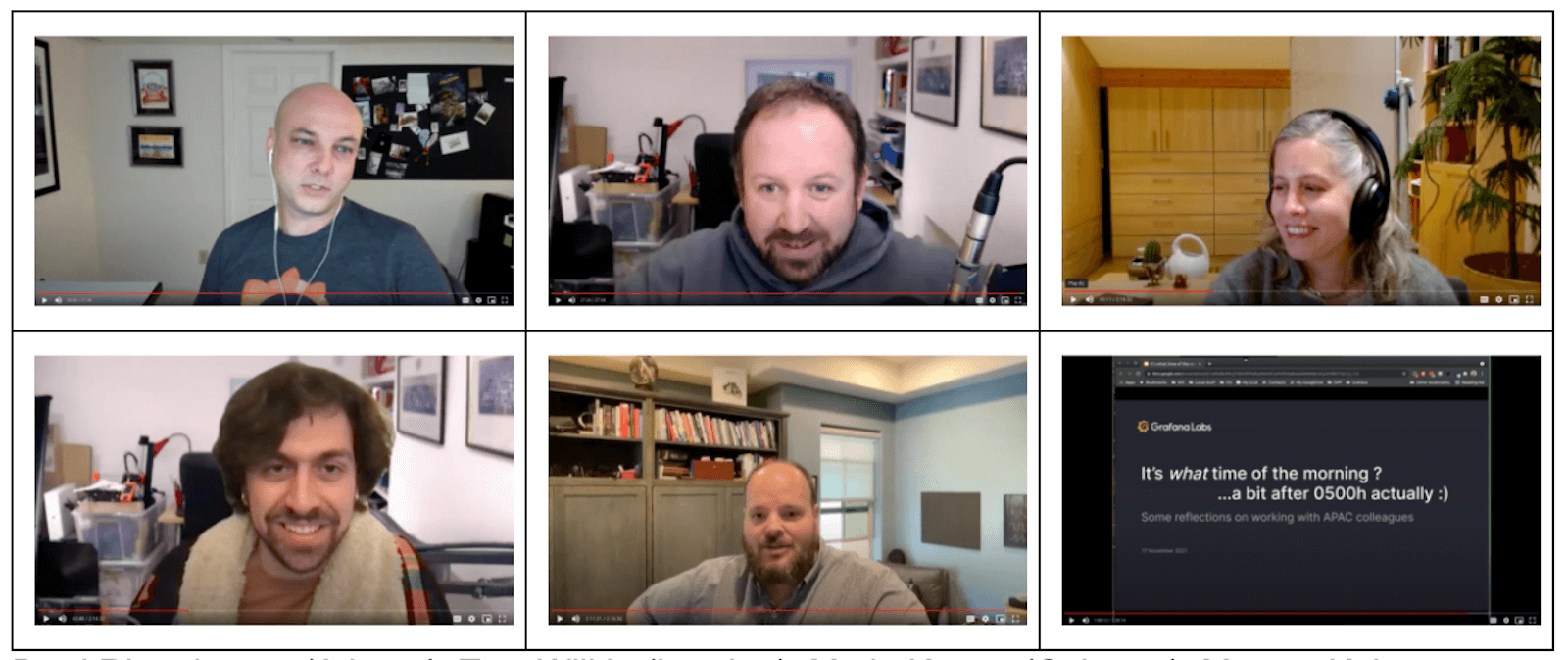 Clockwise from top left: Brad Rittenhouse (Atlanta), Tom Wilkie (London), Myrle Krantz (Cologne), Hugh Blemings (Australia, presenting), Steve Mayzak (Portland), and Matvey Kukuy (Moscow).
More than 150 Grafanistas came together from across the company for this virtual offsite. They were primarily from the Cloud division, but there were also members from other engineering teams as well as our Go-to-Market teams. They joined from 32 countries that spanned half of the global time zones and both the fall and the spring hemispheres.
It was a major expansion from our first virtual Cloud offsite in June 2020, which was held before I joined the company. (Our community director Richard "RichiH" Hartmann blogged about that event.) Back then, there were just over 20 participants — and all of Grafana Labs had fewer employees than the entire Grafana Cloud division has today.
Grafana Labs has been remote-first from the start of the company, with three founders on three continents. Before the pandemic, we traveled a lot and met in person regularly. These days we've continued to grow our business and headcount vigorously, but because of travel restrictions, most of the Grafanistas who attended the offsite have never met each other in person. Regular virtual offsites have become one of the most important ways in which we work to integrate our wonderfully diverse team, even in the absence of in-person interaction.
By all accounts, our November meeting was a huge success. Ninety-one of the roughly 150 attendees responded to our post-event survey, and 90% of them rated their overall happiness with the event at 4 or 5 (out of 5); 93% felt that the offsite was useful to them.
Getting it right took smart planning, of course. Here are the four ways we ensured our virtual offsite was memorable and created productive and engaging encounters among team members who care about each other.
Define your goals
To make any event successful, you need to know what you are trying to achieve with it. When we organize a virtual Cloud offsite we have two aims:
To develop a shared vision
To create an opportunity for people to develop and deepen social bonds
At Grafana Labs, each employee has a great deal of latitude to find better ways to serve our customers and support our colleagues. Empowerment is a treasured value here. Transparency develops trust and makes empowerment meaningful; it creates a workplace that is enjoyable and fulfilling. At the virtual Cloud offsite, we talked about what we are doing well, and what we could do better. We reiterated the company vision and shared how we as the Cloud division contribute to it.
But even more importantly, we gave our colleagues a chance to learn about each other and develop trusting relationships outside of their smaller (~10 person) teams. Succeeding at our larger goals requires us to take on responsibility for each other's success. Human relationships are complex and precious. They require care and feeding, and. At the offsite we provided many opportunities for this care within 10-person cross-team breakout sessions, lightning talks, and fun interactions in Slack.
Create a structure
Our last three offsites ran over a course of three days with roughly three hours of programming each day. For our most recent offsite, we started at 15:00 UTC for all three days to enable attendance from India to North America's West Coast within normal waking hours.
At every offsite, we include the following kinds of content:
Talks from the Grafana Cloud leadership team, including a very popular 30-minute "Ask me anything" session with our CEO and co-founder Raj Dutt. (Sadly, he was triple-booked for our most recent offsite and couldn't make it.)
Talks from leadership across Grafana Labs that bring everyone up-to-date on topics such as how sales development works or what product ideas engineers around the company are testing.
Technical deep dives from our most senior engineers.
Breakout sessions with no more than 10 participants, covering a wide range of topics both technical and social.
Lightning talks of five minutes each in which everyone who joined the company since the last offsite introduces themselves and shares something they are passionate about.
Everyone is encouraged to cancel all but their most important meetings during the week of the offsite. Ideally, our software engineers will not have a single non-offsite meeting because let's face it, videoconferencing is more tiring than in-person meetings.
Invite (and incorporate) feedback
One of the lessons I've learned from my colleagues at Grafana Labs is to collect as much data as possible and use it to inform decisions.
After each offsite, we distribute a survey to participants and ask them to share what aspects of the event worked well for them, what didn't work, and what changes they would like to see next time. It was via this survey that we homed in on the current three-day duration. Previously, we'd held a longer event that left people feeling exhausted and took too much time away from engineering efforts. We have also tested out various timings with respect to the beginning and end of the quarter.
We've made other changes in response to feedback, too. Originally, we encouraged participants to only go to breakout sessions with people they didn't know. We wanted them to get to know each other across the Cloud division. But people also wanted to dive deeply into topics that were accessible only to certain circles of participants. So we split the breakout sessions into two types: cross-cutting (on Tuesday) and deep-dive (on Wednesday). Offsite participants go to one of each.
For the cross-cutting sessions we deal with topics such as:
What it's like for new Grafanistas to work in a remote-first environment after coming from a remote-forced environment?
How we can improve the build and release processes for everyone?
For deep-dive topics, we've dug into the details of our favorite programming languages and tools:
Mat Ryer and Kyle Eckhart did a breakout session on Go.
Bryan Boreham led a session on DSKit.
Juraci Kröhling gave a session on OpenTelemetry.
In the past, we had all the newcomer lightning talks as the closing event on the last day of the offsite. They were amazing, and people's favorite part. But the audience was too exhausted to fully appreciate them in one large block. Since we keep growing and have more and more newcomers, we've split lightning talks into two days to prevent audience fatigue.
The lightning talks were already pretty popular, but after splitting them up, the percentage of respondents who liked them a lot (the highest rating) climbed from 40% to nearly 50% while the number of people who found them "50/50" dropped from 20% into the single digits.
Of course, we do sometimes get feedback that we won't be able to integrate into our planning. To whoever asked that we invite Taylor Swift to speak: I'm sorry.
Some areas still need improvement. Ironically, our social events haven't been very popular, and we have ideas on how to fix that.
Whatever I might say about what it takes to create a virtual offsite, the most important part is to simply learn from past experiences and do it better the next time.
Use the right tools
Even though our offsites are essentially mini-conferences, we haven't found the need to use one of the virtual conferencing platforms that are out there. Eventually, I'd like to try one, but we currently run everything with the same basic tools we use for our day-to-day collaboration: Slack and Zoom, with a healthy dose of Google Docs and Sheets.
Zoom scales just fine for the 150-attendee main track. We ask breakout session moderators to create their own meeting rooms for the breakout sessions and publish them in a signup spreadsheet.

By sticking to the tools we use for our day-to-day, we not only make it easier for people to make the transition into the offsite. It's also easier for people to carry the relationships and learnings they develop at the offsite back into their day-to-day.
The rest of the group's interactions happen in a dedicated Slack channel: #cloud-team-offsite. In order to help everyone navigate the offsite schedule, we announce upcoming talks and their location and instructions for Q&A in the channel. It also makes a sort of virtual hallway track possible, in which people can be silly and interact with each other without disrupting those listening to the talks.
During presentations, people can drop their questions in the channel and vote for each other's questions during a talk. We designate a chair for each day, and that person introduces talks, pins questions, and asks the most popular questions of the speaker at the end of the talk. We try to allow lots of time for questions, but if we run out of time, the speaker can go back and answer the remaining questions directly in Slack afterwards. To keep the event special, we archive that channel between offsites.
We deliberately don't use Zoom chat for Q&A or most offsite chatter. We want interactions to continue even when the Zoom meeting is over.
The jokes and joy people share in the #cloud-team-offsite channel create an environment in which people can both appreciate and connect with each other. My own (plagiarized) Dad jokes were quite awful: "What do you call a fish wearing a bow tie? … Sofishticated." Other people shared their music tastes, their gifs, and their much better jokes.
When the head of the Cloud division and VP of Technology at Grafana Labs, Tom Wilkie, had to step away from his desk for a moment, one jokester even took a picture of his office and posted it to the offsite Slack channel for use as a Zoom background.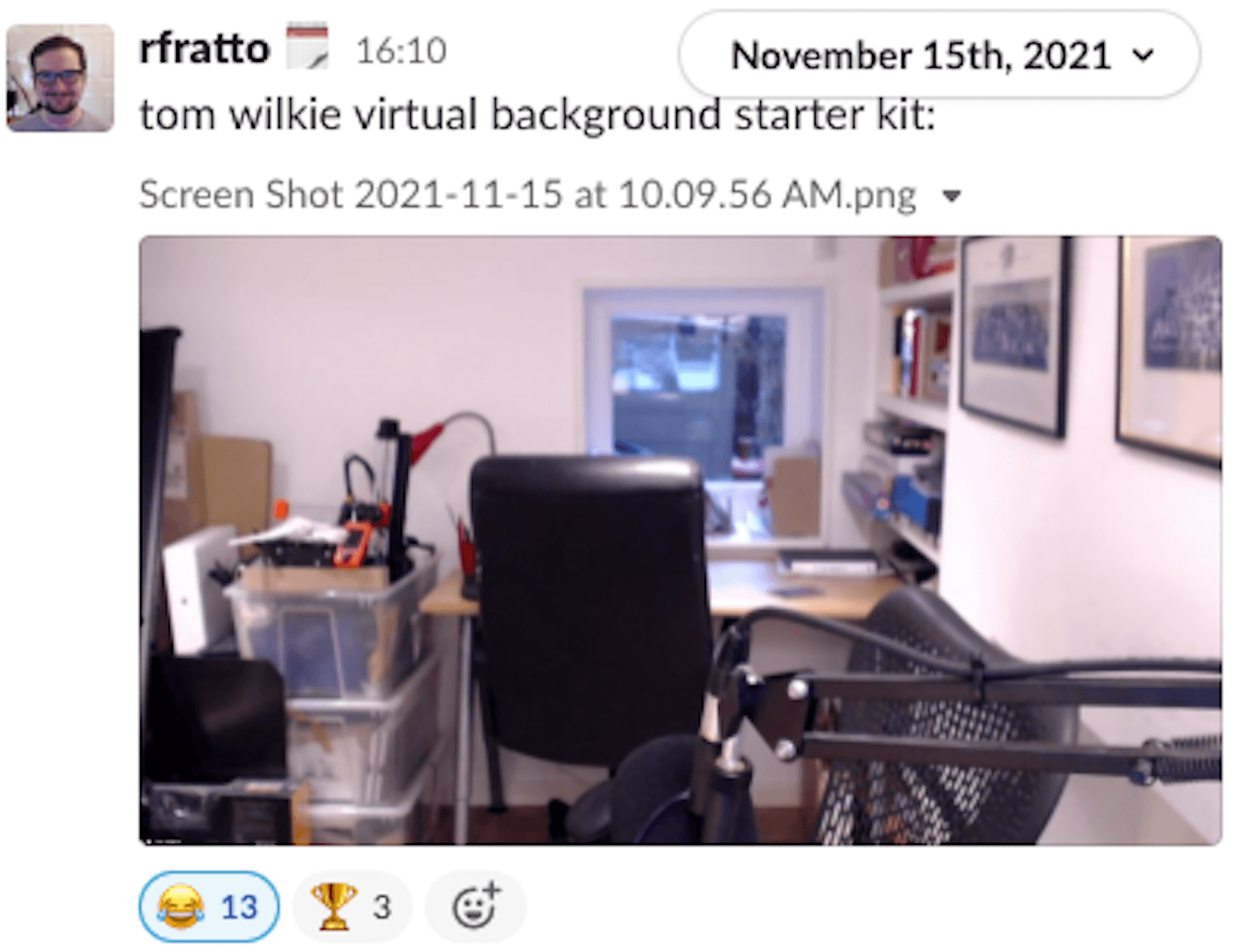 After that, several of the talks took place "in Tom Wilkie's office." Then one of our jokesters took it one step further and did a talk with a screenshot of Tom "looking over his shoulder."  More than the technical tools, kind humor and heartfelt joy are critical "tools" to create a sense of psychological safety, bonding, and shared mission.
Looking ahead: virtual vs. in-person
All things being equal, virtual offsites aren't as good as in-person offsites. But all other things are not equal. The world is still dealing with a pandemic which results in health risks, unusual and unpredictable visa requirements, and extra family responsibilities for our Grafanistas. And in this context, we have found virtual offsites to be massively effective.
When travel is safer and more predictable, we hope to do in-person events with each other again, and we really look forward to meeting our colleagues in person for the first time. In some cases, we've been working together for more than two years without ever being in the same room together.
But even when the pandemic ends, maybe we won't need to meet up with each other in-person every quarter. Travel is hard on many of our Grafanistas, including parents of young children, people with disabilities, or people requiring visas. Reducing travel can also reduce our carbon footprint significantly. Most people don't want virtual events to fully replace in-person events, but 50% of our survey respondents would like to have some events be virtual even after we can meet in person, and 30% are on the fence. So we will likely continue to do some of our events in a virtual format.
If you'd like to be a part of what we're doing at Grafana Labs — offsites included — consider joining the team. We're hiring!