In space, there's no atmosphere to protect against the sun's ultraviolet radiation. Astronauts in orbit are exposed to the equivalent of eight X-rays a day, and the space stations and suits that protect them degrade over time due to radiation and other factors. Scientists working on the International Space Station (ISS) want to know more about ultraviolet (UV) radiation in orbit so they can design better materials. 
Of course, conducting a live experiment in space is complicated by the challenges of an extremely inhospitable location. Ozark Integrated Circuits, based in Fayetteville, Arkansas, specializes in just such environments. "Our mission is to bring IoT to its next frontiers," Matt Francis, the company's President and CEO, said during his GrafanaCONline 2021 presentation. "We design and manufacture electronics that enable digital enterprise anywhere — hot, cold, extreme vibration, or even radiation." And with the help of Grafana, researchers back on Earth can access, analyze, and visualize the IoT data.
Ozark's solution is what they call their XNode: single board computers designed to operate in any environment. "At Ozark, we utilize some pretty unique materials, one of which is silicon carbide," said Francis. "It can work at higher temperatures, 500 degrees Celsius and higher. And as it turns out, it's very sensitive to ultraviolet light."
Three Ozark IC UV detector modules were installed on the ISS in January 2019 on Alpha Space Test & Research Alliance's MISSE platform. Getting the sensors in orbit was step one. They also had to decide how to handle "tons" of data. "We had three modules, with four channels each, all reporting data every four seconds," said Francis. "If you're in orbit, and everything's working, you're drowning in data. What worked on the bench to develop it is not going to work while it's live in orbit."
They began by incorporating a database, using Postgres and integrating their Python decoder to unroll the packets and populate it. But the outcome fell short. What they had was real-time data in a time series, and parametric data to go with each time point. But what they wanted was real-time data aggregation and viewing, and the ability to correlate the data coming from the space station with the ISS location and other geospatial data. 
So they implemented a Grafana-based real-time information display system. "Data is no good without the ability to see and to learn from it," said Francis, who showed off many of the dashboard features during his session. "Grafana is an amazing tool for gaining insights into data sets of any size."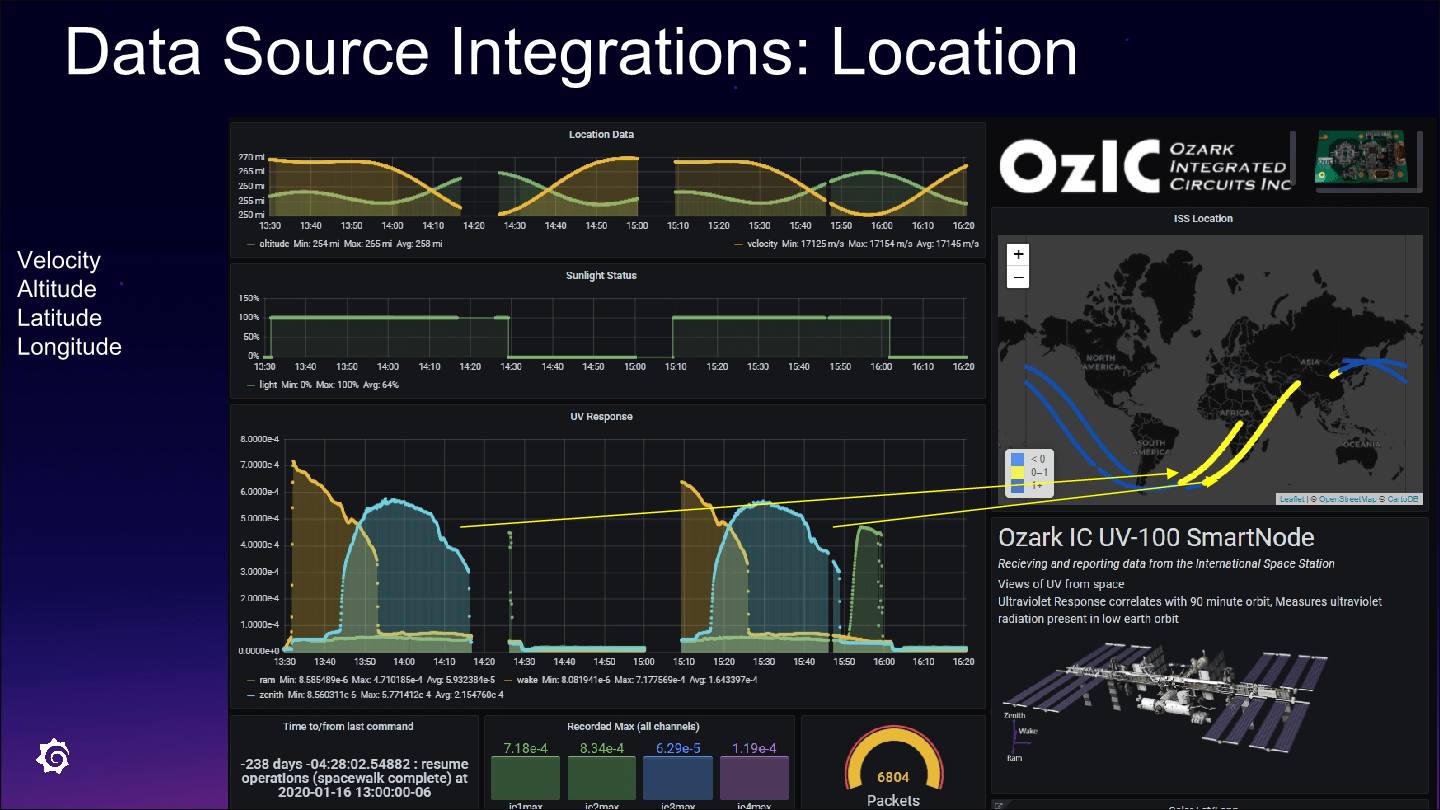 Ozark's work is now helping experts at NASA and other agencies who hope to uncover fresh insights on the impact of UV on the ISS. 
But space isn't the final frontier for Ozark. The company is bringing IoT and Grafana to other inhospitable environments, including deep earth energy exploration, where temperatures can top 400 degrees Celsius. "Open observability changed not just how we run our operations," said Francis, "but also how we think about our products and our mission." 
Learn more about how Ozark used Grafana to monitor UV sensors on the International Space Station by watching the video of the full session. All of the GrafanaCONline 2021 sessions are now available on demand.