As Grafana Labs continues to grow, we'd like you to get to know our team members. Check out the latest of our Friday team profiles.
Meet Uche!
Name: Uche Obasi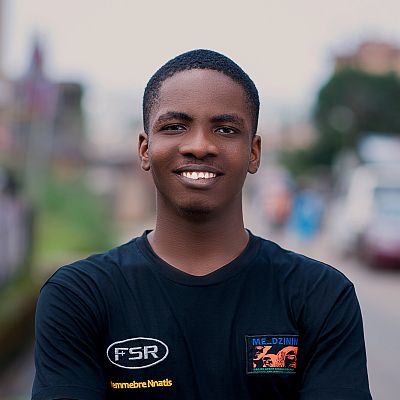 Software Engineer Uche Obasi
Current location/time zone
Nigeria, WAT.
What do you do at Grafana Labs?
Hi, I'm Uche, a software engineer primarily focused on the frontend part of Grafana. My day-to-day activity involves helping create a modern, innovative, and maintainable frontend application and platform for the company. I joined Grafana Labs because of three reasons: open source culture, remote-first company, and opportunity for growth.
What open source projects do you contribute to?
Before joining Grafana Labs, I had the opportunity to participate in the LFX Mentorship program, which happens to be my first introduction into open source. As part of the program, I contributed to the Thanos project by helping to build a versioning plugin for the documentation website. I'm also a member of the CNCF community; as a CNCF Ambassador, I help organize conferences and meetups for the community. I'm excited about our Kubernetes Community Days Africa, scheduled for April 29. Registration and CFP are open now!
What are your GitHub and Twitter handles?
Github: thisisobate
Twitter: @thisisobate
What do you like to do in your free time?
I'm currently learning basketball, so most times, I just go to the court and train. Aside from that, I love hanging out and chatting with friends and family. I write too. I'm working on adding more fun stuff to this list. :p
What do you do to get "in the zone" when you work?
I basically turn off all social media notifications on both my smartphone and laptop, and then listen to lo-fi music. YouTube playlists are the best!
What's the best part of your job?
Best part of my job? Being able to work on a feature or bug fix knowing fully well that it puts a smile on the face of our users — individuals, corporations, and small businesses.
Did I also mention that I work with some of the smartest and coolest people in the world? My teammates are amazing!
What's your favorite food?
To be honest, I have a lot of favorite foods, so it won't be fair if I list out one without the other. ;p But if I should choose one, it will definitely be party jollof rice — the "party" here is very important.
So jollof rice is a popular Nigerian dish. It has different varieties like white rice, jollof, fried rice, etc.
Fun fact: Most Nigerian families cook rice every Sunday. I bet you didn't know about that!
What's the first thing you want to do post-Covid?
Attend a physical developer conference outside Nigeria. I think I've participated in a lot of virtual conferences since 2020, so I kinda miss the feeling of connecting with other attendees. Conferences are fun!