As Grafana Labs continues to grow, we'd like you to get to know our team members. Check out the latest of our Friday team profiles.
Meet Michaela!
Name: Michaela Guzzi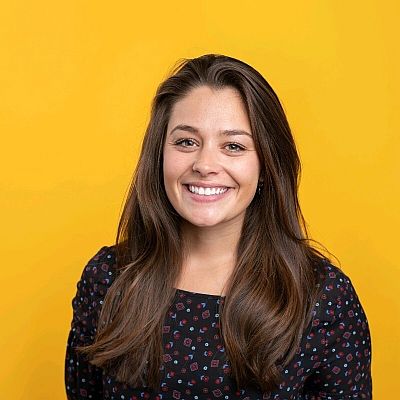 Recruiter Michaela Guzzi
Current location/time zone
Denver, Colorado. Mountain Standard Time Zone.
What do you do at Grafana Labs?
I'm a recruiter for our Go-to-Market functions! I partner with our leaders to build and grow their teams.
Why Grafana Labs? The people I met through my interview process were passionate and driven, the mission and values of the company went beyond their careers page, the product had a fanatic user base, the funding and growth were impressive, AND Grafana Labs is a remote-first pioneer. I joined because of those things, and because I knew I could get excited talking to potential candidates about them too!
What's your Twitter handle?
What do you like to do in your free time?
I like to ski, camp, and spend time outdoors. I also love to cook! I keep a recipe box of all my favorite recipes. If the weather isn't ideal, I'm a secret book nerd too. Historical fiction books are my favorite, so send recommendations my way if you have some good ones!
What's the best part of your job?
The people I get to work with and talk to everyday, both internally and externally. With our company being 100% remote, and in 37+ countries, I love the diversity that being a recruiter here brings.
What's the last thing you got off your bucket list?
Moving across the country, from New York to Colorado! My fiancé and I packed up one car with as much as we could stuff inside and drove 1,500+ miles so we could enjoy all of the outdoor adventures Colorado has to offer. We've loved it so much over the last year that we just bought a house out here!
What's your favorite food?
My favorite food is pasta! My grandma gave me her pasta maker and ravioli press, so I've been a pasta-making machine during quarantine.