As Grafana Labs continues to grow, we'd like you to get to know our team members. Check out the latest of our Friday team profiles.
Meet Jack!
Name: Jack Baldry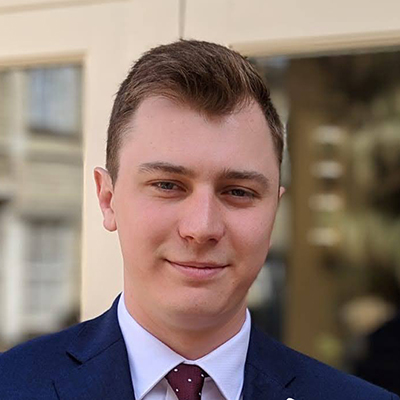 Senior Software Engineer Jack Baldry
What's your current location/time zone?
Norwich, U.K. - GMT.
What do you do at Grafana Labs?
I work as a software engineer on a team building on-premise versions of Grafana Cloud products for enterprises. I joined Grafana Labs because I admired the incredible engineers that were already there and because Grafana is viewed so positively by so many engineering communities.
What open source projects do you contribute to?
Before joining Grafana Labs, I worked in a very closed organization. Since joining Grafana Labs, it looks like I mostly contribute documentation fixes! It ain't much, but it's honest work.
What are your GitHub and Twitter handles?
jdbaldry on GitHub. I don't use social media.
What do you like to do in your free time?
When I'm allowed to leave the house I play as a goalkeeper in a 5-a-side team, go bouldering, and play racquet sports like tennis or squash. At home, I love to cook with my wife — where I am very much the sous chef — play board games, or read.
What's your favorite new gadget or tech toy?
I haven't yet pulled the trigger on the purchase, but I'm almost certainly going to replace my Nokia 105 with a Pinephone.
What do you do to get "in the zone" when you work?
I'm actually working on not getting "in the zone" to try and do more active consideration. Easier said than done though, I've found.
What's the best part of your job?
Getting to work with brilliant engineers and learn many new things every day.
What's the last thing you binge-watched?
Halfway through The Sopranos and fighting hard to stick to only watching one episode per day.
What's your claim to fame or greatest achievement?
Eating 67 chicken nuggets in a half-hour. The goal was 100, but I learned a hard lesson that day.
What's your favorite food?
Not chicken nuggets…
Do you have any hidden talents?
As a kid I learned a few party tricks like solving a Rubik's cube, juggling, yo-yoing, and the diabolo.
What's the first thing you want to do post-Covid?
Travel with my wife on our own Great American Roadtrip.
What's your best WFH tip?
Use the Pomodoro Technique to make sure you regularly get up and walk around. Have a pull-up bar between your desk and the kettle to tempt you into a mini workout.