Since Grafana Labs is a remote-first company, our team members have always been pros at working from home. And we take personalizing our spaces as seriously as we take customizing our Grafana dashboards.
It's been more than a year since we took our first peek at a few of the setups where Grafana releases and products are developed. Since then, our team has grown (we're still hiring!) and new home offices have been designed – which means it's time for a fresh at a look at where the Grafana Labs magic happens.
Tom Wilkie, VP, Product
This is my basement office. I'm using a Sony SLR as a webcam and a Blue Snowball mic – I spend all day on calls anyway. My computer is a 13" Mac Pro hidden up on the shelf, and I have a 5K LG monitor (which is a bit rubbish). The chair is a Herman Miller Aeron.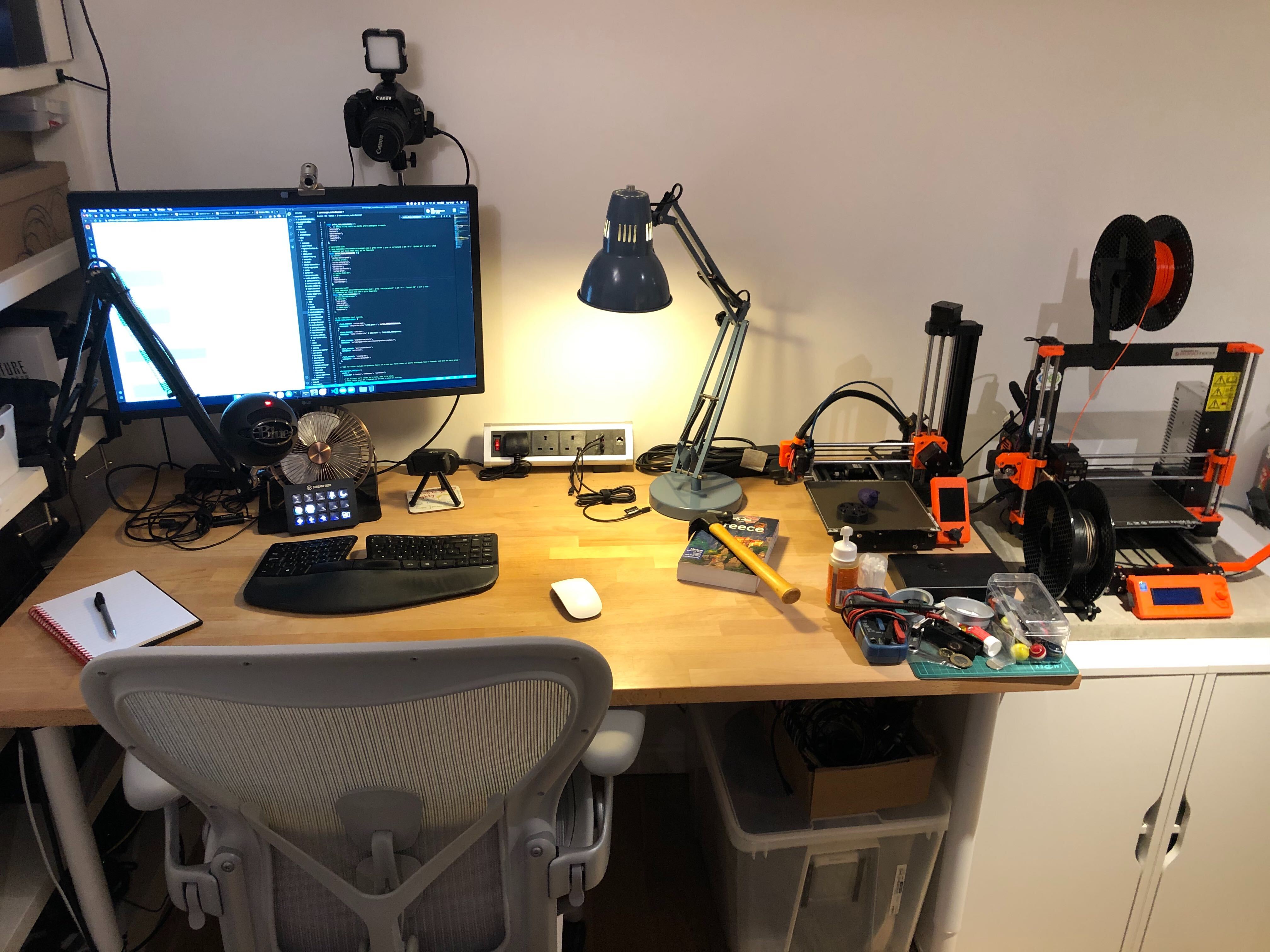 I also have two 3D printers: A Prusa Mini clone and Prusa MK3s. And I think benchtop power sockets are awesome for doing electronics work – plugging in soldering irons, charging things, etc.
Chris Trott, Site Reliability Engineer
Workstation: 13" MacBook Pro, LG UltraFine 4K Display, Magic keyboard + trackpad
Desk: Two Gladiator adjustable workbenches, Pork Pie Percussion drum throne
I had just gotten my external display when this photo was taken. For about five years before that, I had just been using my 13" MBP display at all times. I didn't want to get spoiled with an external display since I'd been traveling so much. But times have certainly changed. I went with this one primarily because it's Thunderbolt 3, which makes cabling really clean for me.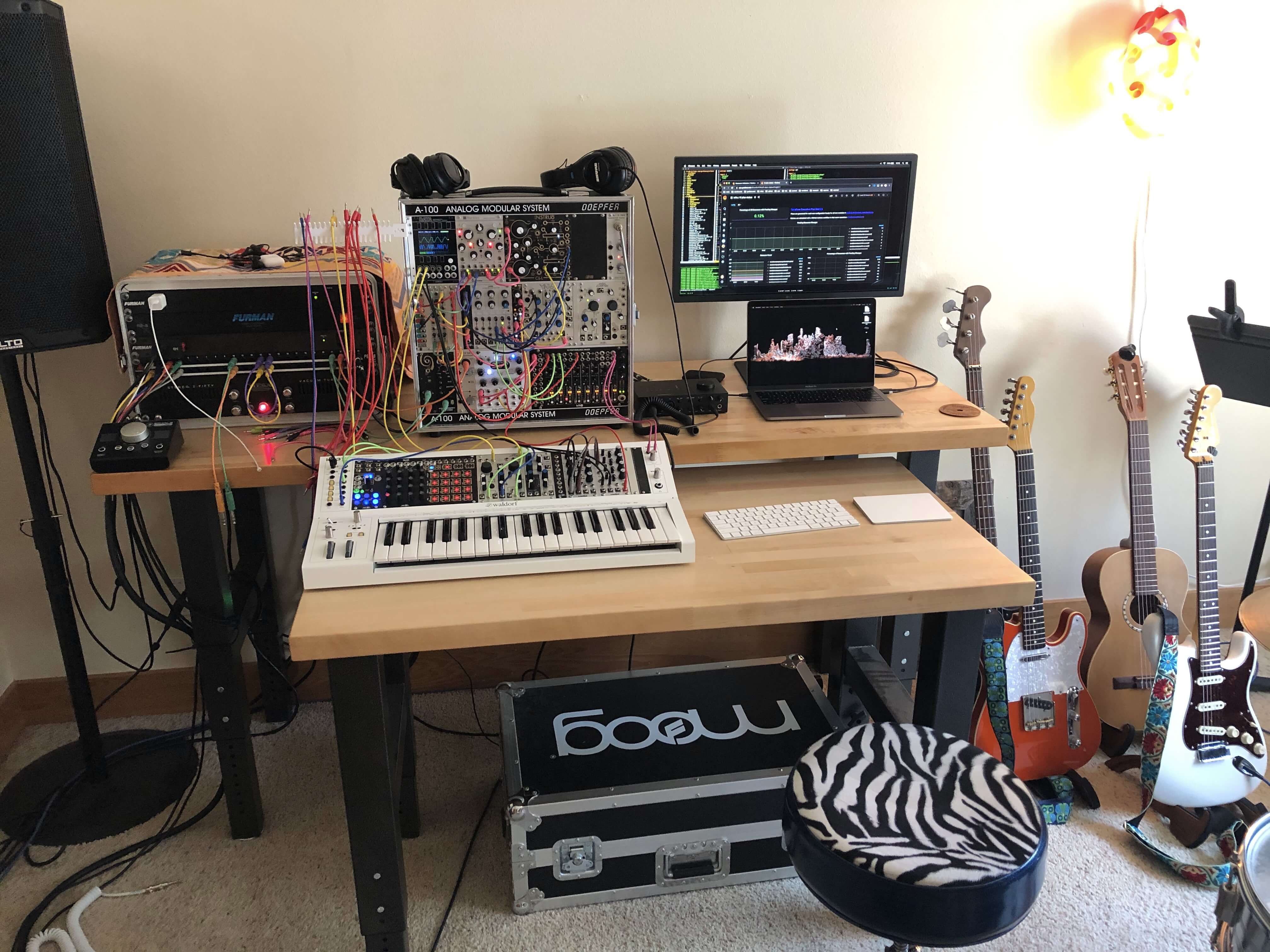 You also may notice some musical instruments. My primary instrument is guitar, so I've got a few of those. And I love modular synthesizers. It's so nice to be able to create electronic music without a digital computer. I spend enough time on those as it is. My newest module is the Instruō øchd which generates voltage for eight independent LFOs. Another module I use is the Mordax DATA, which does many things, but it's most popularly used as an oscilloscope. I'd love to make a Grafana plugin modeled after it someday.
Jeroen Op 't Eynde, Site Reliability Engineer
On the hardware end, my main workstation is a Thinkpad Carbon X1 7th gen (running Arch Linux), which sits on top of a fan-cooled stand. On the left is my 2015 MacBook Pro (running macOS) – this is the last of a good generation of MacBooks. The stickers range from companies I worked for to software I regularly use.
The Grafana
sticker represents both.
Next to my desk (not pictured), I have desktop – dual boot Arch Linux/Windows – for more heavy-lifting: It streamed GrafanaCONline earlier this year. I use it for gaming in my spare time and occasionally play with 3D development tools.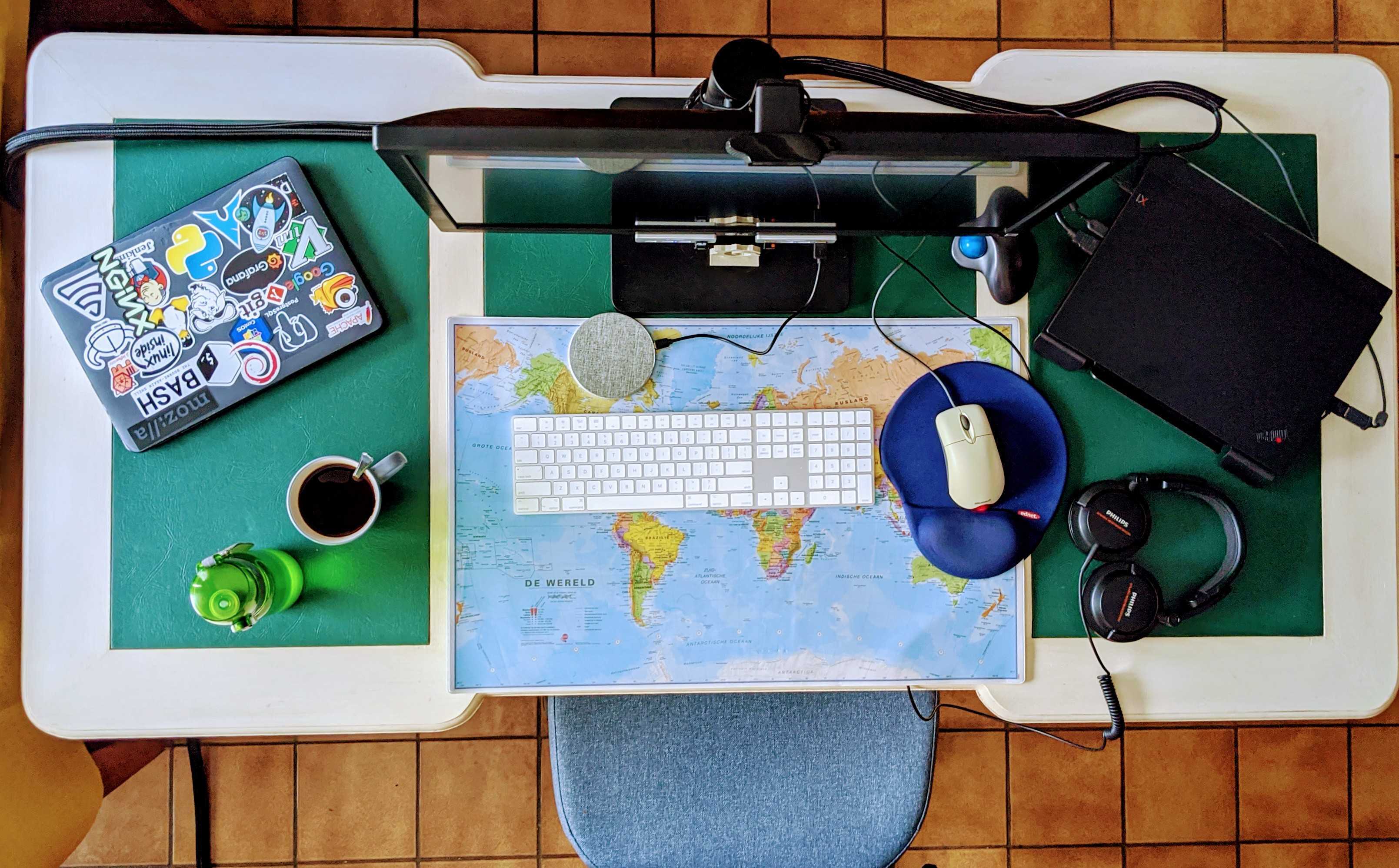 For peripherals, I use a very modern Apple Keyboard and a very old-school Microsoft "Wheel Mouse Optical" (still on USB 1.1). The latter has been on my desk for nearly two decades. You'll also notice a Logitech M570 trackball, which I use for more mouse-intensive (read: 3D) operations.
In front of me is a 4K 27" LG monitor. I love the high pixel density (running it at full resolution, not scaled). The headset in the picture is actually rarely used – I tend to use external speakers for audio (also very old ones; I bet they've played the Window 98 tunes), filtering out the feedback loops with PulseAudio during calls. The round pad there is for charging my phone "wirelessly."
The desk is a "leather-top pedestal secretary desk" 🤯. I didn't know that before I wrote this – it sounds special but probably isn't. 🙂
I recently purchased an Ikea JÄRVFJÄLLET office chair, and I'm enjoying it very much.
I drink two mugs of coffee before noon, grinding the beans and brewing it in a Bodum Caffettiera. The rest of the day I drink tap water.
The cherry on the pie is the 3D-printed Grafana logo my colleague Malcolm Holmes gifted me. 💛
Sam Coren, Senior Community Manager
My home office setup doubles as my home music studio, and my desk is one of the newest additions. The one I had before was quite literally falling apart after 10+ years, and when I transitioned to remote working full-time at Grafana Labs I was in dire need of an upgrade.
It wasn't easy finding the right desk for the job. I needed enough space for two 27'' monitors to exist side-by-side while having plenty of room for audio gear and instruments.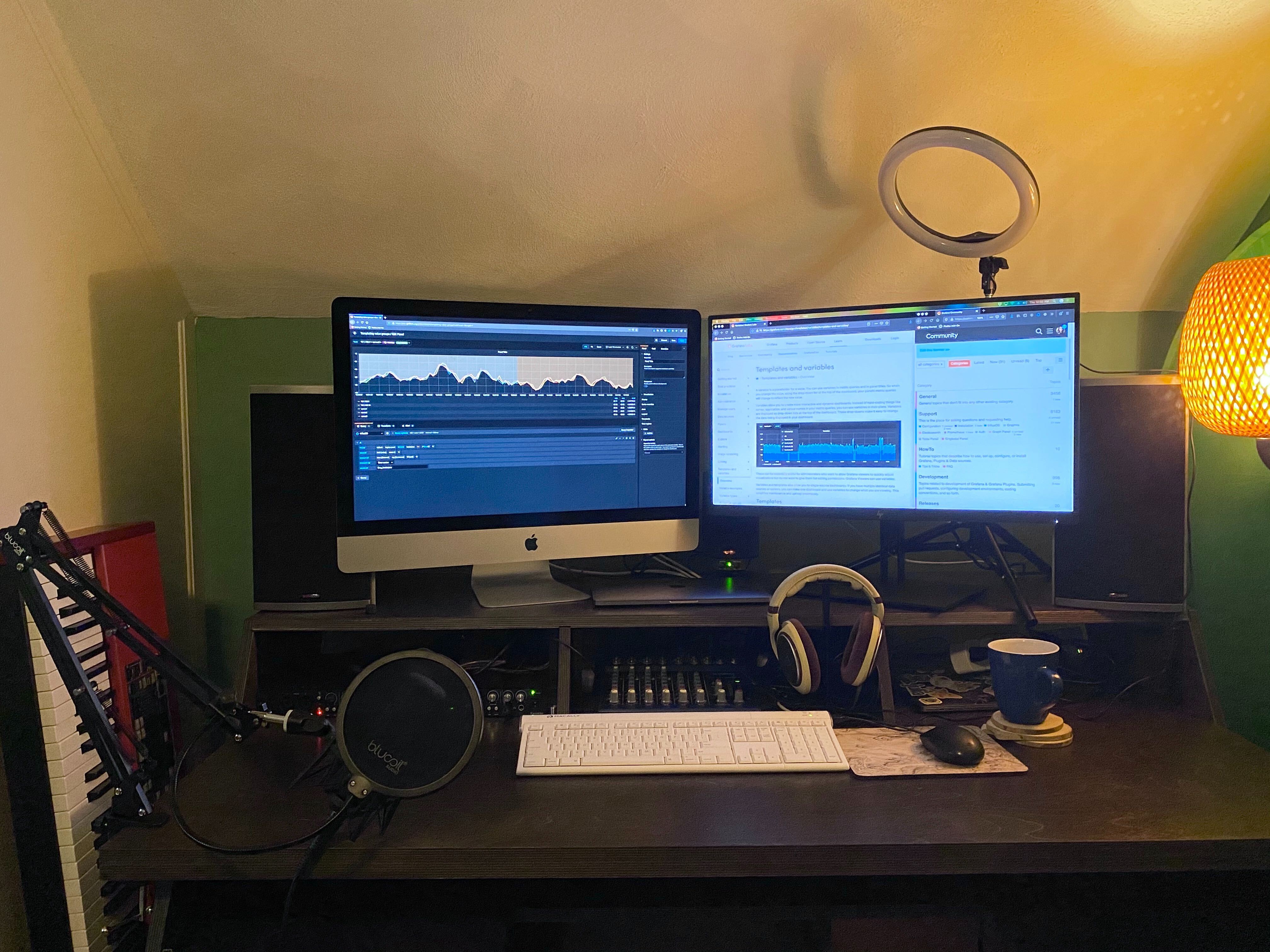 I'm also learning how to live stream and working on my video editing chops to help with our educational content. Add in some extra video production needs, and that made finding something big enough for that – but small enough to still fit in this nook – even more challenging. (It's an Output Platform if you're curious.)
I'm pretty happy with how it turned out and feel very fortunate to have this nice space to work out of everyday during the COVID lockdowns.
Dave Russell, VP Solutions Engineering
We moved just over a year ago and the home office was the first place that got completely gutted and renovated.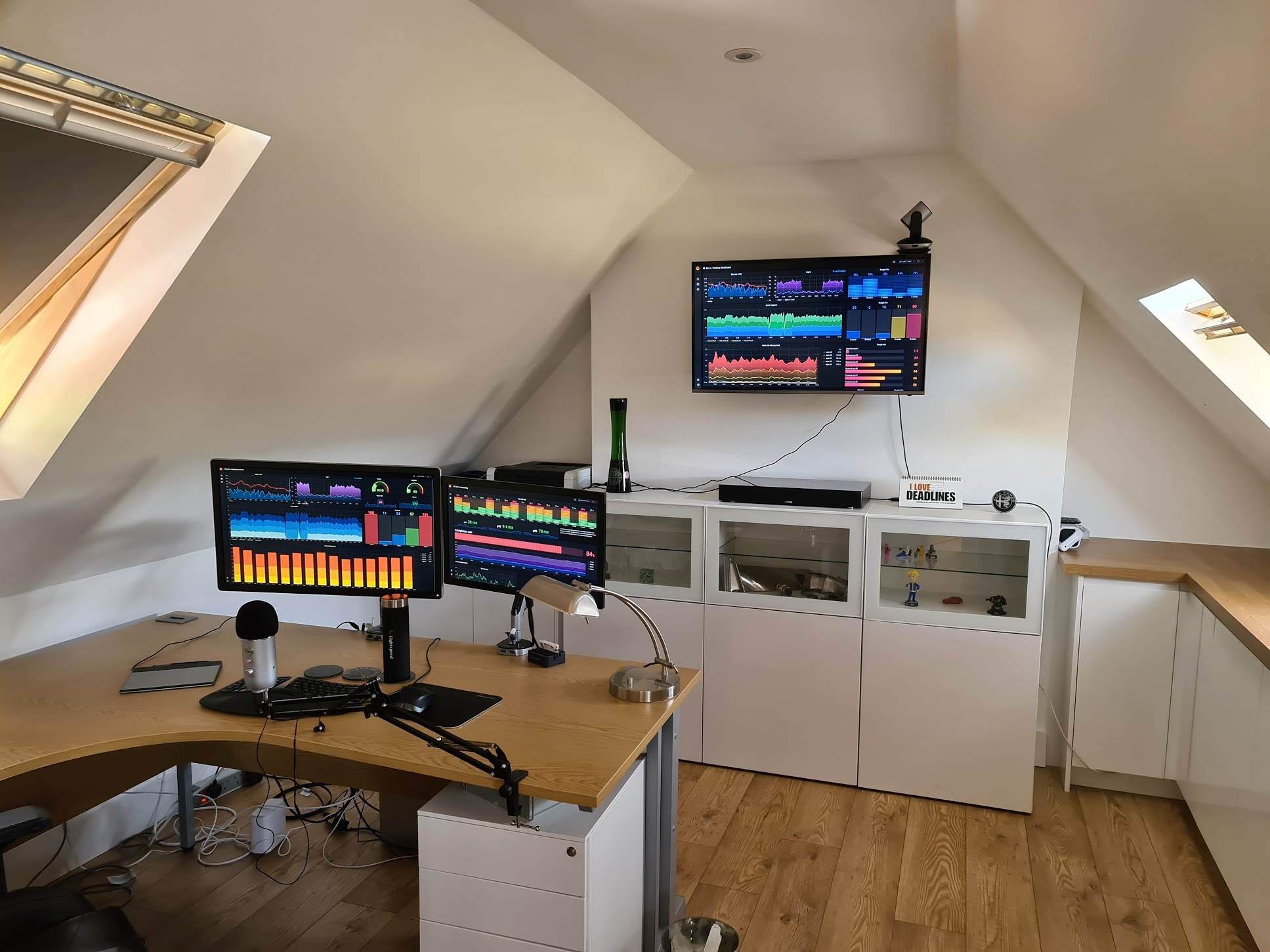 I had a bit of a dabble with driving all the screens from a laptop via a Thunderbolt dock, but in the end a very modest Linux desktop machine with three 4k-capable display outputs proved the most reliable solution.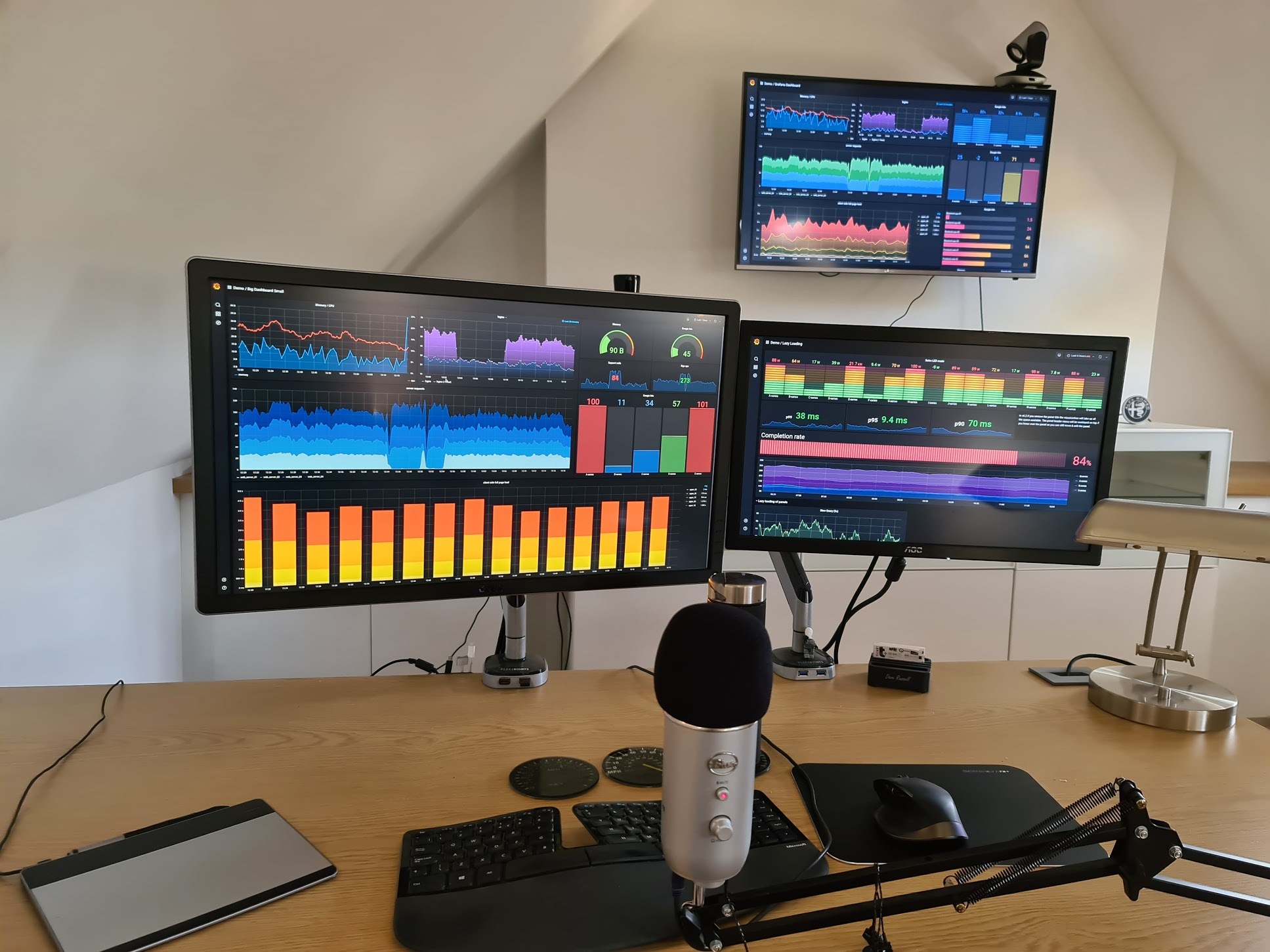 I always put my video conferences up on the 42" wall mounted display. The 28" monitor directly in front of me is where the majority of my "focused" content (docs, email, web, etc.) happens, and the 22" monitor to its right is the place where I chat and maybe have a single doc if I'm on a conference call – I can have the doc open and give the folks on the conference my full attention.
There's also a gaming/podcasting/video editing setup behind me, but that's for another blog post!
This is the view from the office window . . .
Oana Mangiurea, UX Designer
After working for a year and a half from the couch, I'm lucky enough to finally have an office space for myself.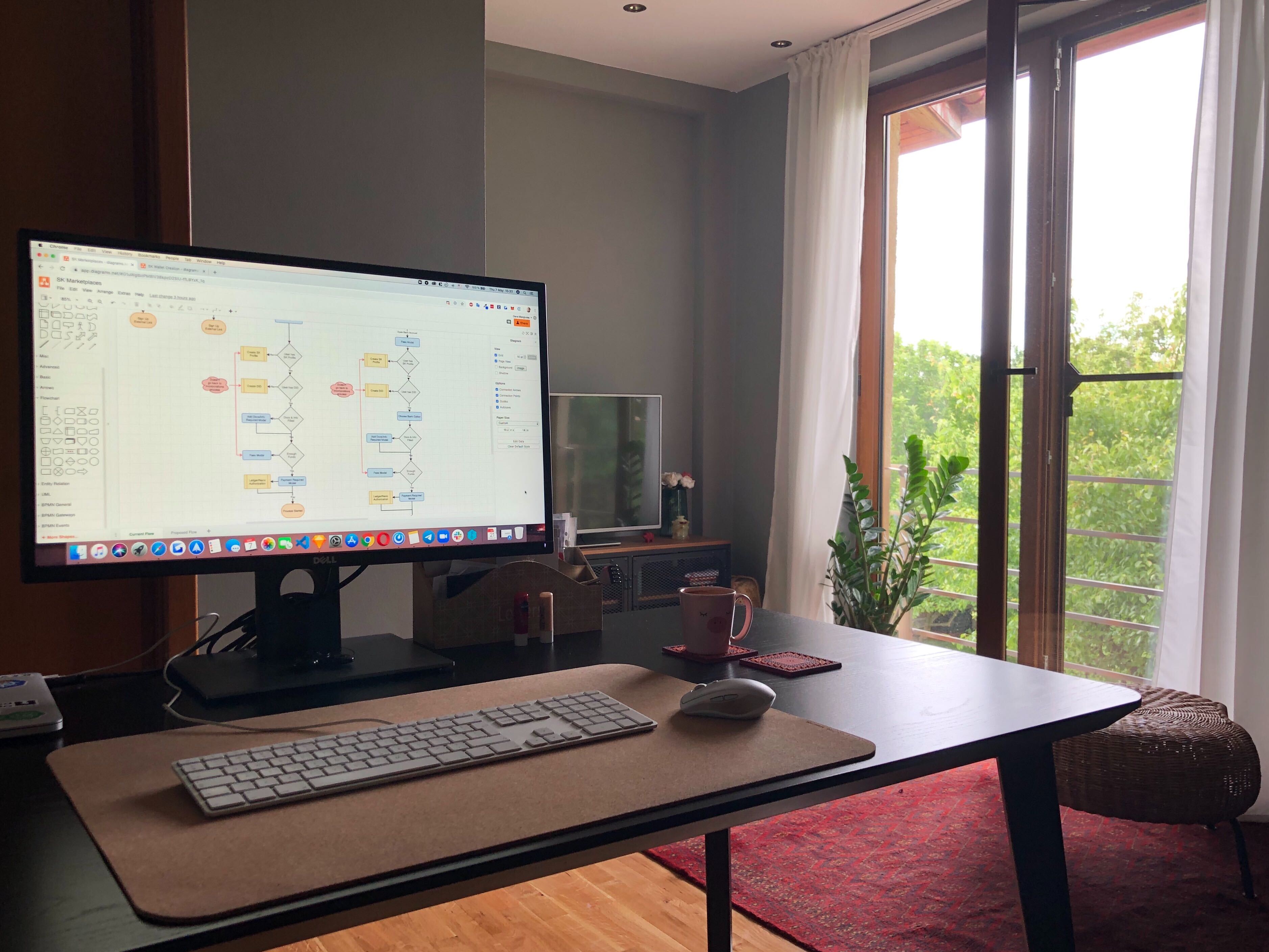 I created a relaxing, dark place (I call it my woman cave) where I can not only focus on work but also enjoy a relaxing break reading a book.
You can't see it, but it also has a comfy sofa, perfect for inviting other fellow designers to brainstorming sessions – or just my husband sleeping 😄.
Justin Hunthrop, Engineering Manager
My office is a collection of random items, which is a pretty accurate representation of my personality.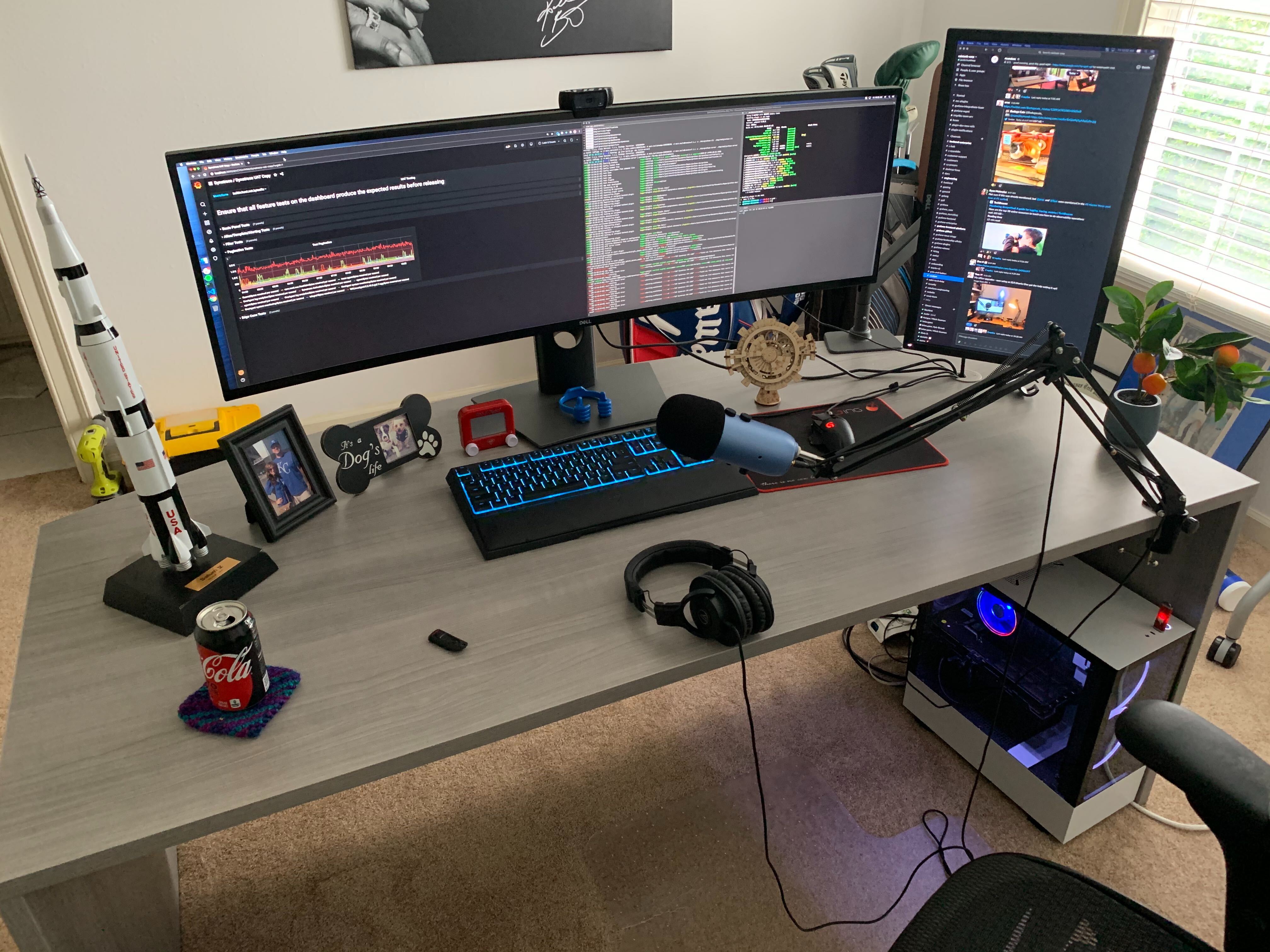 We'll go from left to right, starting with the Saturn V rocket that sits to the left of my desk. The Saturn V is symbolic to me for a few reasons. The first being that it's still the most powerful machine ever built by humankind, over 50 years after it's initial flights. The second is that it's an amazing symbol of what can be accomplished when a collection of people buy into a dream and are relentless in its pursuit. The third is really simple: I'm a space nerd.
Next, there is a photograph of my wife and I at a Royals game a few years back. We lived in Kansas City for around 5 years and will still consider it our second home. After that, we have a picture of my dogs Champ and Baxter. This was taken at the park when Champ was still a puppy. I love this photograph because it was timed perfectly as Champ was licking his nose.
Then we move onto the Etch-a-Sketch which is my go-to "thinking" device. If I hit a mental block and need to free my mind for a bit, I'll doodle something on the Etch-a-Sketch to distract my mind to something else so that the answer comes to me. Next up, we have a perpetual wooden calendar that looks really cool, but doesn't provide much practical value. One of my hobbies is collecting mechanical watches, so the gearing in the calendar caught my eye.
The last item on my desk is a fake orange tree that has no real significance outside of my wife giving the feedback that my office needed more color. She was right, as always. In the background of the pictures, you'll notice a set of golf clubs. I picked up playing golf as a means to get more vitamin D, but have since fallen in love with the game. Playing it at a high level is one of the most grueling mental challenges that I've ever encountered. One must be perfect for 18 holes and 72 shots (depending on the course) over a four hour period. You'll also see a drill and a toolbox in the picture. I grew up on a farm in a very rural area of southern Arkansas. I really enjoy doing things with my hands in my free time. It keeps me grounded and connected to my roots.
On the technical side, I have an UltraWide monitor that I use for primary work and a secondary portrait orientated monitor that I use for Slack. The desktop is a Ryzen 7 3800x build with 32 GB of RAM, PCIE 4 NVME drives, and an older Vega 56 GPU. Thanks for taking the time to read about my office!