Even though we're a remote-first company – or maybe because we are a remote-first company – we highly value direct human interaction. This is why we believe that offsites are a hard requirement for healthy, efficient, and effective teams working together.
As offsites are not very common in too many engineering circles, let me briefly explain what I mean by "offsite":
A team or other group of people travels to a nice location to talk and think about a topic, typically for a week, allowing for travel before and after. Ideally, they coincide with a conference that most people attend anyway. Other appointments are canceled, on call is rotated away from participants as much as possible, and social activities are interspersed with work.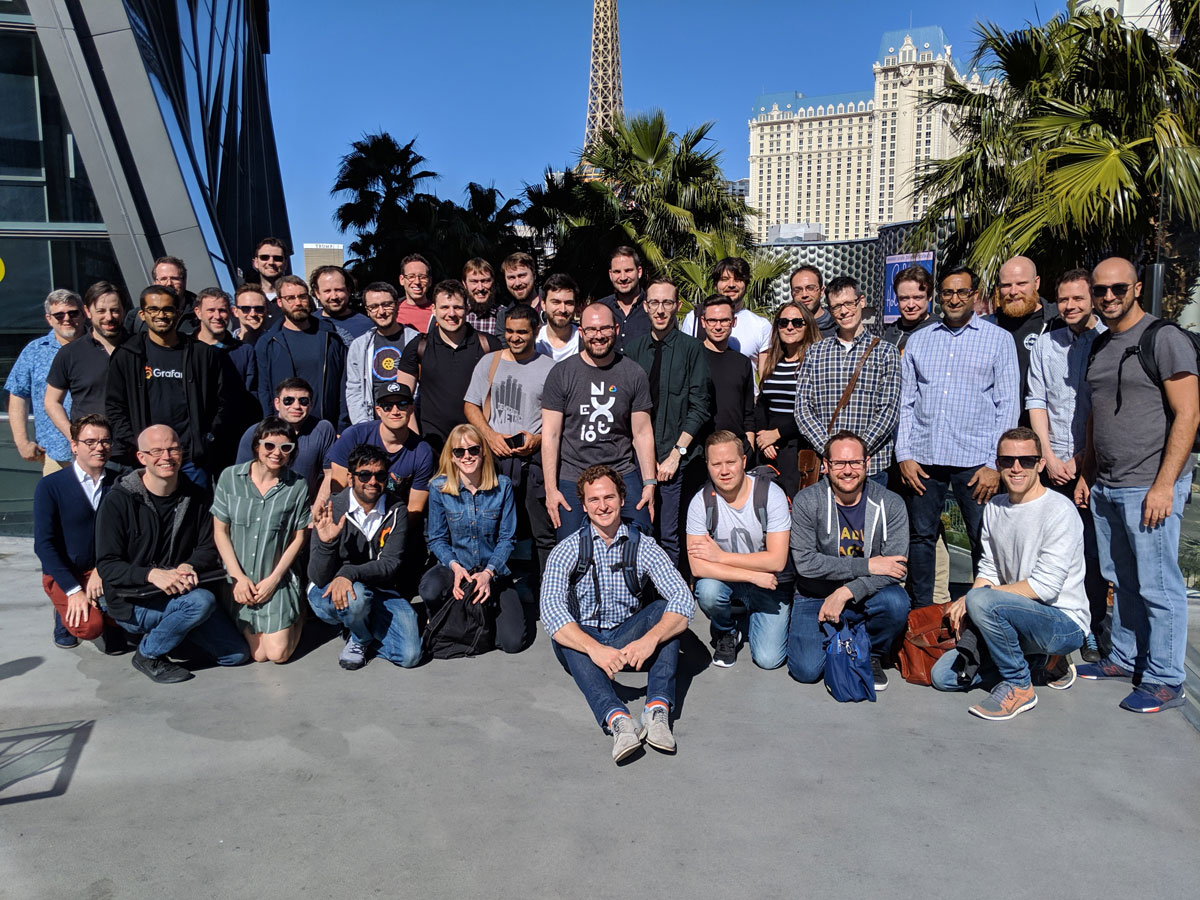 It's a working holiday of sorts, freeing you from the daily toil and firefighting, giving you the mental capacity for proper engineering. The combination of a good hotel or resort with a reduction in daily responsibilities can be liberating and invigorating, and make you approach problems in new ways. They also allow the group to synchronize on what's coming in the next year or quarter, and to build trust in person, with all the benefit of human interaction over written communication. If your team is not having one to four offsites a year, you should talk to your manager, or maybe look at our jobs page.
Enter COVID-19.
At Grafana Labs, offsites are physical. We want all the professional, personal, and emotional benefits of having physical offsites, but currently we can't.
Two weeks ago, we ran our first virtual offsite for the teams working on Cortex, Grafana Agent, Loki, Prometheus, and Tanka; we invited the Metrictank team, too. To learn from this experience and to improve future virtual and physical offsites, I ran a survey afterwards and thought that some learnings would be of wider interest.
As our team is truly global, the core time zones we needed to accommodate spanned from India to Vancouver. We ended up choosing a four-day week of 2.5-hour sessions in the European evening. Starting in the early morning in Vancouver and ending late at night in India was the least bad distribution we could achieve, and it was a time which everyone who replied to the survey, or gave me direct feedback, was happy with.
The Good
Flexibility
A distinct advantage of doing a virtual offsite is the cutdown on travel. This is good for reducing travel stress, good for the environment, and it allows more people to join. Being able to invite people outside of the core teams for some segments turned out to be extremely useful. Aligning travel timing for over two dozen people is hard. Add another dozen and it's borderline impossible to accommodate everyone. I would be surprised if we didn't keep some element of this for future physical offsites.
Timing and structure
While I can't share the topics of what we talked about, the general feeling was that 4 x 2.5 hours was on the short side for an offsite, which is understandable as even accounting for travel, you would get at least 3 x 8 hours out of a physical offsite. There are three basic ways to approach this: less content, more time, or different structure. Less content being not desirable. ;)
Timing
5 x 3 hours of actual content with a longer break in the middle seems to be a consensus position, and it's likely that we will try this next time.
Structure
As to the structure, this is the area where we got the most, and the strongest, feedback.
The higher-rated segments share several properties:
Highly varied content (The Metrictank team's segment got the highest rating overall!)
Open discussion
Forward-looking (Still, learning from the past and making sure new hires know the daily basics is important.)
The Bad
Video platforms and synchronization
The lack of subtle clues about who wants to talk, who is next, who has had their question answered takes a lot of the natural group dynamics away. Initially, we tried to keep all of this social metadata within the video, but that failed. Using chat within Google Meet or Zoom simply does not scale to a group larger than maybe half a dozen. Add to this that Google finally remembered they're offering Meet as a paid business product and started to actively work on Meet again. I assume we got unlucky running into maintenance and ongoing changes, but the fact remains that our calls simply melted.
One thing that Grafana Labs is exceptionally good at is to admit if something does not work, assess what worked and what didn't, and move from there. Pivot speed, when it makes sense to pivot, is very high, and it's a joy to to work in such an environment.
So for day 3 we planned to use Zoom and Slack. Zoom for video, a dedicated Slack channel for the offside offsite chat; pun intended. Questions were pinned to the channel when asked, to be answered at the end of a segment, and unpinned when answered. Automatically, we started to discuss questions in threads while the segment was still ongoing, extending and refining them. In roughly 10% of the cases we would close and unpin questions before the Q&A even started. This was highly effective and efficient.
For day 4, we had planned to experiment more with the Slack channel structure, but our day 3 setup worked so well, we decided against it.
Another benefit of this is that we now have a written log of questions, and of any questions that could not be answered during the offsite itself.
Getting a word in
One common problem in a setting where most if not all of the attendees are not native speakers is the speed of speaking up. There's an old adage about people not so much listening, just waiting to get a word in. And while I don't think that's what anyone at this offsite or others is doing, it can sometimes feel that way.
Democratizing airtime through branching out discussions and questions into Slack has turned out to be a huge plus and was very well received by participants. I am not yet certain how to copy that back into the real world, but we will certainly try.
Interactive consumption
Given the reduced amount of time we had overall and the preference for open discussion, we will optimize preparation. Next time, we will prepare more content and required readings. This will also allow us to discuss topics in comments in the relevant documents before the offsite even starts.
But this is generally true: Meetings are seldom prepared too well. Anything that encourages people sticking to the prepared docs, agenda, and desired outcomes of any meeting is good. Moving as far as possible away from assisted reading toward using the synchronous and interactive time we have is good.
And, after all, allowing for open discussion, brainstorming, and exchange of ideas is one of the main goals for offsites.
The Ugly
Interrupts and reserving time
Given that we're not actually traveling, we're not forced to clear out our calendars as aggressively as we would otherwise. This means that other appointments can touch the offsite time end-to-end, overrun into the offsite, or even take focus away as attendees mentally prepare for the next meeting.
It also means that we don't have the social checks and corrections on people being distracted too much. Keeping your video camera on all the time helps here, and with social synchronization in general, but it's no replacement.
I don't have any immediate answers here other than encouraging people to block 30 minutes before and after the sessions to prepare and decompress, but it's something we will keep thinking about. And we will get better at this, both as individuals and as a company.
Social
This is arguably the worst aspect of virtual offsites, and also the one that got the worst feedback. The lack of social interaction impacted us, especially as an ever-growing team. While we had a game night, and might have two next time, it was simply not a replacement.
The snark and banter on Slack and the game night helped us get to know each other and keep minds sharp, but the social goals of offsites cannot be fully achieved in virtual settings.
Other learnings
Fun questions
Questionnaires tend to be a wall of text and checkboxes. I decided to put a few fun questions in; and while one of them was lost in translation and confused a few non-native speakers, by and large the feedback was very positive. Again, fun is what keeps minds sharp.
In-person meetings
Overall, the offsite went well and was very well received. Most respondents gave it the maximum points; not one went below the middle. Given how globally distributed teams tend to score something, this is a very good result.
On the other hand, I won't pretend virtual offsites can fully replace physical ones. We are all looking forward to seeing each other again, or for the first time, in the future. But we have learned and will continue to learn from the virtual ones. We will continue to feed learnings back into the physical offsites. A cadence of two physical and two virtual offsites per year could make sense, given that virtual ones are easier to organize, lighter on the environment, and just plain fun.
Just maybe not as much fun as axe-throwing, making huge fires, attending a conference before the offsite, competitive Lego speed building, taking long walks and tours through the host city, or cooking with and for each other. But then, as you know, we're hiring. ;)