As Grafana Labs continues to grow, we'd like you to get to know our team members. Check out the latest of our Friday team profiles.
Meet Zach!
Name: Zach Choquette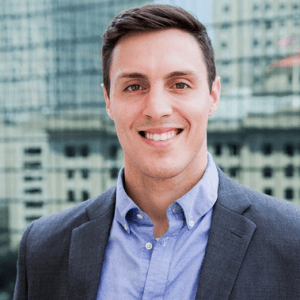 Talent Acquisition Manager Zach Choquette
Current location/time zone
Denver, Colorado. Mountain Standard Time Zone.
What is your Twitter handle?
Why did you decide to join Grafana Labs, and what are you hoping to accomplish here?
The mission. The people. The products. The fanatic user base and addressable market. The opportunity to work in a remote-first culture. It's rare to find a company that hits it out of the park on all of these.
As a recruiter by profession, I think Grafana Labs has all the makings of a truly unique company. I'm eager to share and spread that message and help find and hire the best talent, regardless of where they are. I hope to help build the next great software company.
What is your hiring philosophy?
This is a great question, one that has kept evolving for me. I read a First Round Review article a couple years back that detailed a recruiting/hiring process as a sword and shield – to be sharpened regularly, and wielded wisely. That idea has stuck with me. Hiring is a hyper collaborative effort that needs continual refinement and ownership to make great experiences for both candidates and hiring managers.
In terms of hiring strategy itself, I tend to look for a set of behavioral criteria in candidates that gives some predictive control on true start-up readiness; Grit, Intellectual Curiosity, Rigor, Teamwork, Ownership, Polish, and Desire for Impact.
What's the best part of your job?
One, I love the nature of growth stage startups. I really enjoy the frequency of change, constant learning on the fly, and aggressive goal setting – it energizes me. Two, the best part of recruiting to me is connecting with people and having conversations around new markets, technology, opportunities, and career paths. Seeing people I've hired advance internally is always something that makes me proud and fulfilled.
What do you like to do in your free time?
I love to ski. In my work-life, I'm constantly between screens and online, so skiing has always been a highly meditative way to connect with nature and be present. I also love a great adrenaline rush, and skiing pushes me in that respect. In my post-organized sports life, I've been hard-pressed to find something that challenges me mentally and physically to the extent skiing does. So much so, a year ago I moved from Boston, MA, to Denver, CO, to be closer to world-class mountains and an outdoor lifestyle. Aside from that, I like to play basketball, go to the movies, drive, travel to new countries, and play with my English Lab, named Lula.
What's your favorite new gadget or tech toy? My Microsoft Surface Book 3 and Acer Ultra-wide monitor. Thank you Grafana Labs. : )
What do you do to get "in the zone" when you work?
Polish off a second cup of coffee, clear all my browser tabs (I have a crippling tab problem in Google Chrome), and put on a long music playlist. Spotify is my lifesource for sourcing and productivity.
What's the last thing you binge-watched?
I'm in the middle of the original Twin Peaks. Have no idea what's going on.
What's your greatest achievement?
Looking back now, I'm very proud of self-financing and putting myself through college.
Do you have any hidden talents?
I've been told I do pretty strong voice impressions. May try out improv classes once quarantine ends.
What's the last thing you've gotten off your bucket list?
In September 2019, my girlfriend and I hiked and camped the Kalalau Trail along the Napali Coastline in Kauai, Hawaii. It's a 22-mile round trip, and that progresses through a rigid tropical coastline filled with switchbacks, cliffs, lush valleys, and waterfalls. It was the most epic, beautiful, remote place I've been to – and easily the most challenging trip I've done.