As Grafana Labs continues to grow, we'd like you to get to know the team members who are working on the cool stuff you're using. Check out the latest of our Friday team profiles.
Meet Jess!
Name: Jessica Müller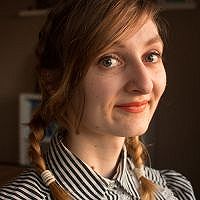 Current location/time zone
Darmstadt, Germany – around 20 minutes south of Frankfurt. CET.
What do you do at Grafana Labs?
I am a UX Designer. I work on making Grafana more human-centered, aligning the work we do at Grafana Labs with what our users need. That means running research interviews and getting user feedback and distilling the findings into interface designs. I'm a big advocate of design thinking, so I'm using collaborative methods and interdisciplinary input as much as I can. And I am a very visual person with a background in graphic design, so I'm trying to bridge the gap between accessibility, usability, and beautiful, on-brand design.
What are your GitHub and Twitter handles?
Both are @jessover9000 (Instagram as well 📸).
What do you like to do in your free time?
The meme that describes me best is "Do ALL the things" –- I have a LOT of hobbies and will just give you a select few. Apart from design, which became my profession and is a huge part of my life in every aspect, my biggest passion is probably doing music. My mum is a trained pianist, so I grew up with mandatory piano classes. 😄 Today, I'm a one-woman band composing, singing, and producing full albums on my laptop at home after work. Other than that, I go to a monthly management meetup where I facilitate workshops sometimes and recently organized a conference. I love to cook, I'm a huge movie nerd, and I'm a vintage fashionista and fashion-blogger on Instagram. Oh, and I have a daughter, and as a family, we play a lot of board games and (obviously) do music together.
What's your favorite food?
I love to make vegan tagine, which is a Moroccan steamed dish similar to risotto where you can throw in whatever you have. What's great about it is that it's sweet and savory at the same time. The best thing I've ever eaten was a ceviche with salmon, lime, sea salt, fried sweet potato, beets, and pepper, which was sweet, sour, salty, and spicy all at the same time. So I guess there might be a pattern there. #triggerALLtheflavors
What's the last thing you binge-watched?
Like with the books I read, I tend to switch between several different shows because I get sick of just one after a while. But there are exceptions where I really binge through something. The last one was the second season of Sex Education on Netflix. That show is just too good.
What superpowers do you wish you had (or do you have!)?
I would love to have the time turner necklace from Harry Potter. Just so that I can spend as much time on my passions as I want.
Do you have any hidden talents?
I spent 11th grade as an exchange student in Japan, so I'm fluent in Japanese. And I won a Dance Dance Revolution contest once when I was 15. 💃
What's the last thing you've gotten off your bucket list?
Getting a remote job. :) It brings me one step closer to my dream of buying an old house in Japan and living there part-time.