This post has been updated to reflect changes in the availability of the ServiceNow data source plugin for Grafana Cloud users.
Greetings! This is Christine Wang and Eldin Nicocevic reporting from Solutions Engineering, a team at Grafana Labs dedicated to helping users maximize what our Grafana Enterprise and Grafana Cloud products can do for your orgs.
In a previous life, Eldin managed the customer experience department for several different companies and still remembers the pain of running daily reports so his team could have visibility into their ticket queues. Christine has also, as she puts it, "paid her dues as frontlines technical support," weaving her way through tickets, SLAs, and waning customer patience.
So today, we want to talk about something clearly very near and dear to our hearts: our new ServiceNow data source plugin.
We ❤️ ServiceNow + Grafana
The latest addition to our burgeoning assemblage of plugins, our ServiceNow plugin enables Grafana users to visualize the data they're already collecting with the popular workflow automation platform against any other metric data source.
Imagine this: Instead of facing an endless list of incidents, you can view meaningful and actionable dashboards when you want to understand the aggregated, top-level summary of the health of your IT service management.
The end goal is to take something like this: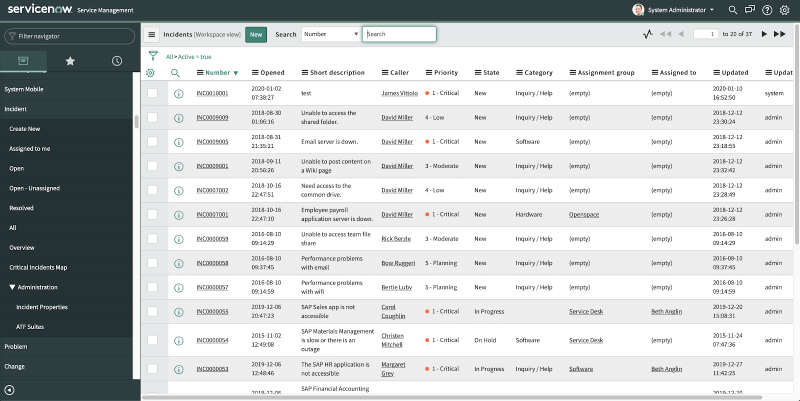 And turn it into this: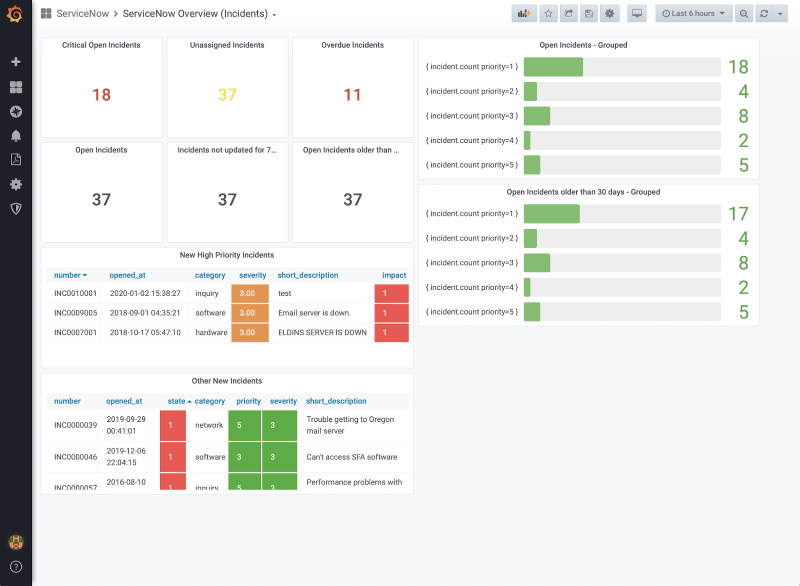 The plugin currently supports ServiceNow's Incident Management and Change Management solutions. When you can leverage your incident data with other metrics to gain deeper insight into all of your systems, your team can spend less time working on incidents and reduce response times. Say you suddenly receive multiple reports of an incident. Now with dashboards that utilize data sources from your full technology and business processes stack, you'll be able to correlate the incident to an issue within your IT infrastructure, all in real time.
Some quick tips
Remember to take advantage of data links so your troubleshooting workflow is seamless as you click through dashboards to uncover supporting data in addition to what ServiceNow collects.
With the ability to add and configure alerts, you can notify any and all of your channels to prevent SLA breaches.
We are ultimately in the business of making you look good at work, so don't forget to set up a daily PDF report so your bosses can have end-of-day stats delivered directly to their inboxes.
One last goodie before we hang up our boots again: If you've installed Grafana 6.6 release, be sure to test out the News Panel so you can integrate your internal status page into your dashboards: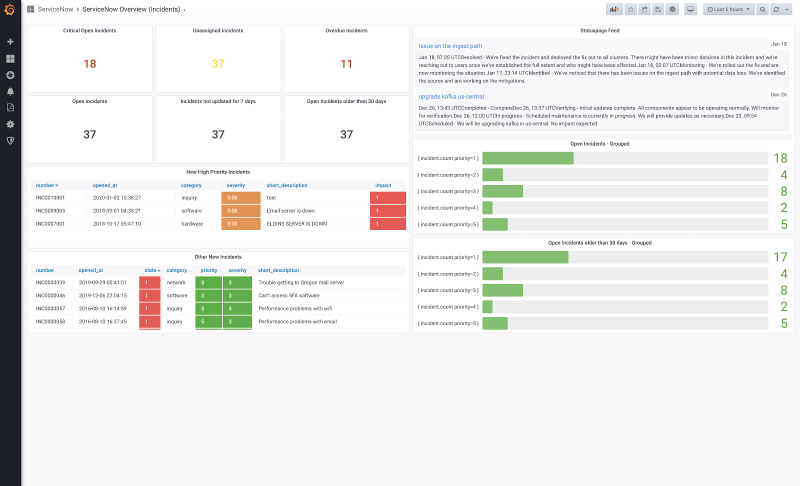 Learn more
The ServiceNow data source plugin is available for users with a Grafana Cloud account or with a Grafana Enterprise license. For more information or to get started, go to the ServiceNow solutions page or contact our team.
Please give us a shout when you've set up your ServiceNow dashboards — we love seeing what the community comes up with. And, as always, happy dashboarding!
If you're not already using Grafana Cloud — the easiest way to get started with observability — sign up now for a free 14-day trial of Grafana Cloud Pro, with unlimited metrics, logs, traces, and users, long-term retention, and access to one Enterprise plugin.