If you've heard about Grafana Enterprise (the commercial version of Grafana), you might be wondering if companies actually pay for something that is already so good as an open source software.
In my role at Grafana Labs I've talked with hundreds of companies from all over the world, in many different industries. I've listened as they shared the daily challenges and frustrations they face at their organizations. And though the particulars of their use cases, scale, and even the teams using Grafana vary greatly, I've managed to gain a good perspective of why large companies generally end up adopting Grafana Enterprise.
Many organizations first come to Grafana to enable an individual initiative or project, and stay for the ability to achieve the elusive, buzzwordy even, white whale: "the single pane of glass." For a single team, getting a single pane of glass is great. For a 10,000+ person engineering org – it's game-changing.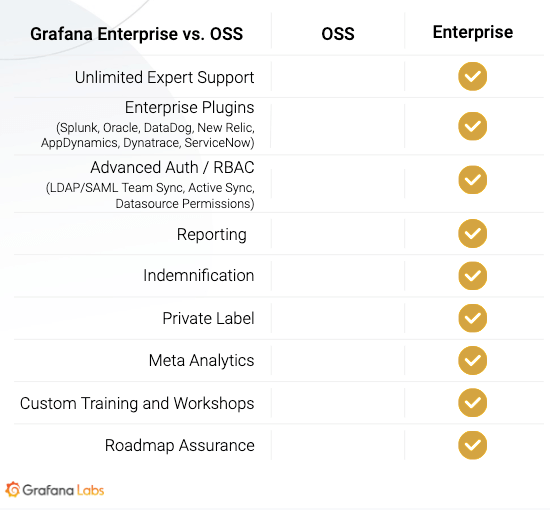 Rather than feature dump, though, I would like to focus on the 6 different scenarios that we commonly see, when Grafana Enterprise ends up having enough value to be adopted at enterprise scale.
1. Going from silos to a single pane of glass
In large organizations, data can be scattered, very often siloed, sometimes overlapping, with little to no global view of systems that are often very much interrelated. They need to change the way the data is perceived and consumed. Why is this data correlation so important?
Well, one reason is because it can be biased or incomplete: It's like getting your news from a single source. You ultimately get a skewed view that isn't a reflection of reality and doesn't actually help you be more effective. Back to technology. When this happens with data, your teams have to navigate across multiple systems to get a clear understanding of what is causing a specific incident, for example, or what was the real impact on other systems that were dependent but not directly measured in the same way.
"Sh#& happens" whether you like it or not, and it all comes down to how quickly your teams can identify the root cause and full impact of those incidents. These outages are expensive, reeeeally expensive: One large company shared with us that each minute of downtime costs them around $8,000 – which comes out to north of $250 million a year.
No one can completely erase outages, but what Grafana Enterprise can bring is visibility into the data so that organizations can identify the problems earlier and solve them much faster. After all, $8,000 a minute adds up fast.
2. A tool that fits all – or most – needs
I've seen multiple corporate initiatives with tens of millions of dollars invested in data lakes and monitoring platforms that were supposed to fit the needs of a large number of teams and use cases. The reality? Weak adoption, hacky workarounds, and a ton of technology bought on credit cards to work around the inconvenience of having to fit square-peg use cases into a round-hole solution.
A Forrester study found that up to 73% of all data within an enterprise goes unused. Apply this to the $130M annual data storage cost carried by one of the companies we work with at Grafana Labs, and you realize they might be spending close to $100M a year for data no one uses. And that is not because it didn't have value, but rather because the employees didn't have an easy way to access or use it effectively for them.
One of the problems is accessibility of the data. They need to shift data from one tool to another to actually make sense of it. You're losing visibility and you're paying more on the storage because essentially you're collecting data with one tool and you're storing it, and then you're copying it to another tool.
With Grafana Enterprise, companies visualize the data in a contextualized and consolidated way, without duplicating it. Grafana Enterprise also includes a set of additional features like reporting that enables teams to export, share, and consume data differently.
Last but not least, being a customer of Grafana Enterprise unlocks:
Roadmap Assurance, which is a unique opportunity to influence the roadmap of a major solution to meet specific needs that are not available in the solution yet; and
Training and Consulting, which allows companies to increase and unify the employees' understanding of not only Grafana but also everything related to monitoring and observability.
3. Secure access and better data protection
As organizations start using Grafana more and give more teams access to it, they start feeling the challenge of managing data access and security so that each team member can see only the particular data he or she should be allowed to see. At the same time, they don't want to silo the data; they want to consolidate it while allowing access distinctions as needed.
I've seen Fortune 500 companies with dozens of teams using Grafana separately, and when they adopt Grafana Enterprise, they are able to consolidate usage, remove silos, and increase collaboration more efficiently. It's why we've designed enhanced authentication options with different systems to create a more consolidated, secure approach for consuming data.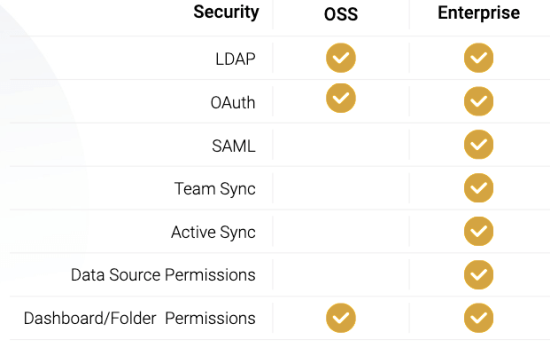 4. Expert support with SLA
Many Fortune 500 companies use open source software at a large scale. Often a few teams start getting value out of Grafana, then more and more teams start relying on it. Suddenly hundreds or thousands of team members are using it, and there's a huge impact if something goes wrong.
Not only that, but managing instances team by team makes sense until you have five instances of Grafana, each with slightly varying versions of the same dashboard and major version control challenges. It's far easier to opt for a solution that allows this to be consistent across hundreds or thousands of users and unlimited Grafana instances. Executives want the security of having a support agreement in place and knowing that someone with real expertise will be responsible for the tool. While Grafana is very stable, typing into Google or a public forum "How to solve X" should not be the only way out of a potential problem for enterprise production deployments.
With Grafana Enterprise, large organizations can apply best practices put in place by the experts who built the tool, with an SLA.
5. OEM integrations to provide beautiful dashboards to external customers
We have several customers that bundle Grafana as part of their offering. For example, one particular partner includes Grafana Enterprise in its industrial IoT monitoring product. Using Grafana visualization with its industrial sensors is a great way for the company to showcase its product to its customers. With Grafana's ease of use and beautiful dashboards, the product gets more adoption inside their customers' organizations.
However, these customers expect a certain service level, and as good as open source Grafana is, our partner needs extra security, support, and control over the data to avoid cross-contamination. Grafana Enterprise offers this additional confidence, with expert support and a 2-hour SLA for critical answers and indemnification. Also, an important additional feature of Grafana Enterprise is the possibility to customize the footer links, login page, and side menu bar with a company logo.
6. Move towards observability
I'm not going to try to define observability. Lots of people a lot better positioned than me have done it, but there is a general understanding that people would like to see metrics, logs, and traces in a single place (the famous 3 pillars).
The challenge with that? It happens that these 3 pillars are very often provided by different systems, and the large adoption of open source in the monitoring space clearly didn't help consolidating and correlating data from all these systems.
Large organizations might use Prometheus, Graphite, Influx, or DataDog for metrics, and Elastic, Splunk, or (hopefully) Loki for logs, while tracing is done by AppDynamics, Jaeger, Zipkin – or most probably it's just in their "plans" for the distant future.
Regardless of the tools you pick, you need correlation between these pillars and an easy way to move from metrics to logs to distributed traces. Guided by Grafana Labs' "big tent" philosophy, Enterprise makes sure you can consistently connect the tools without having to make the tradeoff of choosing between the best tool and the most convenient tool.
Our strategic priority as a company is to build "the world's first open and composable observability platform." I know, it sounds fancy. But what it actually means is that you can finally choose the best tool for each of your use cases and bring them all together in one UX, with Grafana Enterprise as the glue to tie them all up close together and help you better use and access your data without yet another painful lift and shift.
Next Steps
So, how do you get started with Grafana Enterprise?
Nothing could be simpler. No need to rip and replace your current Grafana configuration or the tools that you use. All you have to do is install the new Enterprise binary and the needed Enterprise plugins, and of course we will help you configure the new use cases. Best of all, as your teams are already familiar with Grafana, they don't need any more time to get familiar with a new tool. They are good to go.
Reach out to us, and we can walk you through what Grafana Enterprise can do for you. If it doesn't make sense, we'll be the first to tell you to stay with the open source.