As Grafana Labs continues to grow, we'd like you to get to know the team members who are working on the cool stuff you're using. Check out the latest of our Friday team profiles.
Meet Diana!
Name: Diana Sarlinska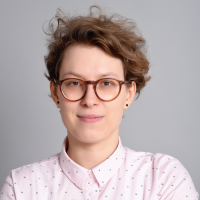 Grafana Labs UX Designer Diana Sarlinska
Current location/time zone: I live in Kraków, Poland – CET (UTC/GMT +1h).
What do you do at Grafana Labs? I am a UX Designer, which means I am a UX advisor in development of our product, as well as a user-side advocate. I am trying to understand the needs, context, and motivations of our users and then translate them into recommendations, designs, and redesigns. A big part of my job is doing research and collecting feedback from our users.
What open source projects do you contribute to? I only contribute to Grafana as it is my first experience with an open source project. You can see what the whole UX team is working on here.
What are your GitHub and Twitter handles? GitHub and Twitter are both @sarlinska.
What do you like to do in your free time? Biking! I love the sense of freedom it gives me. It is also my primary means of transportation. Just recently I have started swimming lessons so whenever I have some free time I jump into the water. Other than that nothing special – reading non-fiction and graphic novels, watching favorite shows, and hanging out with friends.
What do you do to get "in the zone"? When I am designing I put on headphones and my playlist, "While I Work."
Favorite ice cream flavor? I am not really a fan of ice creams – if I eat them it's usually because there is some odd flavor available. This summer I tried licorice flavor while in Sweden. They were really good… for ice creams.
What's the last thing you binge-watched? Brooklyn Nine-Nine (love this show!) seasons 3-6 and Atypical season 2.
What superhero powers do you wish you had (or do you have!)? Not sure if it counts but I am good with remembering numbers. Like really good.
What's your claim to fame/greatest achievement? This Christmas I was baking a cheesecake and I forgot to add cheese. True story – noticed just before putting it into the oven.
Do you have any hidden talents? I am really good at mimicking different accents. I am able to repeat it pretty well just after hearing it once. It's super strange as I am really bad at repeating songs' melodies; basically I cannot do it.
What's the last thing you've gotten off your bucket list? Traveling around Iceland with a tent.