As Grafana Labs continues to grow, we'd like you to get to know the team members who are working on the cool stuff you're using. Check out the latest of our Friday team profiles.
Meet Dave!
Name: Dave Kranowitz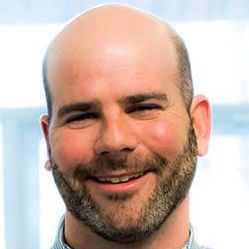 Grafana Labs VP, Global Sales Dave Kranowitz
Current location/time zone Barrington, Rhode Island, Eastern Time.
What do you do at Grafana Labs? I'm VP of Global Sales. I've spent the past two decades in various sales roles. I started as a BDR, became a rep, became a regional director, then ran multiple regions, and ultimately became a VP. Most recently, I led enterprise sales for Turbonomic, which is an application resource management platform. Prior to that, I led the U.S. Eastern region for Dynatrace. I've had the opportunity to help scale two companies and am super excited about doing my part to amplify the amazing momentum Grafana Labs has built to date.
What is your Twitter handle? I'm @davekranowitz on Twitter.
Tell us about your background. I grew up in Washington, D.C. I graduated from Connecticut College with a double major in 19th century American history and environmental policy. I met my wife on the last day of senior year of college. Next year we're celebrating our 20-year wedding anniversary. We live in Barrington, R.I., with our two teenage boys Asher (16) and Noah (14). We also have two goldendoodles, Frisco (10) and Piper (1).
What do you like to do in your free time? I love spending time with my family, and on the weekends I am usually found standing on the sidelines of some field, somewhere in New England. This year, my youngest son and I have been busy restoring a 1985 Jeep CJ-7 together. Other than that, I love being outside and have also been studying Krav Maga (the Israeli martial art).
What's your favorite new gadget or tech toy? I travel frequently for work, and my Bose headphones and iPhone 11 are my two go-to gadgets.
What's your claim to fame? In 1995, I drove cross country with two very close friends. Prior to heading West, one of my friends "borrowed" a cement lawn gnome from a random house in New Jersey. He jotted down the address. We spent the next three weeks taking pictures and writing postcards on behalf of the gnome and sending them to the owners from various places all over the country. The gnome had an important life journey – falling in love, battling with amphetamines, and ultimately, finding redemption. In hindsight, it is clear that beer helped inspire many of the postcards. We later returned the gnome to its original spot, no worse for wear.