A post-geographical culture means more than putting a face to the name.
Here, the Grafana Labs team is also putting a photo to the workspace.
Check out the setups that have been where some of the latest Grafana releases and products have been developed.
What you'll learn is that not only is the Grafana Labs team adept at creating dashboards, supporting hosted services, and hosting conferences. But they also know their way around a few home office hacks that helped them personalize their workspaces.
Dan Cech, VP Platform Services
I have three monitors, but the middle one is 43" so I had to get creative. The base is a Jarvis sit/stand desk frame with a solid maple butcher-block top, it is awesome but I need to stand up more often!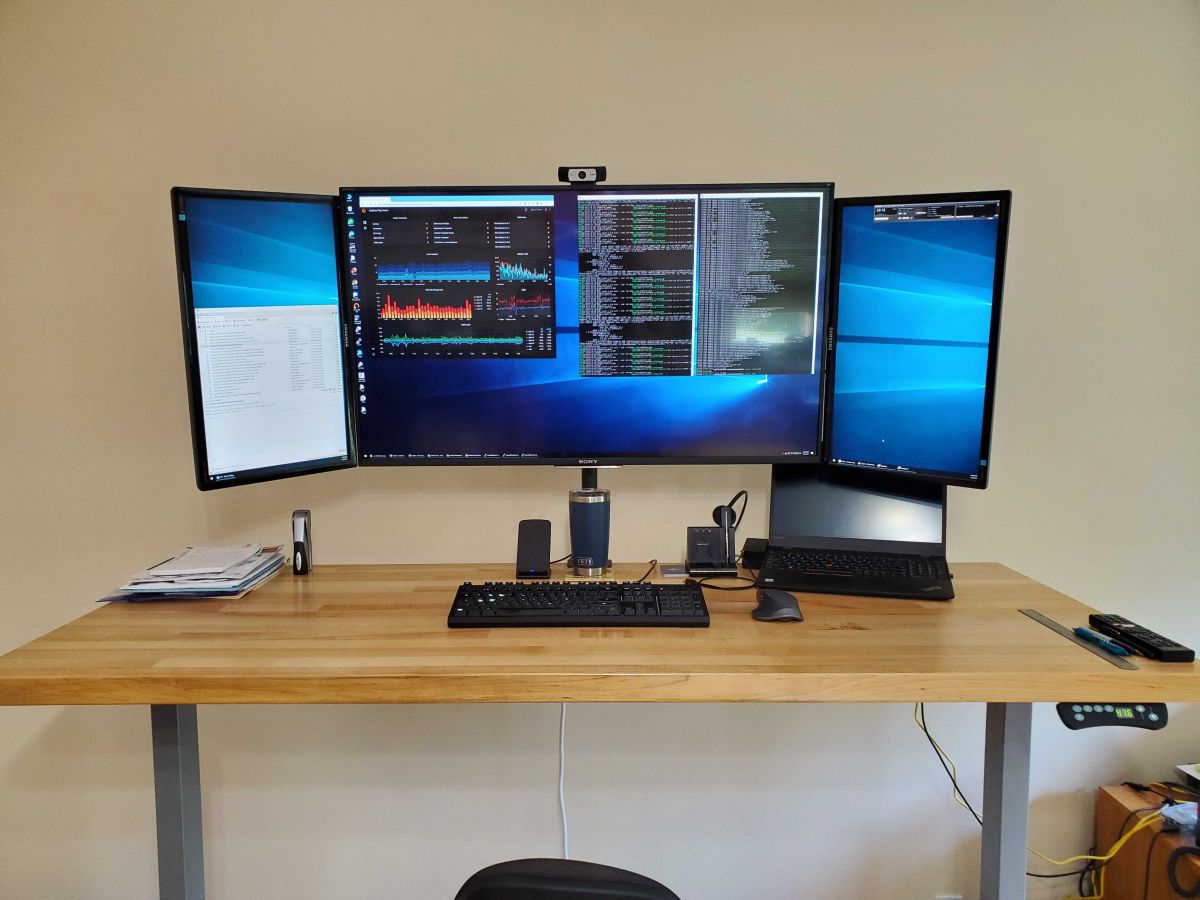 My current setup involves the center part of the arms from a three-monitor mount combined with the tall post; two arms from a four-monitor mount; and a "custom" Vesa 100x100 to 300x300 adapter (a.k.a. a piece of aluminum sheet with holes in it). It's definitely from the "If it Works, it's Not Dumb" school of engineering.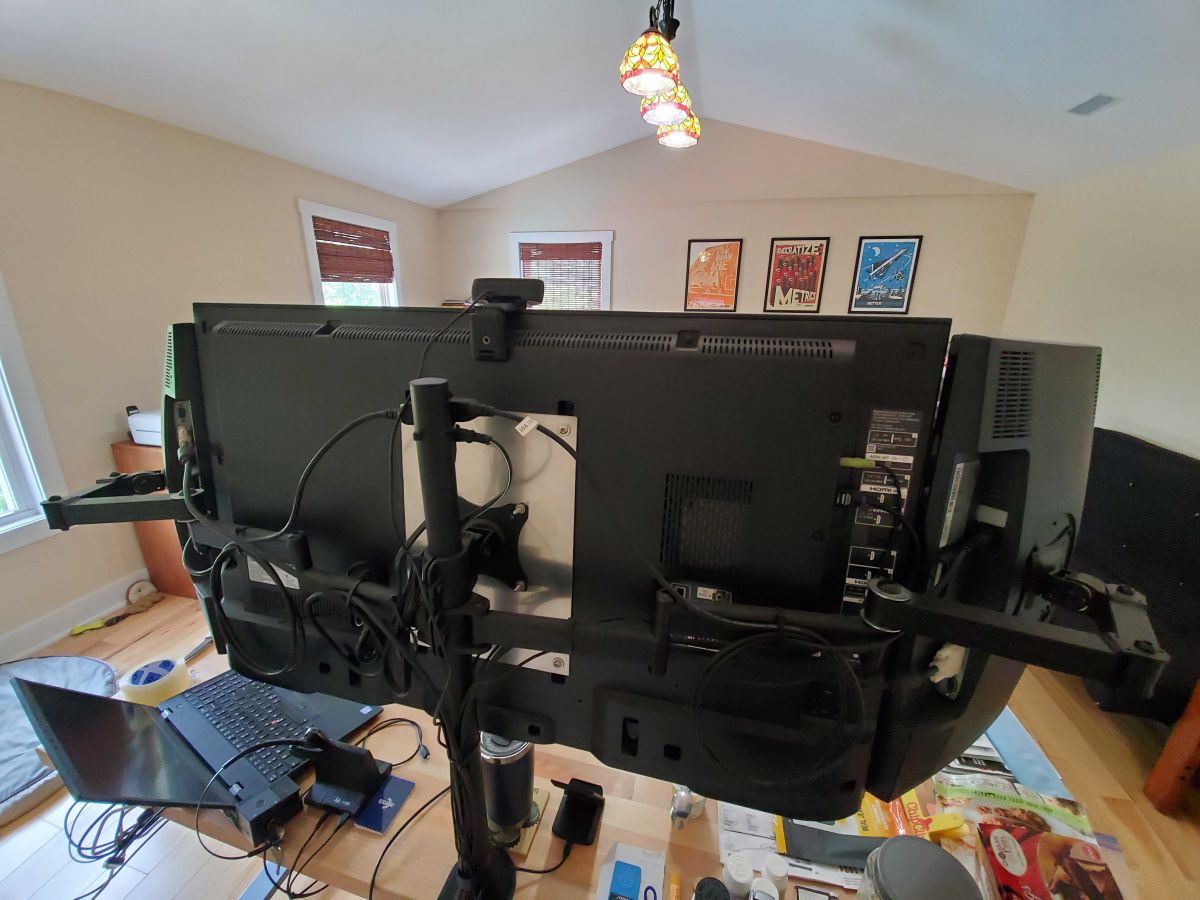 If monitors have four holes on the back for a mount, getting them up off the desk is awesome. The Vivo two-monitor arm is cheap and sturdy, and you have so much more room for important stuff on your desk.
For cables: Zip ties! I'm also using a couple of large NeatLinks trays under the desk. The best thing I did was to get the cables up off the floor and tucked away. Now the desk has only power, network, and an audio connection to the subwoofer.
For those who like being able to move their desk easily but hate casters that slide around, a nice set of casters with polyurethane wheels and working brakes are a cheap and good upgrade.
Victor Cinaglia, Software Engineer
I have a similar setup at home, but my mount is somewhat unstable. It wobbles quite a bit when I'm typing while standing. I'll definitely look into the Vivo arm.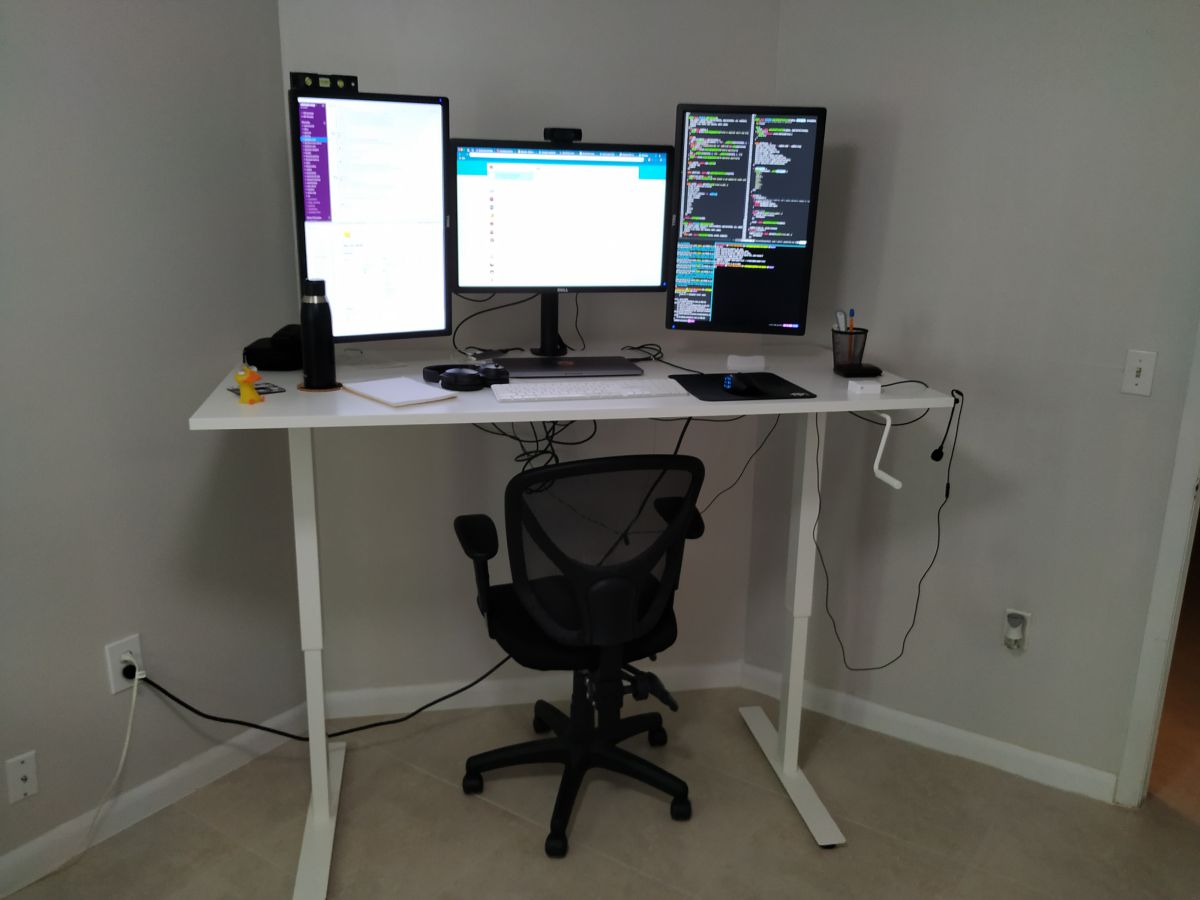 Robert Fratto, Software Engineer
I ended up getting one arm per monitor. (And I still have to find a way to handle cable management better.)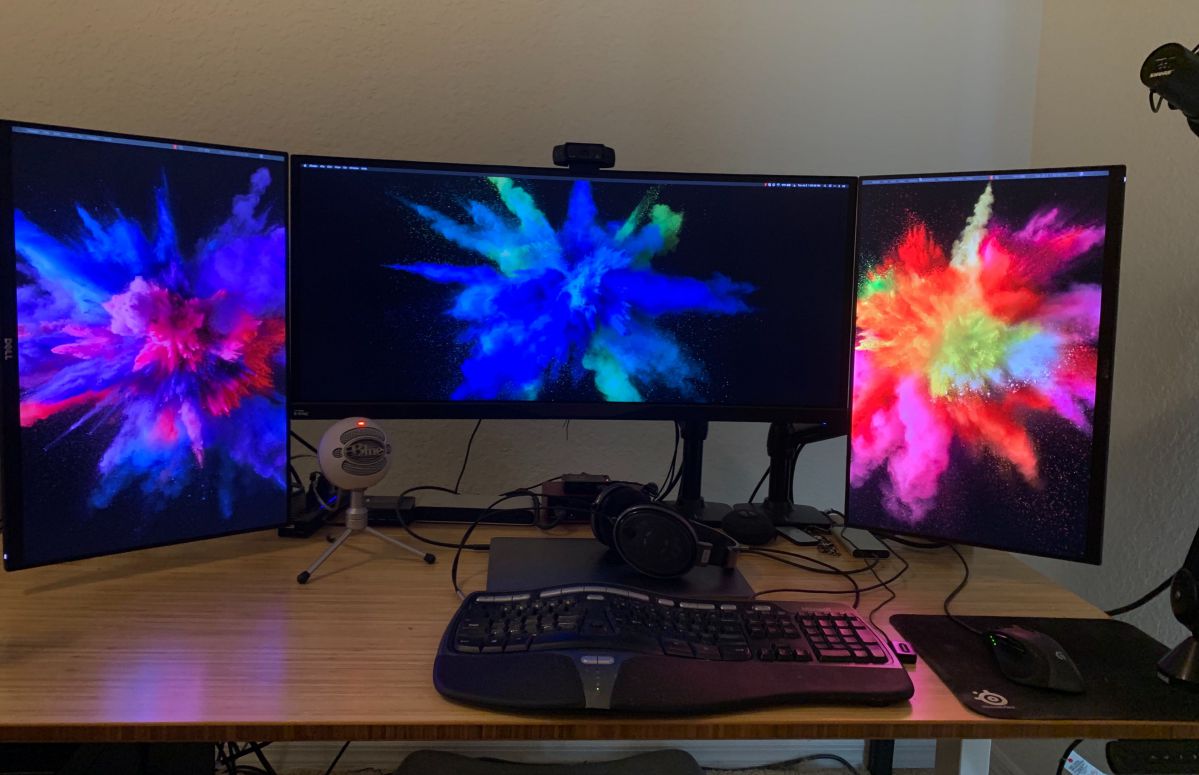 Callum Styan, Software Engineer
Cables are a pain. My monitor arm has some cable holders, and then I have some little 3M cable ties for stuff under the desk. I still need to do something with the usb hub/kvm switch.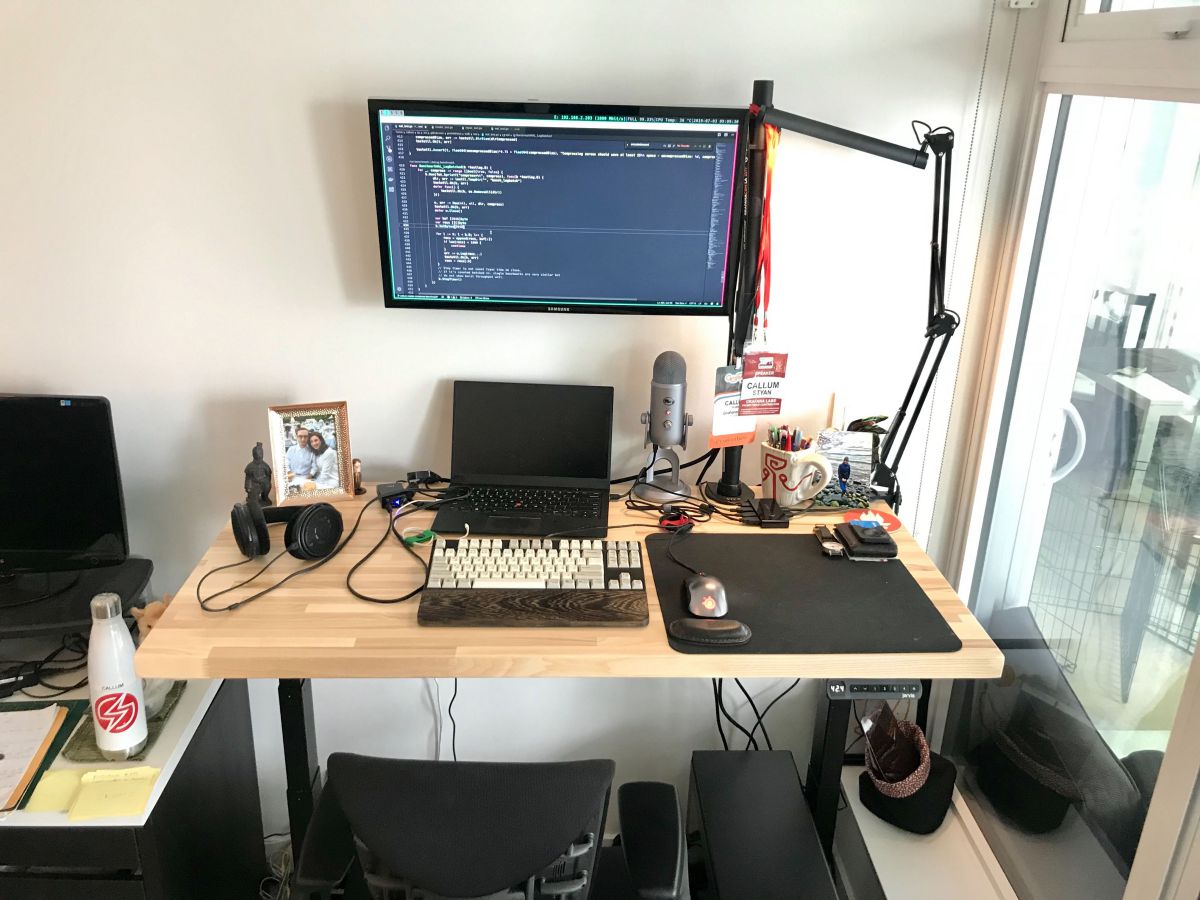 Next I'll pick up arms for my mic and laptop or some kind of laptop dock. It just takes up desk space.
Ronald McCollam, Solutions Engineer
I homebrewed mine.
A square table top I ordered attached to an Ikea shelf…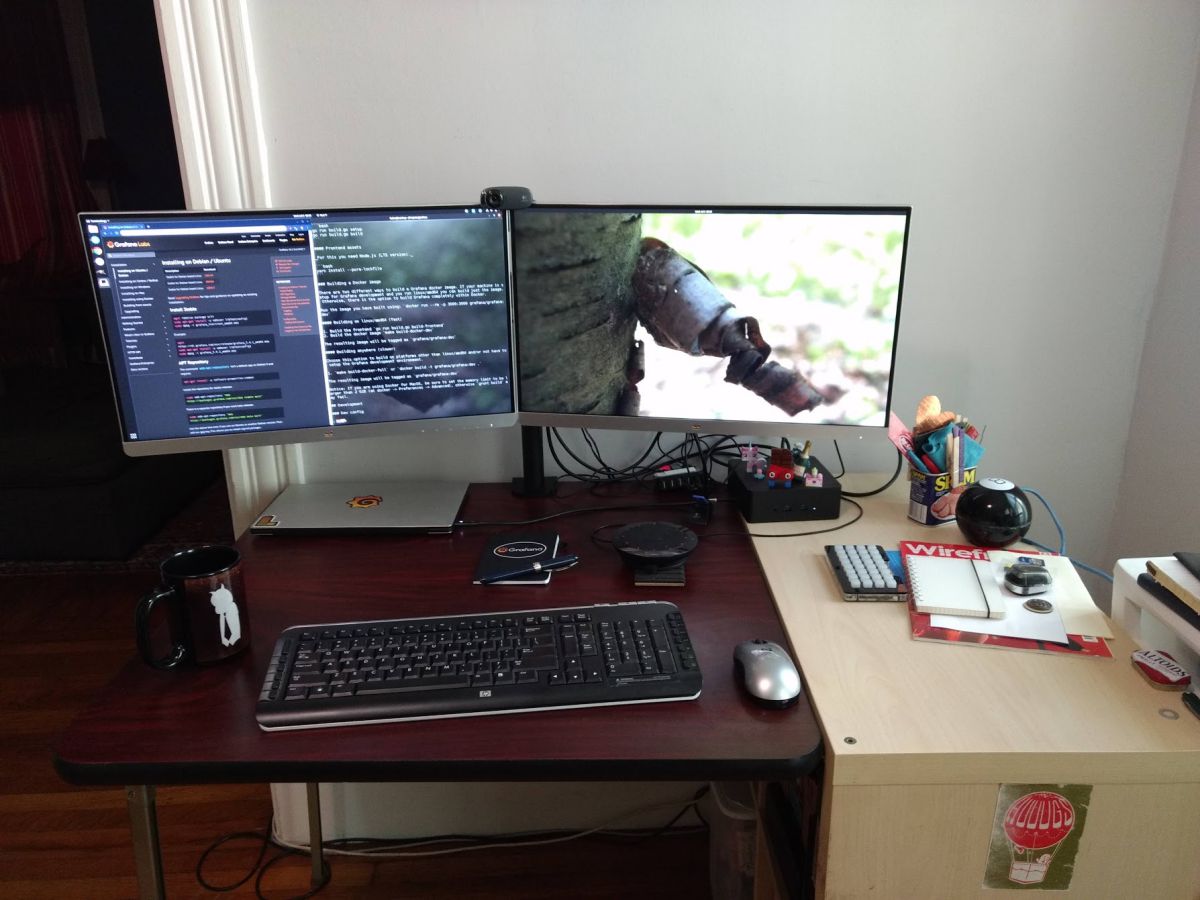 Anchored with slide-out supports…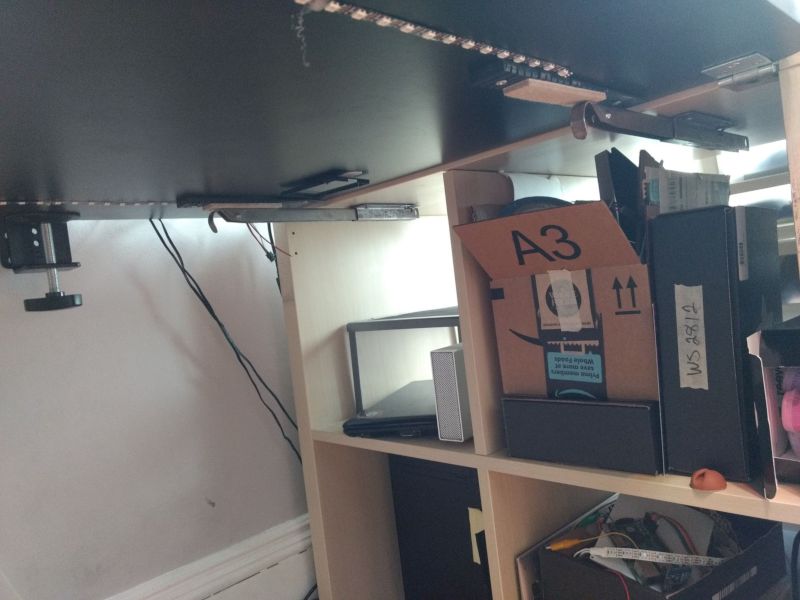 And a pair of folding legs.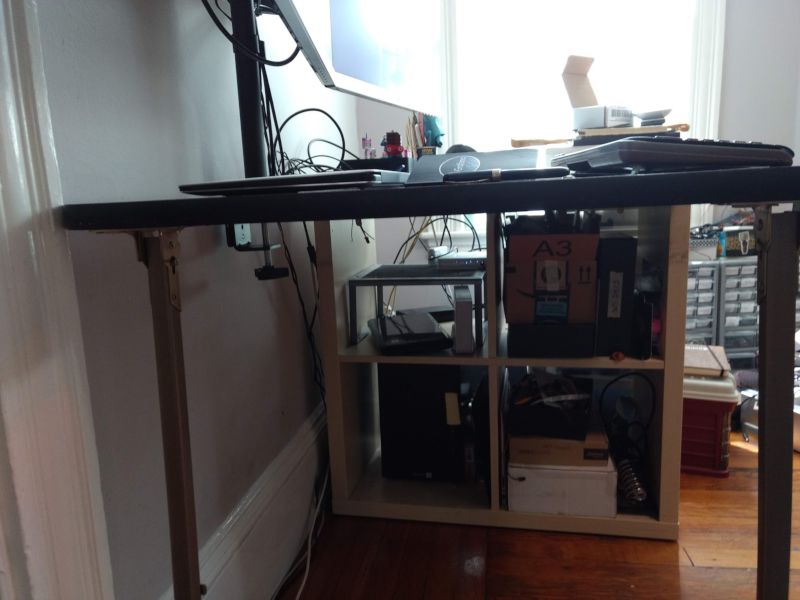 So when I need it out of the way, I can fold up the legs, draw in the support, and it folds down to a small shelf out of the way.
Simon Crute, Customer Support
I tried a twin monitor arm, but it was impossible to get the screens set up with a laptop in the middle. I ended up ditching the arms but still going with the three-monitor setup. (And yes, that's a SUSE plushie on a Windows machine.)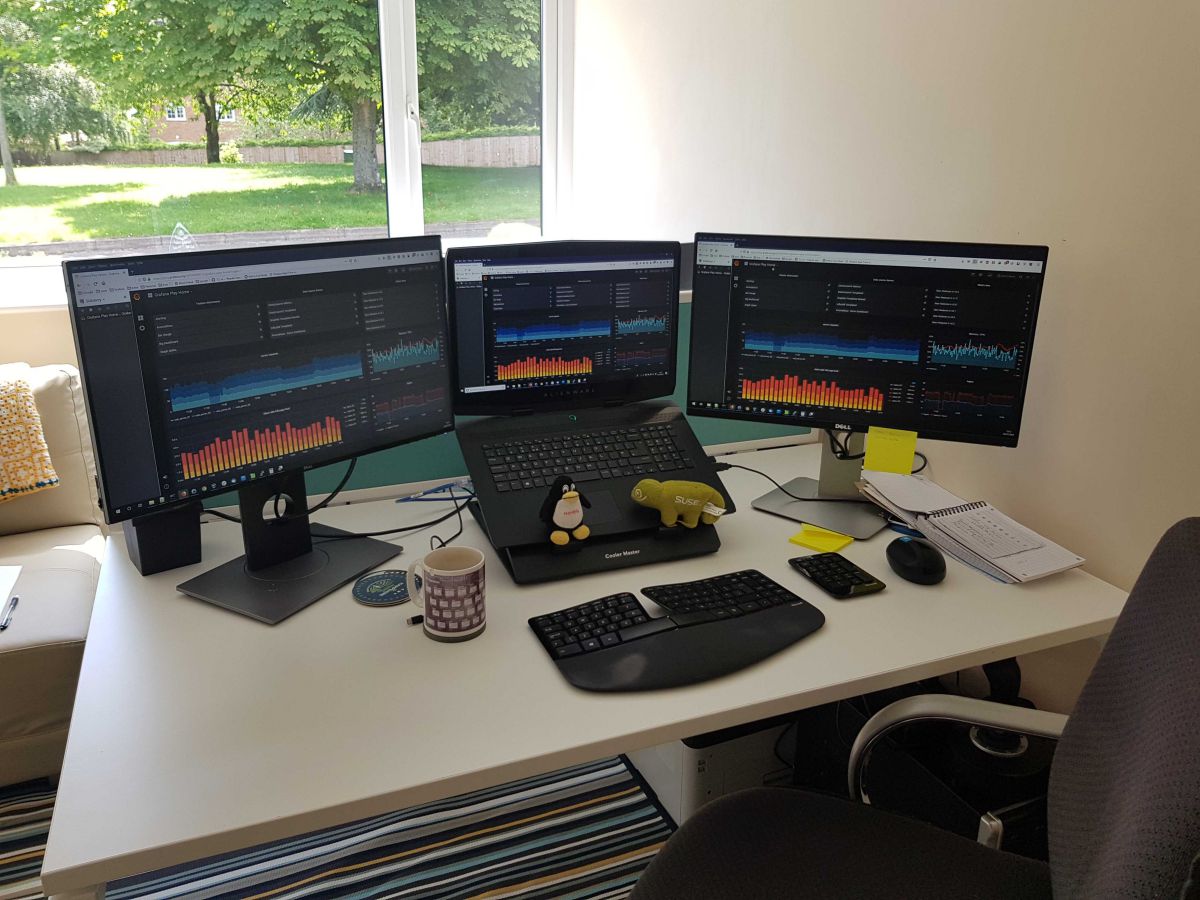 Dominik Prokop, Software Engineer
Trying to keep it as minimal as possible.