As Grafana Labs continues to grow, we'd like you to get to know the team members who are building the cool stuff you're using. Check out this week's team profile.
Meet Marcus!
Name: Marcus Efraimsson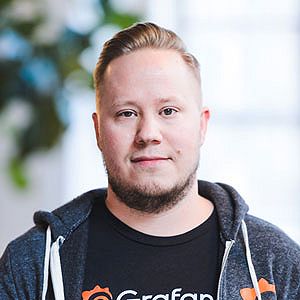 Grafana Labs Developer Marcus Efraimsson
Current location/time zone: I'm in Stockholm, Sweden (CEST).
What do you do at Grafana Labs? I'm kind of a generalist and doing lots of different things. My primary focus is backend, but I'm trying to break things in the frontend from time to time as well. :)
What open source projects do you contribute to? Grafana. One of thing I'm currently working on is making the Explore logs visualization more datasource-agnostic so that Grafana can support visualizing logs from basically any datasource. Currently only Loki is supported, but InfluxDB and Elasticsearch are on their way. One other thing I'm passionate about is improving the process and guidelines around how someone can be involved and contribute to the Grafana project.
What are your GitHub and Twitter handles? It's marefr on Github and @mefraimsson on Twitter.
What do you like to do in your free time? Hang out with friends and family. Enjoy traveling and love those sandy beaches with turquoise water. I'm also watching a lot of sports and TV series.
What's your favorite new gadget or tech toy? I wouldn't call it a gadget, but I recently got myself this nifty little foldable and height-adjustable table, which fits perfectly in my compact living room/home office.
What's the last show you binged? Follow the Money Season 3 (originally named Bedrag in Danish). Highly recommend all three seasons.
Spaces or tabs? I was all into spaces before starting coding in Go. For now, as long as everyone follows the same convention, it doesn't really matter.
Which Game of Thrones character are you? Jack Bauer. :)