As Grafana Labs continues to grow, we'd like you to get to know the team members who are building the cool stuff you're using. Check out our latest Friday team profile.
Meet Leonard!
Name: Leonard Gram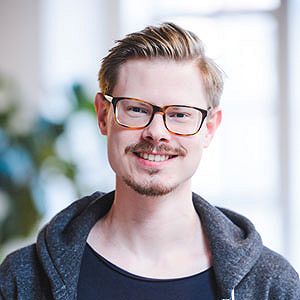 Grafana Labs Developer Leonard Gram
Current location/time zone: Stockholm, Sweden (CEST).
What do you do at Grafana Labs? I'm a backend developer. Currently I lead the effort to improve Grafana Enterprise.
What open source projects do you contribute to? Only Grafana right now. Technically, I'm the author of GroovyCSV, a library to simplify csv parsing in Groovy. But that doesn't really need much work these days.
What are your GitHub and Twitter handles? xlson & @xlson.
What do you like to do in your free time? I love playing board games and TCGs and have had a great time with my Switch lately. I've got a small dog who loves climbing, so walks in the woods are a lot of fun as well. Especially now that the sun has come back to Sweden (if you've ever experienced Sweden in the winter you know what I mean).
What's your favorite new gadget or tech toy? It has to be i3. It's a tiling window manager that I started using some time last year to make it easier to manage my applications. It's definitely not "new," but it's new to me and something I've been wanting to try out for a long time.
What do you do to get "in the zone" when you code? I try to remove all distractions, both mental (I have a notebook next to me so I can easily dump unrelated thoughts there) and real, like Slack. It also helps if I can create a sense of urgency.