As Grafana Labs continues to grow, we'd like you to get to know the team members who are building the cool stuff you're using. Check out this week's team profile.
Meet Patrick!
Name: Patrick O'Carroll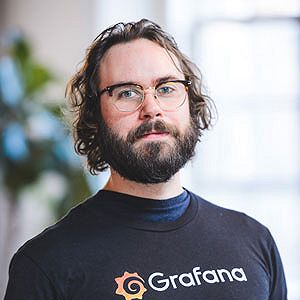 Grafana Labs Developer Patrick O'Carroll
Current location/time zone: I am in Stockholm, CET.
What do you do at Grafana Labs? I work with UX/UI design and frontend development.
What open source projects do you contribute to? I am contributing to the Grafana project. Some of the things I am working on right now are designs for the new drilldown links and an epic for Grafana styling where we are migrating from scss to emotion, restyling components to fit in a 4px grid, and cleaning out unused/unnecessary variables and classes.
What are your GitHub and Twitter handles? I don't use Twitter. My GitHub handle is ijin08.
What do you like to do in your free time? In my free time I enjoy cooking, miniature wargaming, and swimming. But since becoming a father last fall a lot of it has been put on hold.
What's your ideal environment for coding? If I really need to focus I prefer to code in silence.
Which Game of Thrones character are you? Davos Seaworth.
What's the last show you binged? The Last Kingdom. Fun show about Danes and Saxons fighting over England. The Danes' costumes do look silly though.
Spaces or tabs? Spaces.