Welcome to TimeShift
This week we highlight articles featuring the ultimate guide to monitoring Kubernetes using Prometheus and Grafana, how to build effective dashboards, and a guide to help demystify PromQL.
With the upcoming Labor Day holiday, TimeShift is going to take a short break, but we'll see you again soon!
Come across an article you think might be a good fit for an upcoming issue? Suggestions for new content? Contact us!

---
Latest Stable Release: Grafana 5.2.2
---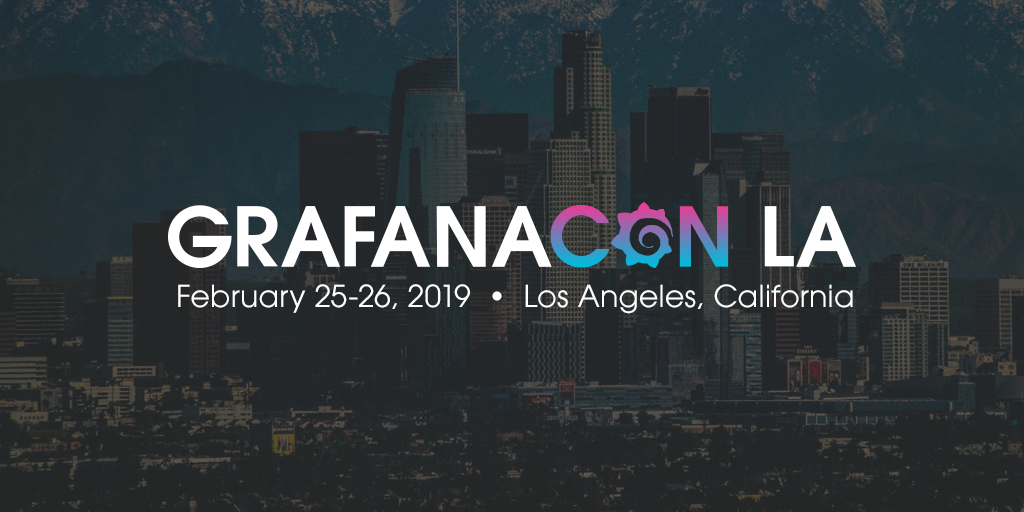 GrafanaCon LA
CFP Now Open!
Join us in Los Angeles, California February 25-26, 2019 for 2 days of talks focused on Grafana and the open source monitoring ecosystem.
Submit You CFP Today
---
From the Blogosphere
Kubernetes Monitoring with Prometheus, the ultimate guide (part 1): Part 1 in a 4-part, in-depth series on how to implement Kubernetes monitoring with Prometheus. The series opens with an intro to Prometheus and its core concepts, how Prometheus stacks up to veteran monitoring solutions, and an overview of all the components in the architecture.
Digital Dashboard: Making a Dashboard work for you, part one: This series starts off by establishing a baseline for what makes an effective dashboard. John also highlights the strengths he sees in Grafana as well as areas for improvement. This type of thoughtful feedback is always helpful, as we are constantly working to improve the overall user experience. Interested to see where this series goes.
First Steps with Prometheus and Grafana on Kubernetes on Windows: A step-by-step installation guide for monitoring Kubernetes with Prometheus and Grafana on Windows.
PromQL for Humans: If you're new to Prometheus, PromQL can be daunting. This article attempts to demystify the query language. You'll also get a handy query cheat-sheet with plenty of real-world examples.
Creating Visualizations in Grafana: This short walkthrough will help you get started creating dashboards in Grafana using your Prometheus metrics.
---
We're Hiring!
We've added new open positions at Grafana Labs! Do you love open source software? Do you thrive on tackling complex challenges to build the future? Want to work with awesome people? Be the next to join our team!
View our Open Positions
---
Grafana Plugin Update
Plugin authors often add new features and fix bugs, so it's important to keep your plugins up to date. We've made the update process simple – for on-prem Grafana, use the grafana-cli tool, or for Hosted Grafana update with one-click at grafana.com.

---
Upcoming Events
In between code pushes we like to speak at, sponsor and attend all kinds of conferences and meetups. We also like to make sure we mention other Grafana-related events happening all over the world. If you're putting on just such an event, let us know and we'll list it here.
---
---
How are we doing?
Hope you enjoyed this issue of TimeShift. What do you think? Are there other types of content you'd like to see here? Submit a comment on this issue below, or post something at our community forum.
Follow us on Twitter, like us on Facebook, and join the Grafana Labs community.