Welcome to TimeShift
August is flying by, but hopefully there'll still be time to enjoy a few more summer evenings. This week we're sharing the video demoing the new Explore UI in Grafana from last week's PromCon, monitoring VMWare's VKE with Prometheus, hosting a blog on a budget and more.
Come across an article you think might be a good fit for an upcoming issue? Suggestions for new content? Contact us.

---
Latest Stable Release: Grafana 5.2.2
---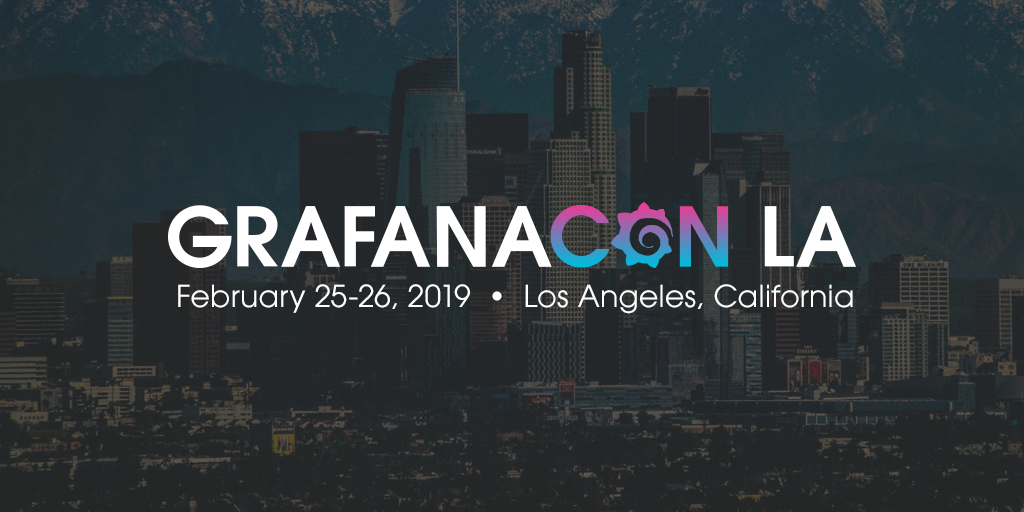 GrafanaCon LA
CFP Now Open!
Join us in Los Angeles, California February 25-26, 2019 for 2 days of talks focused on Grafana and the open source monitoring ecosystem.
Submit You CFP Today
---
From the Blogosphere
Video: David Kaltschmidt: Exploring your Prometheus Data in Grafana: Last week we shared David's slides from PromCon 2018, but it's so much better to actually see it action.
Installing Prometheus and Grafana on VMware Kubernetes Engine: This post details the process of deploying Prometheus as a monitoring framework for Kubernetes, along with Grafana as the visualization layer. Bahubali covers why monitoring K8s is different, building and preparing your cluster, and installing both Prometheus and Grafana.
Collecting DHCP Scope Data with Grafana: Eric wrote a Python script to help him collect aggregated data about groups of DHCP scopes and how his network users were changing. This lets him total up the number of free and used IPs in each range and visualize them on a graph in Grafana.
How I host this blog, CI and tooling: Vik is a budget conscious blogger and developer. In this article he provides a rundown of the infrastructure he uses for his blog and how he keeps it running for $8.53/month.
Graphite Grafana: Metrics Monitoring Made Easy: The first in a series on metrics monitoring made easy, this article gets you started with spinning up a Graphite/Grafana stack. Learn about the components of Graphite, Grafana, and how to get everything installed - the next article will dive into the actual monitoring.
System monitoring with Grafana, InfluxDB et Collectd: Learn about the components of a responsive dashboard system and how to easily deploy it with Docker.
---
We're Hiring!
We've added new open positions at Grafana Labs! Do you love open source software? Do you thrive on tackling complex challenges to build the future? Want to work with awesome people? Be the next to join our team!
View our Open Positions
---
Upcoming Events
In between code pushes we like to speak at, sponsor and attend all kinds of conferences and meetups. We also like to make sure we mention other Grafana-related events happening all over the world. If you're putting on just such an event, let us know and we'll list it here.
---
Tweet of the Week
We scour Twitter each week to find an interesting/beautiful dashboard or monitoring related tweet and show it off!
#monitoringLove
Graph of the day - 95th percentile inter-pod network latency heatmap for one of our control planes, log 2 y axis (min 0s, max 1s). Data from https://t.co/ViRlSiAW2l, @grafana for the fanciness pic.twitter.com/WVIwhD4sEe

— SALISBURY HEAVY INDUSTRIES (@salisbury_joe) August 16, 2018
I love a good heatmap. Let us know if you figure out where that super high latency is coming from.
---
How are we doing?
Hope you enjoyed this issue of TimeShift. What do you think? Are there other types of content you'd like to see here? Submit a comment on this issue below, or post something at our community forum.
Follow us on Twitter, like us on Facebook, and join the Grafana Labs community.