The inaugural Golden Grot Award winners
It's the moment we've been waiting for. The judges have finished their reviews, and the community has weighed in. Now it's our honor to introduce our first-ever Golden Grot Award winners.
Nicky Sonnemans (Personal category)
Nicky's dashboard monitors the current state of the European energy infrastructure, specifically current and historical information regarding gas storage, physical flow of gas throughout Europe, electricity generation, and energy prices.
Based in the Netherlands, he created the dashboard so he could easily spot any irregularities in the energy data, and he said it shows that "Grafana can be used as a business intelligence tool and not just for technical monitoring and server monitoring."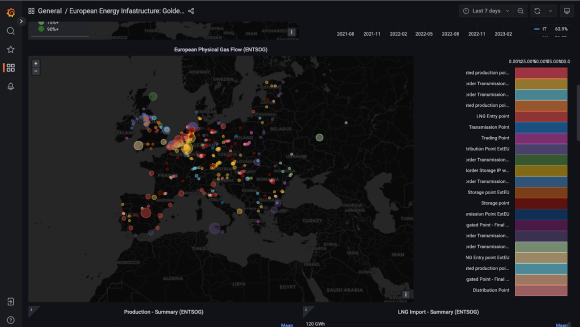 ---
Raymond Sowden (Professional category)
Raymond lives in Johannesburg, South Africa, and has been working in the IT field for about 25 years. He is a senior technical engineer at RadixTrie and specializes in managing Oracle's JD Edwards EnterpriseOne (JDE) software suite.
He created his award-winning Grafana dashboard to solve a big observability problem at work: "There was no single pane of glass to monitor JDE, so our dashboard gives us unparalleled insights into the overall health and performance of JDE."
Show us what you Grot
As part of the Grafana 10 celebrations this June, we want to highlight the amazing Grafana dashboards our community has created over the past decade.
The Golden Grot Awards recognize three top dashboards in two categories (personal and professional). One grand prize winner in each category will be treated to a trip to Stockholm to join the Grafana creators at a special event.
How it works
Hit us with your best Grot: Submit a maximum of one dashboard per category before April 21.
Our panel of judges will vote on their top choices and narrow them down to a shortlist.
The entire Grafana community will have a chance to weigh in during a public voting period May 1-5.
The top three dashboards in each category will be showcased at GrafanaCON 2023.
One grand prize winner in each category will receive a trip to Stockholm, the birthplace of Grafana.
Personal Category
(a.k.a. Dashboard confessionals)
Did you create a Grafana dashboard to
monitor your sourdough starter
, visualize your own fitness metrics, or keep tabs on another aspect of your personal life? We'd love to see it. If your dashboard was created outside of work, this is the category for you.
Professional Category
(a.k.a. Dashboard professionals)
From monitoring maritime dredging vessels to
unlocking the power of recruitment data
, we've seen teams build dashboards to help meet KPIs, speed development, and smash performance goals. If your dashboard was created in a professional setting, this is the category for you.
We Grot your back with all the details
In order to be considered for a Golden Grot Award, your dashboard must be:
Created with Grafana
Live and currently maintained
Publicly shareable (either via link or screenshot; redactions OK)
Read the full terms and conditions for more information. Any questions? Don't hesitate to contact us.
What is a Grot?
Grot is a term of endearment for @grafanabot, the helpful little bot that keeps the Grafana GitHub repo in order. According to legend, Grot was born from the flames and tears of broken dashboards — but never fear, Grot's always there to save the day with issue triage and pull requests.
A brief history of Grot
Our dino friend spent 65 million years in hibernation. Upon awakening, they found themselves having to re-learn everything they thought they knew about the world. Grot's unique abilities to sift through the masses of issues and pull requests quickly proved invaluable to the Grafana community.
Sign up to get notified about future events
Join the conversation
Stop by and say hi in the #grafanacon channel
Join the conversation in Slack
Explore all the latest releases
See what happened at GrafanaCON 2022