Upcoming Events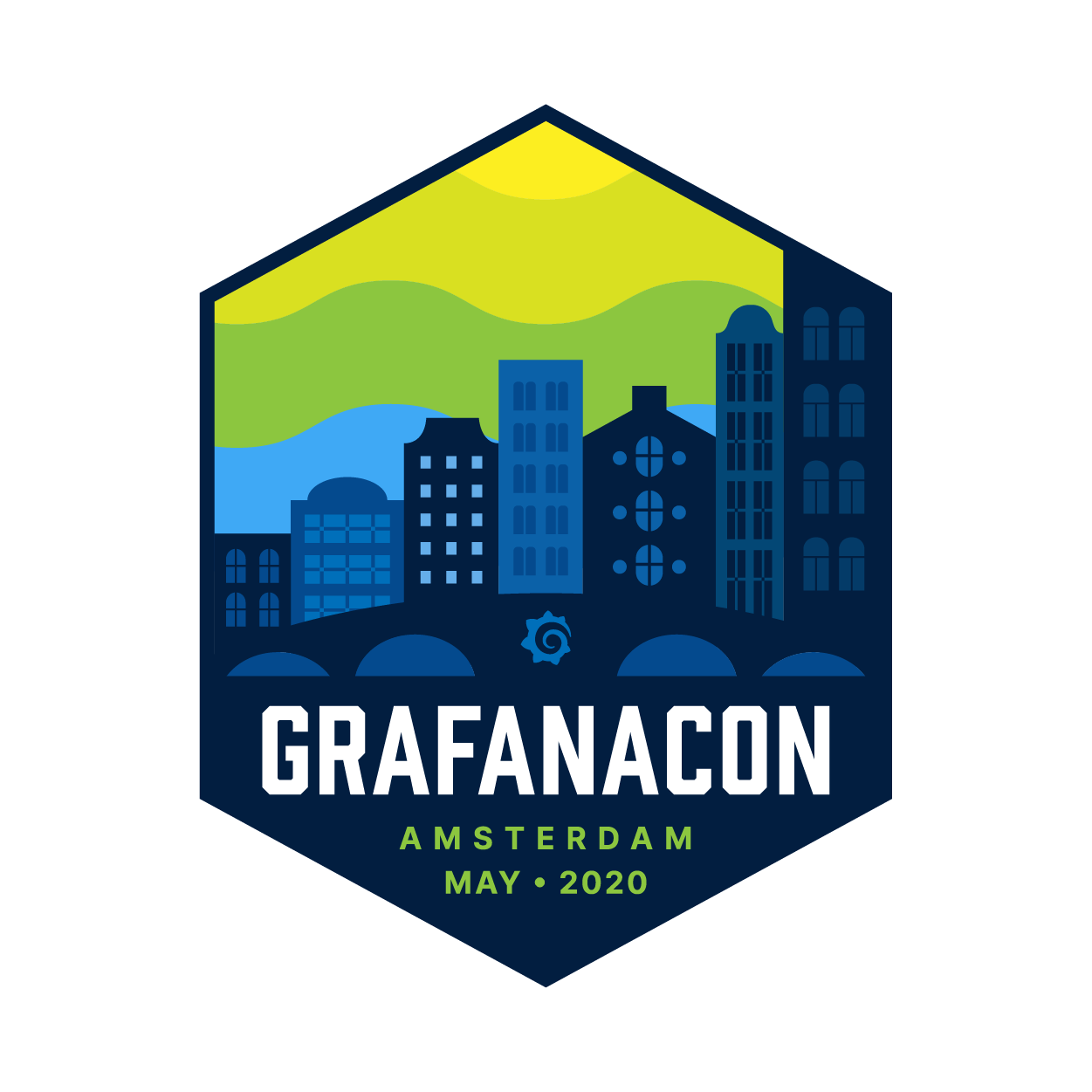 conference
May 13, 2020 | Amsterdam, The Netherlands
GrafanaCon 2020
This is the 5th (almost) annual GrafanaCon, a conference that brings together hundreds of members of the open source monitoring community. Come hear about all things Grafana, Loki, Prometheus, Graphite and more!
More Info
Are you or someone you know speaking about Grafana at an upcoming meetup or conference?
Let us know, we'd be happy to help promote and add your event to our list.
Contact Us
Past events
Scaling Prometheus: Cortex 1.0 Preview Live Webinar | March 31, 2020
Developer Relations Sweden Meetup Stockholm, Sweden | March 19, 2020
Tel Aviv-Yafo Grafana Meetup Tel Aviv, Israel | March 4, 2020
Cloud Native Meetup - Prague Prague, Czech Republic | February 27, 2020
Grafana and friends Bay Area San Francisco, CA | February 27, 2020
Cloud Native Meetup - Bratislava Bratislava, Slovakia | February 26, 2020
Kubernetes Forum Delhi 2020 Delhi, India | February 20, 2020
Kubernetes Forum Bengaluru 2020 Bengaluru, India | February 17, 2020
DeveloperWeek SF San Francisco, CA | February 12, 2020 - February 16, 2020
FOSDEM Brussels, Belgium | February 1, 2020 - February 2, 2020
GoDays Berlin, Germany | January 21, 2020 - January 23, 2020
CloudNative Hyderabad Meetup Hyderabad, India | January 11, 2020
December Berlin Prometheus Meetup Berlin, Germany | December 12, 2019
Kubernetes Meetup v9: Loki 101 - logging easy Nuremberg, Germany | December 11, 2019
AWS re:Invent Las Vegas, USA | December 2, 2019 - December 6, 2019
KubeCon NA 2019 San Diego, USA | November 18, 2019 - November 21, 2019
PromCon 2019 Munich, Germany | November 7, 2019 - November 8, 2019
Open Source Monitoring Conference 2019 Nuremberg, Germany | November 4, 2019 - November 7, 2019
Velocity EU Berlin, Germany | November 4, 2019 - November 7, 2019
CloudNative Hyderabad Meetup Hyderabad, India | November 3, 2019
SREcon19 EMEA Dublin, Ireland | October 2, 2019 - October 4, 2019
Rootconf Pune Pune, India | September 20, 2019 - September 21, 2019
All Systems Go Berlin, Germany | September 20, 2019 - September 22, 2019
OpenCore Summit San Francisco, CA | September 19, 2019 - September 20, 2019
Cloud Native Day, Hyderabad Hyderabad, India | September 15, 2019
DevopsDays India Bangalore, India | September 13, 2019 - September 14, 2019
Sensu Summit Portland, OR | September 9, 2019 - September 10, 2019
Prometheus Stockholm Meetup Stockholm, Sweden | August 28, 2019
GopherCon UK London, United Kingdom | August 21, 2019 - August 23, 2019
Prometheus London Meetup London, UK | August 20, 2019
InfluxDays London 2019 London, United Kingdom | June 13, 2019 - June 14, 2019
Monitorama PDX 2019 Portland, OR | June 3, 2019 - June 5, 2019
Percona Live 2019 Austin, TX | May 28, 2019 - May 30, 2019
KubeCon + CloudNativeCon Europe 2019 Barcelona, Spain | May 21, 2019 - May 23, 2019
DevOps days Vancouver 2019 Vancouver BC, Canada | March 29, 2019 - March 30, 2019
Why Open Source Works for DevOps Monitoring Webinar | March 26, 2019
Go Meetup at Grafana Labs Stockholm, Sweden | March 20, 2019
Influx Days NYC 2019 New York, NY | March 13, 2019 - March 14, 2019
GrafanaCon LA 2019 Los Angeles, CA | February 25, 2019 - February 26, 2019
Jfokus 2019 Stockholm, Sweden | February 4, 2019 - February 6, 2019
FOSDEM Brussels, Belgium | February 2, 2019 - February 3, 2019
Cloud Native Computing Paris Paris, France | January 31, 2019
KubeCon + CloudNativeCon NA 2018 Seattle, WA | December 10, 2018 - December 13, 2018
Visualizing Time-Series Data with Grafana Webinar | December 4, 2018
InfluxDays SFO San Francisco, CA | November 7, 2018 - November 8, 2018
OSMC Nuremberg, Germany | November 5, 2018 - November 8, 2018
All Things Open 2018 Raleigh, NC | October 21, 2018 - October 23, 2018
GDG DevFest Ukraine 2018 Lviv, Ukraine | October 12, 2018 - October 13, 2018
CloudNative London 2018 London, United Kingdom | September 26, 2018 - September 28, 2018
Sensu Summit 2018 Portland, OR | August 22, 2018 - August 23, 2018
PromCon 2018 Munich, Germany | August 9, 2018 - August 10, 2018
Jacob Lisi: What does Kubernetes Look Like? Performance Monitoring & Visualization with Grafana Boston, MA | July 17, 2018
Zabbix Moscow Meetup 2018 Moscow, Russia | June 23, 2018
InfluxDays London 2018 London, United Kingdom | June 14, 2018 - June 15, 2018
Monitorama PDX 2018 Portland, OR | June 4, 2018 - June 6, 2018
Innovate Everywhere: Choosing the Right Tools when Building your SRE Toolchain Webinar | May 30, 2018
Innovate Everywhere: Choosing the Right Tools when Building your SRE Toolchain Webinar | May 16, 2018
KubeCon + CloudNativeCon Europe 2018 Copenhagen, Denmark | May 2, 2018 - May 4, 2018
Percona Live 2018 Santa Clara, CA | April 23, 2018 - April 25, 2018
GrafanaCon EU 2018 Amsterdam, Netherlands | March 1, 2018 - March 2, 2018
NYC Metrics and Monitoring - The Modern, Open Source Metrics Stack, told in 4 Acts New York, NY | February 22, 2018
InfluxDays NYC – What Does Kubernetes Look Like?: Performance Monitoring & Visualization with Grafana New York, NY | February 13, 2018
Stockholm Metrics and Monitoring - Observability 3 Ways: Logging, Metrics and Distributed Tracing Stockholm, Sweden | February 7, 2018
Jfokus Stockholm, Sweden | February 5, 2018 - February 7, 2018
FOSDEM Brussels, Belgium | February 3, 2018 - February 4, 2018
KubeCon + CloudNativeCon Austin, TX | December 6, 2017 - December 8, 2017
How to Use Open Source Projects for Performance Monitoring Webinar | November 29, 2017
Why observability Matters—Now and in the Future Webinar | November 15, 2017
Influx Days San Francisco, CA | November 14, 2017
Øredev Malmö, Sweden | November 7, 2017 - November 10, 2017
CNCF Meetup: Cloud Native in the Data Center: Why, How and Who New York, NY | November 1, 2017
Percona Live Europe 2017 Dublin, Ireland | September 25, 2017 - September 27, 2017
PromCon 2017 Munich, Germany | August 17, 2017 - August 18, 2017
NYC Metrics and Monitoring - TimescaleDB and Prometheus New York, NY | July 19, 2017
NYC Metrics and Monitoring - Ntop, a Web-based Network Traffic Monitoring Application New York, NY | June 14, 2017
Stockholm Metrics and Monitoring - Introducing the TICK Stack Stockholm, Sweden | June 1, 2017
Monitorama Portland, OR | May 22, 2017 - May 24, 2017
Stockholm Metrics and Monitoring - Prometheus and Friends Stockholm, Sweden | May 15, 2017
DevopsDays Stockholm 2017 Stockholm, Sweden | May 8, 2017
Zabbix Moscow Meeetup 2017 Moscow, Russia | April 15, 2017
NYC Metrics and Monitoring - Monitoring Services @ Squarespace New York, NY | March 22, 2017
Build powerful dashboards with Grafana & InfluxDB Webinar | January 24, 2017
NYC Metrics and Monitoring - Building a Snap Telemetry Plugin New York, NY | January 23, 2017
San Francisco Bay Area Metrics and Monitoring - Efficient Monitoring Using Grafana San Francisco, CA | January 4, 2017
Tectonic New York, NY | December 12, 2016 - December 13, 2016
GrafanaCon 2016 New York, NY | November 30, 2016 - December 1, 2016
Internet Architecture and Engineering - How to Scale Infrastructure when Expanding to Asia New York, NY | October 24, 2016
Stockholm Metrics and Monitoring - Monitoring DreamHack & Graphite + Icinga2 Stockholm, Sweden | October 17, 2016
NYC Metrics and Monitoring - Graphite for Power Users New York, NY | September 15, 2016
DevOps Perth - September Session Perth, Australia | September 7, 2016
PromCon 2016 Berlin, Germany | August 25, 2016 - August 26, 2016
Intel Developer Forum 2016 San Francisco, CA | August 16, 2016
Intel Builders Summit San Francisco, CA | August 15, 2016
HostingCon New Orleans, LA | July 24, 2016 - July 27, 2016
SRECON Dublin, Ireland | July 11, 2016 - July 13, 2016
NYC Metrics and Monitoring Meetup New York, NY | July 7, 2016
Monitorama 2016 Portland, OR | June 27, 2016 - June 27, 2016
Velocity Santa Clara Santa Clara, CA | June 20, 2016 - June 23, 2016
Stockholm Metrics and Monitoring Meetup Stockholm, Sweden | June 7, 2016
Agila Sweden Stockholm, Sweden | June 1, 2016 - June 2, 2016
Multi-Cloud Engineering Meetup Tel Aviv, Israel | May 29, 2016
Stockholm Google Developer Group Meetup Stockholm, Sweden | May 26, 2016
What's New in Grafana 3.0 Webinar | May 26, 2016
Deconstructing the New Plugin Architecture in Grafana Webinar | May 25, 2016
Deconstructing the New Plugin Architecture in Grafana Webinar | May 18, 2016
Percona Live Santa Clara Santa Clara, CA | April 19, 2016 - April 21, 2016
Using Grafana for MySQL Monitoring Webinar | February 24, 2016
Getting Up and Running with Prometheus and Grafana Webinar | February 17, 2016
All Things Open Raleigh, NC | October 26, 2015 - October 27, 2015
GrafanaCon NYC New York, NY | October 15, 2015
Velocity NYC New York, NY | October 12, 2015 - October 15, 2015
Monitorama 2015 Portland, OR | June 15, 2015 - June 17, 2015